The Dream of the '90s Is Alive in WWE: Paul Heyman and Eric Bischoff Are Named "Executive Directors"
Image courtesy of WWE.com
Wrestling
News
WWE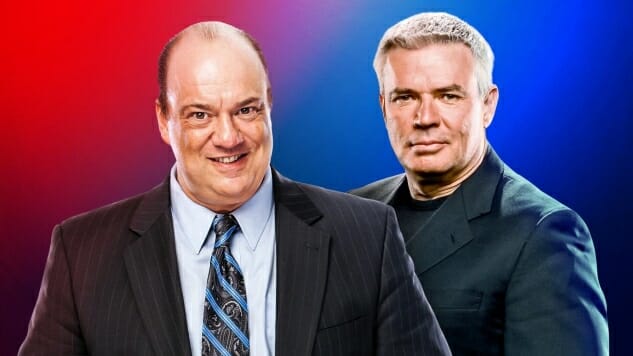 Remember the '90s? If you don't you clearly don't watch WWE, which takes every possible opportunity to remind viewers about its "Attitude Era" peak in the late '90s. (Did you know Triple H and his buddies once stood on a Jeep outside an arena that was hosting a WCW show? Did you know that's apparently one of the most important things that ever happened in wrestling? If not, WWE will remind you, constantly.)
WWE's desperate attempts to turn back the clock two decades (but, you know, without angering their current advertisers) took a surprising turn today. Sports Illustrated reports that Paul Heyman and Eric Bischoff have been named as Executive Directors of WWE's flagship TV shows. Heyman will fill that post on Monday Night Raw, whereas Bischoff will do the same on SmackDown Live. Apparently these are "full-time executive roles," as SI reports, and won't figure into any on-air storylines. In other words, these are apparently actual jobs, and not just an angle for TV. Both new Executive Directors will report to Vince McMahon, which you'd think would greatly limit their freedom when it comes to making creative decisions for the shows.
Heyman and Bischoff, of course, were the heads of the other two major American wrestling organizations during the 1990s. Bischoff was in charge of World Championship Wrestling, which briefly passed WWE as the highest rated wrestling on TV from 1996 to 1998. As the only man to briefly beat McMahon at his own game, Bischoff remains a prominent name within the industry, even though he eventually ran WCW out of business and failed spectacularly when put in a similar position with Total Non-stop Action in 2010. Heyman, meanwhile, is considered a booking genius who turned Extreme Championship Wrestling into a cult phenomenon in the '90s, but who struggled with the business end and eventually sold his company to McMahon in 2001. He later oversaw a revival of ECW for WWE, but quit after creative disputes with McMahon. Lately he's best known as Brock Lesnar's "advocate" and real-life friend.
Despite massive TV deals that go into effect later this year, WWE has seen notable declines in both TV ratings and live attendance over the last few years, and significant fan dissent over its creative direction. It's also taken a public relations hit with a lucrative but controversial deal to run regular shows in Saudi Arabia; the first one felt to many like propaganda for a country known for major human rights violations, and that was before Saudi Arabia tortured and murdered a dissident journalist living in America. WWE will also be facing serious domestic competition for the first time in almost 20 years later this fall, when All Elite Wrestling launches its weekly primetime show on TNT. New leadership might be needed to turn the ship around, but reaching back to McMahon's main competitors from the '90s feels more like a gimmick than a serious change; as long as Vince McMahon is in charge, it's impossible to see how anything will actually change with WWE's creative direction.
For more on Heyman and Bischoff's new roles, go to WWE.com