Updated: WWE Wrestler Lars Sullivan Acknowledges History of Racist, Misogynistic and Homophobic Online Comments
Screen cap from YouTube
Wrestling
News
WWE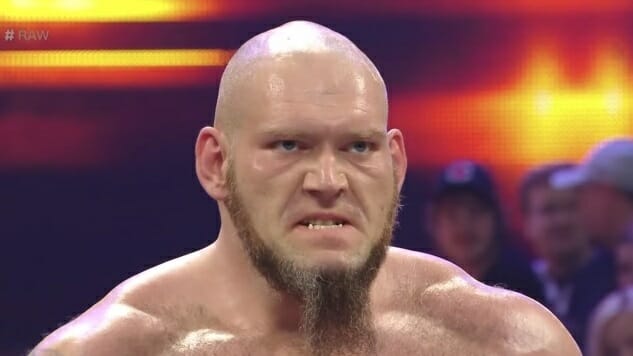 Update: WWE has responded with a statement from Dylan Miley, aka Lars Sullivan:
"There is no excuse for the inappropriate remarks that I made years ago. They do not reflect my personal beliefs nor who I am today, and I apologize to anyone I offended."
---
WWE wrestler Lars Sullivan (real name: Dylan Miley), who is currently being pushed as an indestructible monster on both Raw and Smackdown, appears to have an unseemly history of hateful comments on internet forums. Reddit user FarceVacant has compiled a long list of offensive posts at the Bodybuilding.com forum posted under the user names ElPerfecto and the suspended account Disenfranchised, both of which appear to have been run by Miley.
We can't conclusively link Miley to these accounts, although here's a post where ElPerfecto posts a photo of himself from a Flickr account titled DehydratedDylan. The man in that photo is clearly the same man currently performing for WWE as Lars Sullivan. It's in a thread from 2013 where ElPerfecto talks about how to get noticed by WWE or the wrestling company TNA; Miley was hired by WWE later that year. Both accounts also list Colorado as their home state, with Disenchanted specifying Westminster, Colo. under location; Westminster is Miley's hometown. These posts stretch back over a decade, years before Miley was hired by WWE, so it seems unlikely that anybody would be trying to frame a man who at the time of most of these posts was not famous and not in the wrestling business.
Further credence comes from fellow WWE wrestler Big E, who tweeted about Miley's alleged posts in response to a link to this Reddit thread:
Many are aware. If true, he has to bear the albatross of being a bigot & working in a company that is now filled with minorities.

— Florida Man (@WWEBigE) May 8, 2019
Here are a few examples of posts by the two accounts:
From March 15, 2012: "If we're going off scientific facts, obviously wither Hispanic or Black women. Who pops out the most babies at the youngest age? Hispanics followed by blacks. Why do 50% of black women have STD's? SLOOTS."
From July 3, 2012: "I don't actually have any true hateful feelings for gay people, but it's just a part of my sense of humor I like to explore. Homophobia, racism, sexism, these are all hilarious things to make light of in the right environment (among other straight men)."
Also from July 3, 2012: "That sounds like a brave gay guy you worked with, in a weird in way. He would actually have no reservations about telling his straight co workers about how he had sex with other men? I'm sorry but that's where I would draw the line and make him feel like a worthless outcast of society."
From Aug. 22, 2012: "What are Kofi and R Truth supposed to be? A PG black panther stable? I always wondered why they had to team up two black guys. Both those guys look like they could be in a prison black gang."
From Aug. 25, 2012: "The fact is there is a grey area when it comes to the definition of rape."
From Jan. 21, 2013, in a thread on Muslims: "They should be demonized for their religion. They are violent and have a violent agenda against America."
From May 7, 2013, in a thread on Arabs: "It's more than a 'few' extremists at this point. And no, nor do I want or need to. They don't want me there and they'll get what they want. Thing is I don't want them here either."
From May 17, 2013: "Not be racist, but it seems like white people are more willing to take responsibility of their own lives than blacks and Hispanics, who are all for government hand outs."
The Reddit thread also links to examples of ElPerfecto mocking the suicide of homosexual wrestler Chris Kanyon (Chris Klucsarits), joking about Steve Austin's abuse of his wife Debra Marshall, and repeatedly belittling those with mental illness, along with other examples of insulting and dismissing minorities, foreigners, women and homosexuals. There's also a link to a screencap of a Disenfranchised post from 2008 lauding the racist white power rock group Blue Eyed Devils and their song "White Revolution"; a member of Blue Eyed Devils went on to murder six people at a Sikh gurdwara in Wisconsin in 2012.
This Reddit thread has a much longer list of comments written by these accounts, including ones that disparage current top WWE stars Kofi Kingston, A.J. Styles, Daniel Bryan and more.
If these posts were written by Miley, the mental illness comments are especially interesting, as Miley's original WWE push earlier this year was supposedly derailed by an anxiety attack that prevented him from appearing on TV.
This isn't a one-off comment or a failed attempt at humor. It's a long history of repeated behavior, stretched out over several years, in a venue that the author thought was relatively anonymous. If Miley was the author, as seems likely, it casts his character Lars Sullivan's frequent on-screen destruction of such non-white wrestlers as Rey Mysterio, Andrade "Cien" Almas, R-Truth and No Way Jose in an especially ugly light.
It also says a lot about WWE's culture to compare this to the recent treatment of Lio Rush (Lionel Green), a young African-American wrestler who reportedly lost his prominent role on Raw (the company's main program) because he refused to fetch water and carry bags for more experienced talent. Green defended himself in an interview with Fightful by pointing out that "a black kid carrying waters and bags for other wrestlers is just not a good look, especially when I'm trying to portray myself as a superstar as well." Green was reportedly punished for that, and hasn't been on WWE TV in weeks; meanwhile Miley, whose Bodybuilding.com posts were initially discovered earlier this year, has been a featured part of both WWE primetime shows for weeks.
Paste has reached out to WWE for comment on Miley's alleged posts, but they have not replied as of press time. We will update this post with WWE's response as necessary.