WWE Fines Lars Sullivan for His Offensive Online Comments
Screen cap from YouTube
Wrestling
News
WWE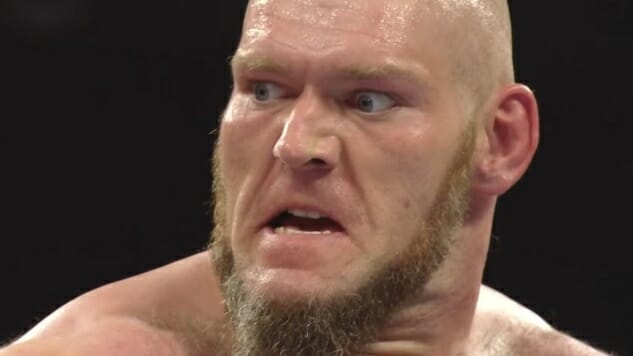 Last week WWE wrestler Lars Sullivan (real name: Dylan Miley) came under fire when racist, misogynistic and homophobic comments he wrote on a bodybuilding web forum between 2008 and 2013 were exposed in a Reddit thread. Miley acknowledged that the posts were his in one of those "I'm sorry if you were offended"-style apologies that rarely please anybody. Today WWE announced a more tangible and significant reprimand for the heavily pushed powerhouse: a fine of $100,000, along with sensitivity training and various forms of community outreach.
Here's WWE's statement on Miley's punishment, released earlier today:
WWE supports a culture of inclusion regardless of gender, race, religion or sexual orientation, and we are committed to embracing all individuals as demonstrated by the diversity of our employees, performers and fans worldwide.
Dylan Miley (aka Lars Sullivan) will be fined $100,000 and required to complete sensitivity training for offensive commentary uncovered from his past. WWE will also facilitate meetings for Dylan with community organizations to foster further discussion around the power of social media and the impact of your words.
$100,000 normally isn't a lot in the world of pro sports. Since Miley is relatively new to WWE's main roster—and since WWE doesn't pay for its wrestlers' travel expenses or medical insurance, which can really bite into their take-home pay—there's a good chance Miley will feel the impact of that fine. It remains to be seen if counseling and community work will help Miley's reputation with fans and within WWE's own diverse locker room, especially since he insulted and criticized multiple current WWE performers in that same internet forum. Sullivan didn't appear on Raw last night, although that might not mean anything—he's technically a member of the Smackdown roster (although he was on Raw last week), and the two brands are on separate European tours this week. It will be notable if he doesn't appear on Smackdown tonight.