Ring of Honor COO Joe Koff Talks Death Before Dishonor and the Indie Wrestling Explosion
Photos by Lee South, courtesy of Ring of Honor
Wrestling
Features
Ring of Honor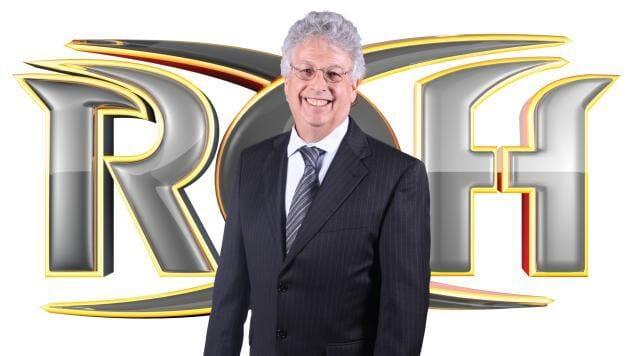 Tonight's Ring of Honor pay-per-view, Death Before Dishonor, might feel like just the latest in a long run of shows for the 16-year-old promotion. The Ring of Honor of today is different than the one from 2002, though, and even from the company as it was known just a year or two ago. The fortunes and profile of the Sinclair Broadcasting-owned wrestling promotion changed perhaps forever on August 8, when tickets went on sale for its first ever show in Madison Square Garden and sold out in under 20 minutes. That show, a co-promoted event with ROH's partner company New Japan Pro-Wrestling, will be the biggest non-WWE wrestling show in North America in decades, and marks the first time a promotion other than WWE has run a show at the sport's most hallowed venue in almost 60 years. Between that sellout and the massive success of All In, the huge independent show that the Young Bucks and Cody Rhodes promoted earlier this month with ROH's blessing and support, Ring of Honor is at the forefront of the hottest period for non-WWE American pro wrestling since the height of WCW's NWO period in the late '90s.
Joe Koff is a crucial part of the team that's made all this possible. Ring of Honor's Chief Operating Officer recently talked to Paste about the significant of that Madison Square Garden sellout, the state of today's wrestling business outside WWE, and tonight's Death Before Dishonor event. Here's what he had to say.
Paste: So the Death Before Dishonor PPV is this weekend. You've got Jay Lethal vs. Will Ospreay for the World title.
Joe Koff: Which will be amazing.
Paste: I know you have a close relationship with New Japan, but when it comes to having Ospreay, who's more of a New Japan worker than a Ring of Honor guy, challenge for the world title, what's that process like?
Koff: Well, just historically, to put it in perspective, Will did work with us. He was originally signed with Ring of Honor in conjunction with New Japan. But the travel got to Will so he asked if he could work specific and selective dates, which we accommodated. Jay was reaching out to other promotions and other wrestlers saying 'come on in. I'm met all the people in Ring of Honor, there's nobody here that's challenging me, I'm open to—an open invitation for other promotions to come forward.' And Will wanted to have that match. And I think it could be match of the year.
Paste: Could you see ROH collaborating more with promotions other than NJPW and CMLL in the future?
Koff: We've always been open to that. It's nothing we've shied away from. Just a couple of years ago, when the Young Bucks fought the Hardys, the Hardys were working for Impact at the time, and we were planning to do a home-and-home promotion with them, and then of course the Hardys ended up going to WWE so we never got a chance to have the Bucks on that Impact program as a payback match. We're not against it, but it has to make total sense for everybody's stories. The Jay Lethal/ Will Ospreay story has to make sense for both promotions to do it. Now, it's easier with New Japan, and it'd be easier with CMLL, because we have a working relationship with them. And we understand their wrestlers and their style, and we like working with those promotions. Austin Aries has wrestled inside Ring of Honor. so it's not out of the norm, it just has to make sense.
Paste: Over the last year or two we've seen much more collaboration between promotions outside WWE. You've been in the business a long time—how do you feel business has changed recently from that perspective?
Koff: The business is in a great place. I think that people are realizing there are other promotions outside of WWE. I think what we're seeing, what's really important to me and important to the business, is people are able to make a living and really feel satisfied in their career and their career choices. With these platforms available to these wrestlers and these athletes—and they're such good athletes—this is just a good time to be in wrestling.
Paste: What can fans expect from a Ring of Honor show like Death Before Dishonor?
Koff: We do it for the fans. That's what we're in business for, the fan and the fan experience. The one thing about Ring of Honor events is it's very experiential. It's all about the fan and the fan experience, and it projects itself into the ring, so the wrestlers are feeling that. and in turn they want to give that fan back the experience that's expected. And because of that the level of intensity, the level of artistry, and the level of integrity is so much stronger, I think, than any other promotion, because that's the brand and that's the style of wrestling that our fans, and even new fans who come to us, [expect].
Paste: Earlier you mentioned that Lethal has faced all the competition in Ring of Honor. Who are some wrestlers you could see contending for the World Championship down the road?
Koff: There's always somebody who's going to replace. You have to look at stars like Flip Gordon. Dalton Castle's going to come back off injury soon, I'm hoping. you still have people like Jay Briscoe who'd love to have that title back, Christopher Daniels. I just think that they're engaged in other battles right now. With Will—don't forget, there are New Japan wrestlers on both our weekend shows, on Death Before Dishonor as well as Saturday's TV taping—it was a natural opponent and a new match for Jay, and we think the pay-per-view audience will really enjoy the aerial dynamics of Will Ospreay and the incredible professionalism of Jay Lethal.
Paste: Do you see a New Japan wrestler holding the Ring of Honor World Championship anytime soon?
Koff: I don't see why that's an impossibility. We work closely enough. It has to work creatively for both promotions. And if the storyline can be told over the oceans, then why not? I think we should do something like that. But it has to make sense. Everything has to make sense. I know fans' dreams would be "oh let's just do that," but you can't do that in professional wrestling. You can't do that in a lot of predetermined events. There has to be an outcome further down the line that precipitates the action today. I really like that about wrestling. That old narrative that it's fixed or it's fake is so far off. I'm glad there's more open talk about outcomes and expectations maybe being determined. But when I walk these guys work and I see them come back after their matches there's nothing fake about anything they're doing. It's amazing to watch. I am so respectful, when I see Nick and Matt and Cody, that group, Adam Page and Marty, in their battles, this is just amazing, amazing work being done in the center of the ring. I'm just so respectful of it.
Paste: It's always interesting during interviews like this to see who'll talk openly about the business and who wants to preserve the old ways of talking about it.
Koff: We're not in that [kayfabe] world anymore. I think people wanted to believe it was real at some point, because that was their suspension of disbelief, but there's just so much information and so much more knowledge and so much smarter fans out there and people who are really students of the business—as opposed to just being marks or big fans—that I think they appreciate the old-fashioned kayfabing if that's the character's role. But it doesn't make a difference to them, because what is Star Wars? Isn't Star Wars fake? But it's the story that's engaging, it's the characters that people go to see, it's the amazing technology and the amazing filmwork that you want to see over and over again. Professional wrestling's the same thing. You want to study it. It's why reruns do so well on television, people are comfortable with the product and they feel a kinship with it, a connection to it. And I think wrestling fans like to be connected to the wrestlers, and they understand that they are playing a role, in many instances—of course there are some [fans] who don't and God bless them, we need them too—but they're accepting of that in a far more gracious manner than ever before.
Paste: And the smartest wrestlers have figured out how to kayfabe us in a different way while still letting us into the reality of the business and letting us see into their personal lives.
Koff: Absolutely. Social media has changed everyone's world. We're seeing pictures of families now and pictures of pets. Maybe the old-school wrestlers are turning over in their graves when they see this is going on, but this is how people are connecting. They're connecting at 140 characters, they're connecting over a headline that's going to appear in somebody's alert, this is how we're connecting, so we have to connect to that audience in the way they want to be connected to. And the smart wrestlers and performers, and not only wrestlers but anybody in a performance mode or sports mode, that connection's become really important to the strength of their character and the popularity of the wrestlers.
This might be different than most interviews, but this is how I see the business. I really believe in that. I really believe that we're dealing with a generation, especially the younger generation—I'm talking the wrestlers in their 20s and early 30s, which is the prime demo, even for any advertiser as well. This is their world, they're not changing the way they communicate because they're in wrestling. That doesn't happen that way.
Paste: And this is the kind of conversation I'd want to have with a COO, rather than talking about specific shows or storylines, is talking about a broader view of the business.
Koff: I appreciate that. That would be boring for me, because I'm not a student of that area, to have that kind of level of conversation.
Paste: There are two big shows that Ring of Honor is connected to that I want to talk about. One happened earlier this month, another is next Spring. Obviously you had All In, which I know ROH didn't promote but you had a lot of talent on the show and you helped on the production side. Do you know how your bosses at Sinclair Broadcasting viewed that All In show, if it's impacted their way of thinking about Ring of Honor or wrestling as a commodity?
Koff: I don't think one show would ever have that kind of impact. I think that one show, and certainly the Madison Square Garden sell out [for a show in April 2019] even more, showed the capability and just where we are in the short period of time that we've owned it. There's a lot of validation inside of a company when good things happen. It'd be on different than buying a new syndicated show and all of a sudden it's the number one show in the market. But they bought 20 other shows that aren't. We put the same disciplines and the same foundational logic to every event. This one was just special because there was a specialness to it. And I'm really talking about both. All In was an unbelievable success not because of Ring of Honor; if there was any success attributable to Ring of Honor, it's just that these were wrestlers contracted to us, and we saw the potential of this event and how important it is for the industry, for them, for what they were trying to put forth, and we were very supportive of that. That's very indicative and very much a part of who we are.
What was really special about the Madison Square Garden situation, once we were able to get the Madison Square Garden date secured, was just how many tickets were sold in the first day of presale which were to Ring of Honor Honor Club subscription holders. Almost 60% of the tickets for that event were sold in presale to people who were fans of Ring of Honor, subscribers to our Honor Club [the company's streaming service], and who got a code for them to order. If there was any kind of awakening or any "wow," that to me was the "wow." I've always believed it, because I live it, but when you see it translated into real business like that, inside an iconic arena, or in a magical moment [like at All In]—Sept. 1 was a magical moment, if you were there you could feel it—you could feel everybody's energy. You could feel the fans' energy and the performers' energy. I was so proud for Nick and Matt and Cody for what they were able to achieve and envision. I'm really proud of our team to put it together so that vision could be realized. Now Madison Square Garden will be an amazing show, and the Ring of Honor show on WrestleMania weekend is always probably the top show of the weekend. So I look forward to that. The heavy lifting for that is done for an attendance standpoint. Now we have to live up to the expectation that that show is going to be something special.
Paste: So the instant sellout of MSG, obviously it's WrestleMania weekend and there'll be lots of fans from out of town there, does that make you think you should run MSG again, without WrestleMania being a factor?
Koff: Yeah, again, we apply a lot of disciplines to our decision making, and we'll take a look at that. We'll take a look at that outcome. The partnership with New Japan would lend that to other arenas. We need to get through this one first, and then we can have those conversations. But those conversations, you know the Madison Square Garden conversation really started internally when WrestleMania was announced to be in the New York area. And that's kind of what precipitates the building or the venue that you would need to have a show that weekend. Obviously it's a fantastic place to have a show, because not only are there so many wrestling fans who love to come to New York, but the metropolitan area, within three hours each way—north, east, south, west—you have probably, what, 30 to 40% of the population of the United States? It's a pretty big place to draw from. And I think that was the challenge. I'm not in [WWE's] minds, I don't know how that planning goes, and maybe they thought that, well, if we go to New York, where are these other promotions going to play? Because they probably don't like everybody (and I put this in air quotes) "living off" their back, and I don't think that's the case at all. Their shows stand on their own, they sell out on their own, why shouldn't the fans who come for that weekend have an ability and availability to see other promotions that they may not get a chance to see? It works for everyone. That weekend is a fan's weekend. We can call it what we want, we can label it what we want, people can say what they want, but it's really one of the great weekends that belong to the fans in wrestling. The wrestling community—and I'm going to use that word because I just value it so dearly—when you're a wrestling fan, and you're at a match, you're with people who are also wrestling fans, and are comfortable in their skin being a wrestling fan. There's not a lot [of places] outside of the wrestling matches or on the internet or in the "sheets" where you can be so overtly a wrestling fan, and not be kind of looked at a little, you know, crazily. And to be able to come to a weekend like that, regardless if it's New York or New Orleans or Orlando, or wherever it's going to get done, that's an opportunity for a fan to be a fan and not to have to hide their fandom. That's the wrestling community. It's been created, it's been grown, every organization should take a little bit of credit for that—one organization likes to take all the credit for that (and maybe it's duly deserved, and I really say that in respect of them)—but we're starting to see that they're not the only promotion. And since Ring of Honor has really been active in the business, which is really because of our television and our distribution and our company and just the way we have done our business, I think we've made wrestling a better business because of our presence. We see that with talent, with our talent that currently wrestles with us, talent that has left us to go wrestle with other promotions. The business is good and I think the business is good partially because of us. And I'm proud of that.
---
Garrett Martin edits Paste's comedy and games sections, and used to edit its wrestling section, too. He's on Twitter @grmartin.