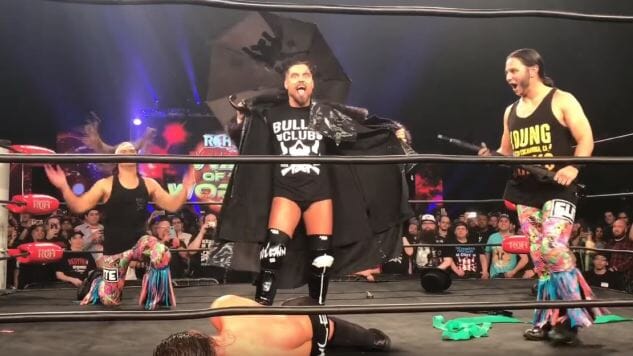 The past year has been a strange year for Bullet Club, to say the least.
Certain members hit their highest of highs while wearing the skull t-shirt, with leader Kenny Omega firmly establishing himself in the heavyweight division with his G1 Climax win and his six star match with Kazuchika Okada. The Young Bucks continued to dominate across all of independent wrestling, culminating with The Hardy Boyz calling them the best tag team they ever faced. Adam Cole won his second and third Ring of Honor World Championships during his time in the Club, and even recent member Cody Rhodes has had his strongest showing as an independent wrestler since joining.
But there were also some lows. Except for Rhodes and Cole, every member of Bullet Club lost their match at Wrestle Kingdom 11 this year. Membership felt like a revolving door, especially with the two week stint Frankie Kazarian spent in Bullet Club only to turn on Adam Cole at Ring of Honor's 15th Anniversary. And the less spoken of the "intergalactic disaster" known as Bone Soldier, the better.
Bullet Club was not exactly in dire straits in 2016 and early 2017, but they hadn't been quite as dominant as a full stable as they had been in the past. Which is why the inclusion of Marty Scurll into the team ahead of this year's Best of the Super Juniors Tournament feels like a breath of fresh, villainous air.
Scurll has been having one hell of a year before joining Bullet Club. Full of character and charisma befitting any good villain, and boasting the in-ring skill to back it up, Scurll stacked up two Progress World Championships, a PWG Battle of Los Angeles win, and an ROH World Television Championship—not to mention quite the following online.
Even without the championships, though, Scurll already seemed like a natural choice to join Bullet Club. His character as The Villain brings a certain sort of evil intensity that feels right in line with the Real Rock N Rolla Prince Devitt, The Guerillas of Destiny and Omega himself. It takes a special kind of wrestler to follow up a double superkick with straight up hitting a man in the face with an umbrella and making that seem like the most intense hit of the night, and that's the kind of wrestler Bullet Club should really be looking for.
Plus, if his title defenses with the ROH World Television title have been any indicator, Scurll might just be what Bullet Club has been lacking in the New Japan Pro-Wrestling juniors division over the past year since Omega and Chase Owens moved up to heavyweight. He may not be a flipper like his friend and occasional rival Will Ospreay, but flips a junior heavyweight do not make. Sometimes it's also how many fingers you break and how hard and fast you can cinch in that chickenwing.
With Best of the Super Juniors starting on Wednesday, there's a lot that can happen, especially with Ricochet and Ospreay set to do battle again and Kushida now holding the ROH World Television Title. However, with a Villain in their pocket and a new representative in the juniors division, Bullet Club might have gotten the boost it needed in 2017 from Marty Scurll.
---
Ashley Leckwold is a freelance writer based out of Atlanta who specializes in comic books, professional wrestling, and pop-punk music. Besides being regularly found at Graphic Policy and The Outhousers, you can find her at her blog and on Twitter @misskittyf.