Golgo: Flesh Blood Substance Blurs the Line Between Art and Anatomy
Anatomy of the Oil Painting Variety
Photos courtesy of the artist
Visual Arts
Features
Golgo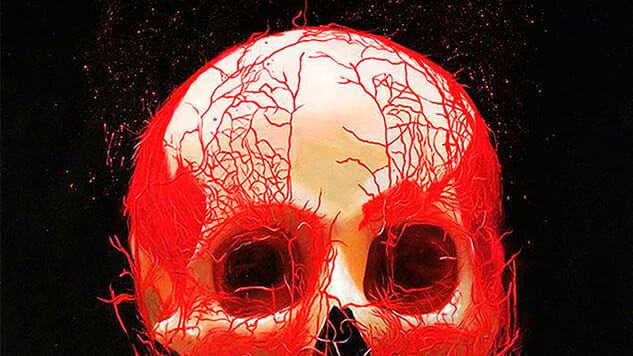 Golgo, the artist also known as Andreas Hijar, had his first solo London exhibition late last year at the London based gallery, Lazarides. Showing Flesh Blood Substance, a series of anatomical oil paintings, marked a significant period in the painter's career. Golgo, who is mainly based in Los Angeles via Mexico City, has centered on his creative inspiration on his Mexican roots.
The folklore, pop culture, and graffiti of Mexico inspired his early work which often featured wrestlers, saints and other worldly cultural icons. But the works in this latest exhibition focus on what lies beneath. The oil paintings are mainly blood red against black darkness. They feel reminiscent of x-rays yet livelier and eerier. The Flesh Blood Substance canvases are a bold cogitation on the place between life and death, the inner workings of the human body and its eventual and inevitable decomposition.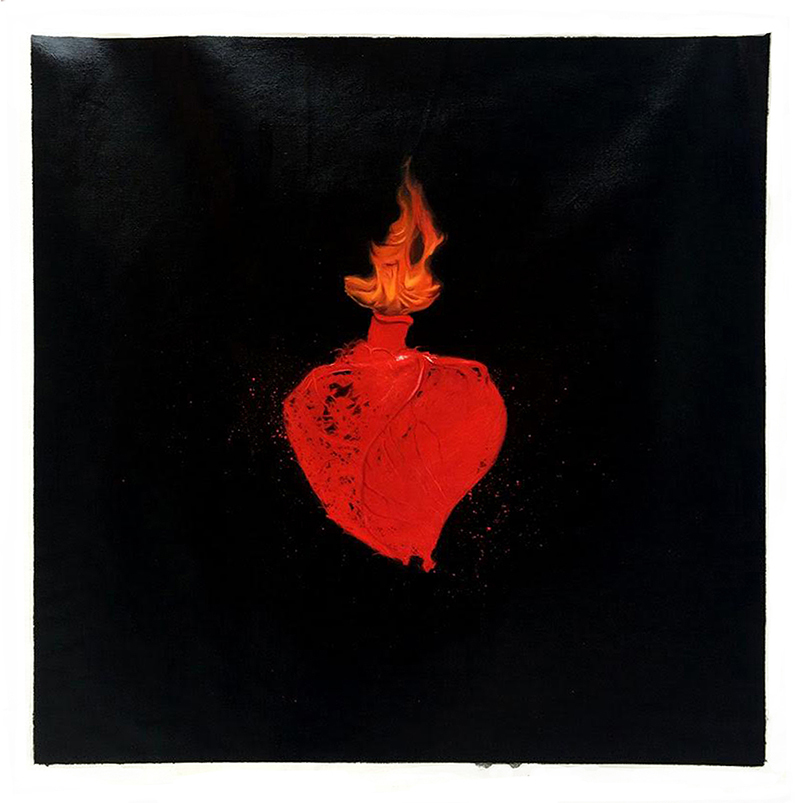 Flesh is described by most dictionaries as a soft substance found between the skin and bones. Blood both gives and takes life. And substance itself is said to refer to the real physical matter of which a person or thing consists and which has a tangible, solid presence. The artist has stripped away all of these dermal layers to focus on what lies beneath and within the human body. Golgo moves from one canvas to another, provocatively removing skin from the human form only to describe the veins and sinew left exposed with technically exquisite fluidity.
The colors of the oils, Golgo's artistic skill and background in illustration all together, forming a magnificent celebration of human anatomy. The artist has stated that his solo show "…is the autopsy of my spirit, a reinterpretation of science and soul, an exploration of our concrete presence and inevitable disintegration." Golgo takes human anatomy, something that is classically studied in science labs and brings it, rather seamlessly, into a high-art gallery setting. Thanks to the skillful painting technique, the line between art and anatomy is blurred.
The oil paintings have clinical names like 'Condition' and 'Migraine'. Depicted as empty of spirit, these works still serve as a reminder that our lives become what we make them, our bodies are simply vessels for things that we may or may not be able to explain. Golgo does a complex visual dissection on each canvas, reminding us of our mortality with a bare-boned approach. With a sense of macabre, sci-fi fantasy and a touch of high school anatomy class artifact, Flesh Blood Substance shows how relevant the oil painting continues to be, bringing to light both the corporeal and the spiritual. View more here.
---
Carolina Mesarina is a regular Paste Arts contributor.