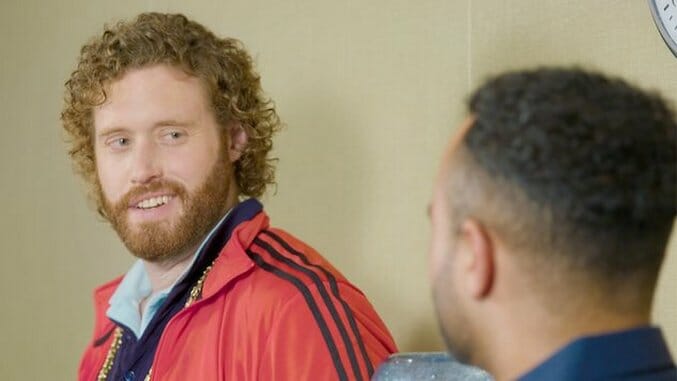 "You're one of the weirdest creeps I've ever known."
When the comedian T.J. Miller, late of Silicon Valley, mentions this to Rob King, the host of Above Average's new web series, Your Biggest Fan, King responds with an unnervingly unctuous "thank you." The moment, like the show, is cruel, hilarious and discomfiting in equal measure.
Making guests like Miller visibly anxious is King's comic ambrosia—his ideal result is when someone like Tony Hale or Jane Lynch actually bullies him for his aggressive sycophancy. In certain cases, the celebrities King "interviews" merely mock him at first, as a surprisingly game Alan Alda did in a segment last month; inevitably, though, they wind up directly abusing the host, who claims to be their most loyal admirer.
Set against a spare, monochromatic wall and theatrical watercooler (the perfect comedy prop, with a Jenga-like stack of cups dangling precariously in every shot), King stages weird-warm Q&As with whichever cultural luminary is "passing through the Above Average offices." Only seven brief episodes have aired since the series' May premiere, but it has already become clear that Above Average—the multi-platform network and digital arm of Lorne Michaels's Broadway Video—has found its most consistently funny program since its first, the inimitable Seven Minutes in Heaven.
That ongoing short-form masterpiece features creator Mike O'Brien asking famous guests like Tina Fey, Will Ferrell and Ellen DeGeneres to perform absurdist sketches in a closet before the host tries to forcibly kiss them. Slyly ingratiating (and a gifted improviser), O'Brien helped the show transcend hypersexual cringe-comic stereotypes, ultimately turning the jagged release of new episodes into anticipated digital events akin to fresh helpings of Between Two Ferns.
Like O'Brien, King is improv-trained, a quick UCB performer who also scripts every episode of Your Biggest Fan. His apparent neuroses recall any number of characters made famous by legendary Michaels mentees like Kristen Wiig or Tina Fey, both of whom appeared in Seven Minutes. Should Liz Lemon ever appear on King's show, host and guest would surely burst into flames.
That said, YBF director Kelly Harper's touch is more distinctively anarchic than the network's previous series, giving King's comedic persona impressive precision. With bobblehead eyes and a mischievous smile, he has perfected the physicality of noxious idolatry. (I should know: My father runs fan conventions, where such manic encounters are the norm.) His character, "Rob King," is a particularly effective blur of mumbled inanities and a desperate desire to star-worship. Yet, like only the most appealing entertainers, we cheer for his rejections to turn into acceptances. C'mon, Tim Heidecker, give the guy a chance!
This is perhaps why high-profile guests, like Veep star Matt Walsh and Transparent's Jeffrey Tambor (whose appearance is exquisitely prickly), agree to work with King, a comparatively untested entity best known for small supporting turns in indie films like Mike Birbiglia's Don't Think Twice and the upcoming Jim Strouse/Netflix comedy The Incredible Jessica James. It would be easy to lambast the show as glorified promo-tainment—a strategy that Above Average has used to lure talent like Jay Pharaoh and Vanessa Bayer into tasteless production partnerships in the past—but even the most willing and talented performers require a capable foil.
Your Biggest Fan and its guests therefore rely on King, who rises to the occasion with astonishing uniformity. Above Average's excellent resident editor Dominick Nero (who also edits We've Got Questions) and assistant editor Tom Byrnes keep the witticisms tight and rollicking, so far avoiding even a single moment of improvisatory slackness in the entire series. Harper, too, helps King establish a snappy, smart patter most evident in the post-episode bloopers. In one adorable out-of-character beat, Tambor asks Harper: "Am I being too silly?"
As Seven Minutes grew in popularity and budget, so has Above Average, which since its launch in 2012 has come to specialize in slapdash comic web series, including King's. Its model program is goofy, loose and chatty, like Alec Baldwin's Love Ride, the underappreciated car-set talk show that started in 2014.
The concept for Love Ride is deceptively simple: Baldwin, who created and executive produces the show (with Mallory Schwartz and Jennifer Danielson, the president of Above Average), drives around New York in a limousine with famous guests (Jim Gaffigan, Ellie Kemper), stopping to pick up couples on the street. Yet Baldwin, whipping out unscripted wisecracks with chartless charm, has never been more in his element, especially in a pair of lovely episodes featuring his wife, Hilaria. Your Biggest Fan, by comparison, is a legacy program in the vein of both O'Brien's and Baldwin's shows.
Another recent venture, We've Got Questions, is as pleasant a diversion as a powernap during work hours. I mean that as a compliment. As directed by Harper, episodes play like invite-only lightning rounds of improv between creator Matthew Starr and Sarah Smallwood Parsons. In snippets of around five minutes, the hosts play word games with recent news items, gabbing about whatever idiotic events have taken place in the week between shows.
For those, like me, who suffer constant psychological beatings during the 24-hour news cycle, We've Got Questions is just the right palliative, the extra-strength Tylenol of digital comedy. And Starr and Parsons are a genuinely winning pair. Their rapport is at its strongest when they devolve into sloppy accents and one-off characters, like a Midwestern man trying to ward hornets off his property using fireworks ("I will kill it with fire!").
The overabundance of prestige TV, like pornography, may have dulled our taste for it, but Above Average excels at this kind of light amusement. The value of consistency gives the network an advantage over its more eclectic competitors, like Funny or Die or Super Deluxe. Series like Starr's, Baldwin's and King's are distractingly easy to binge and much too funny to gloss over.
If nothing else, Above Average proves the theorem ("The Paste Principle," perhaps?) that indefatigable hosts, high-resolution cinematography and a limber team of editors can spin even the most banal concepts into alchemically delightful content aperitifs.
---
Sean L. Malin is a media critic and producer based in Austin, TX. He is a frequent contributor to
The Austin Chronicle
and
Filmmaker Magazine;
and he is the editor-in-chief of
CineMalin: Film Commentary and Criticism.