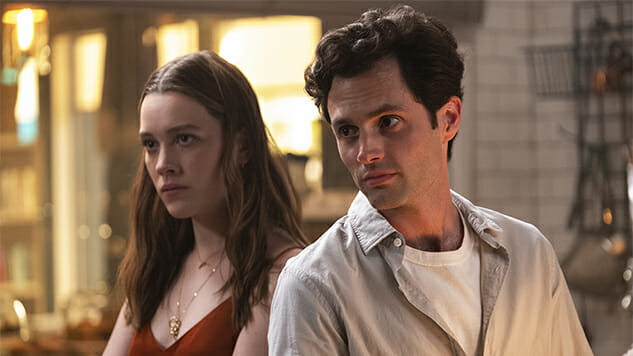 Netflix hit You revived the very antiheroic male antihero, delved into obsession from the perspective of the obsessor, and brought Penn Badgley (Dan of Gossip Girl) back to the streets of NYC and made him a whole lot creepier. As of Dec. 26, Season 2 of You will be available for binge-watching on Netflix with holiday leftovers at hand. This next installment in the series sees Joe starting a new chapter in sunny L.A., but that doesn't mean he's letting go of his dark side.
Now that we know what Joe has done in Season 1, the trailer is just three minutes of stress as Joe sets his sights on a new target. The only hope is Candace (Ambyr Childers), Joe's ex who's the one who got away (from murder) and is ready to bring him down. Joe is busy keeping up his past tactics of stalking, manipulating and, unfortunately, likely offing those who get in his way. The theme of ridiculous names lives on, moving from supporting characters, like Peach (Shay Mitchell), to center stage as Joe's main love interest for this season is literally named Love—yes, Love—as portrayed by Victoria Pedretti, who gave a standout performance in Netflix's The Haunting of Hill House. There's bodies getting smuggled, Dexter-like kill rooms, apparent funerals and lots of blood on Joe's hands. The trailer will make you question who's really alive, who's dying or dead, and if Joe will get what he deserves this time around.
You was developed by Sera Gamble & Greg Berlanti, and based on the book by Caroline Kepne of the same name. You is produced by Berlanti Productions and Alloy Entertainment in association with Warner Horizon Scripted Television. Berlanti, Gamble, Sarah Schechter, Leslie Morgenstein, Silver Tree, Gina Girolamo and Michael Foley are executive producers. Additional cast members for Season 2 includs James Scully (Forty Quinn), Carmela Zumbado (Delilah Alves), Jenna Ortega (Ellie Alves) and Chris D'Elia (Henderson).
Watch the trailer below.