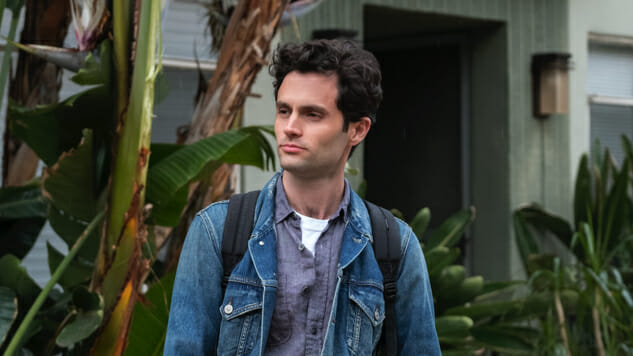 Joe Goldberg will return for another "fresh start," as Netflix has renewed the critically acclaimed drama series You for a third season. The show gained popularity fast, thanks to quality production and approval on Twitter, and the cast will take a year off before returning with more content in 2021.
Season 3 will feature 10 all-new episodes, with co-creators Sera Gamble and Greg Berlanti returning as executive producers. Gamble will also serve as showrunner. Penn Badgley and Victoria Pedretti are confirmed to reprise their roles. Additional casting news will be announced at a later date.
Gamble spoke with THR about long(er)-term plans for the series last month after Season 2 debuted, saying:
[W]e have a lot of stories still to tell. I am not scared at all of saying that we definitely could follow Joe [Badgley] for several more seasons. Because we believe in the world that Caroline [Kepnes, who wrote the books on which the series is based] gave us and we believe in these characters, we just know they'll keep finding really fucked-up shit to get into.
If you've been too busy to binge-watch yet another crowd-pleasing Netflix original, here's a summary of Season 1 and 2:

You follows Joe Goldberg (Penn Badgely), a humble bookstore manager with an appreciation for classic literature and chivalry. His over-analytical thoughts narrate his romantic encounters, which start off innocently enough, but always seem to end in bad blood. Season 1 introduces to his latest conquest, Guinever Beck, as she dredges up flashbacks from his last traumatic relationship and abusive childhood. Joe tries his best to stay docile for this one, but how could he not lose his temper when his lovers won't stay faithful? It's an unfortunate truth, but some people won't love you until you force them. Joe's caretaker taught him this lesson at a young age, so he has all the patience in the world as he force feeds his new girlfriend, Guinivere, this twisted reality … Until she tries to escape and he has no choice but to bash her skull in.
In the second season, Joe moves from New York to Los Angeles to escape his past, and starts over with a new identity. Fresh out of an intense relationship that ended in murder, the last thing he expects is to meet an incredible new woman but he's falling in love again—with a woman named Love (Victoria Pedretti). Is history repeating? Or will this time be the real thing? Joe's just crazy enough to risk finding out.
You is based on the books You and Hidden Bodies by Caroline Kepnes, and produced by Berlanti Productions and Alloy Entertainment in association with Warner Horizon Scripted Television. Berlanti, Gamble, Sarah Schechter, Leslie Morgenstein, Gina Girolamo, Silver Tree, Michael Foley and Justin Lo serve as executive producers.