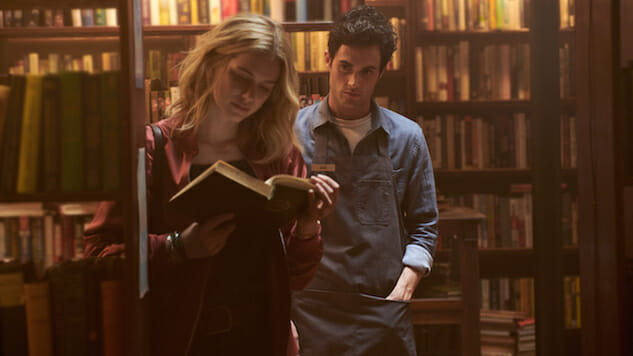 YOU has found a new home for its second installment.
The psychological thriller, which premiered on Lifetime, will make the move to Netflix, the streaming service announced on Monday.
Based on Caroline Kepnes' book of the same name, YOU centers around New York City bookstore manager Joe Goldberg (Penn Badgley), who meets and develops an obsession with aspiring writer Guinevere Beck (Elizabeth Lail). Goldberg uses social media and the internet to learn intimate details and get closer to Beck. YOU stresses the fine line between love and obsession, while exploring the dangers of social media and a lack of respect for privacy. Paste has previously praised the series for successfully taking on the fight to end rape culture and presenting an antihero whose monstrous qualities ultimately overtake the viewer's sympathetic impulses.
The series was developed by Greg Berlanti and Sera Gamble. The cast includes Luca Padovan, Zach Cherry and Shay Mitchell. John Stamos appeared as a guest star.
Although the cable network renewed the series for a sophomore run before the first episode even premiered, Lifetime opted out of the second season. Mediocre ratings, combined with the fact that Lifetime did not own the drama, made the next installment unfeasible.
"Lifetime had an incredible experience working with Greg Bertlanti, Sera Gamble and the entire team on YOU for season 1," Lifetime said in a statement (via THR). "We wish the cast and crew the best as the series continues on at Netflix and can't wait for the opportunity to work with the creative team again."
Expected to loosely follow the events of Kepnes' sequel Hidden Bodies, the second season will move the thriller from New York to Los Angeles.
YOU is not the first series to relocate from its original network to Netflix. Originally developed for The CW, Chilling Adventures of Sabrina also made the move to the streaming service, per THR.
Season 1 of YOU will launch on Netflix Dec. 26. The second season premiere date has yet to be announced.