Original Score for Netflix's Cult Docuseries Wild Wild Country to Receive Vinyl Release This Fall
Image courtesy of Western Vinyl
TV
News
Wild Wild Country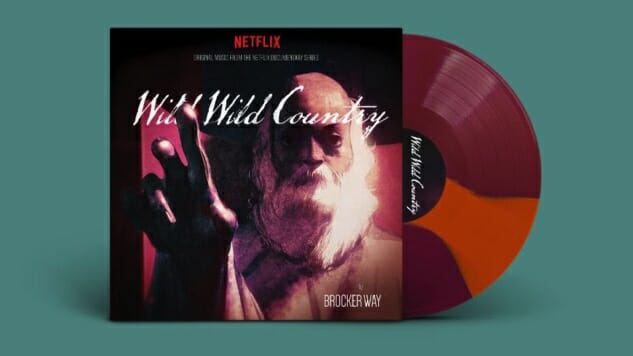 The emotion-pushing music accompanying Netflix's docuseries Wild Wild Country is now being pulled out of its visual context for an LP, due out Sept. 21 via Western Vinyl. If you haven't heard of Wild Wild Country, it's a six-part documentary series that came out earlier this year and follows the story of the Neo-sannyasin cult that transplanted into Oregon in 1981. The founded town of Rajneeshpuram, named for leader and Indian guru Baghwan Shree Rajneesh, caused strife with the neighboring small town of Antelope.
So while you're watching this enrapturing series, its composer Brocker Way is layering in the emotional undertones beneath the images, subtly guiding the narrative. (A family affair, Brocker's brothers Chapman and Maclain directed the series.) Brocker's vignettes invite listeners into the score's own world, where the interviewees' outlooks are reflected and can be experienced on their own.
"This kind of music gives us an idea as to the motives of each talking head, without actually scoring the motives of the character, and hopefully entices us as the audience to take the journey with them," Way said. "When the Rajneeshees are building their town, you get to feel that and be right there with them."
You can preorder the original music of Wild Wild Country here and listen to "Church and State" off the record here. Watch the trailer for Wild Wild Country, and find the album's tracklist and vinyl product shot below.
Wild Wild Country: Original Music From The Netflix Documentary Series Tracklist:
01. The Guillotine
02. Fashionable Leather Shoes
03. Come Home
04. Life For Myself
05. Those Of Us Who Were There
06. The New Man
07. High Desert
08. Be Grateful For This Beautiful Home
09. Church & State
10. An Adventure Of My Life
11. Spies In Overalls
12. The Takeover
13. Chosen People
14. It Was A Town
15. The Burning Ghats