Netflix Renews Wednesday, Reminding Viewers that Renewals Are Technically Still Possible
Photos via Netflix
TV
News
Wednesday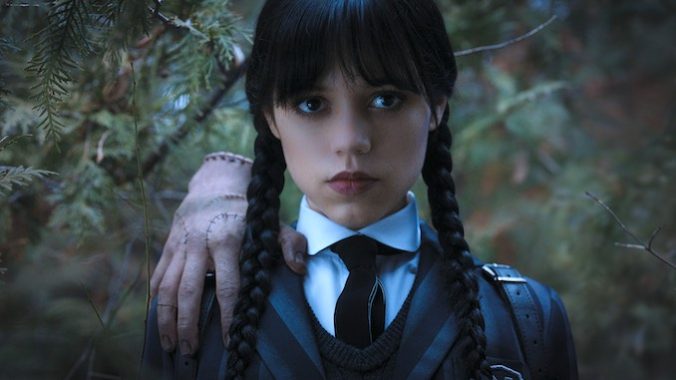 Netflix viewers would be forgiven at this point if they forgot that series renewals were technically still possible at the streamer, especially following the surprising cancelation last week of seaborne mystery 1899. As it turns out, all a series needs to do in order to get a second season is break every conceivable viewership metric with its mega-virality. You know, like Wednesday did. In the least surprising news of the still-young year, Netflix announced Friday that a second season of Wednesday was on its way. The embedded video below, featuring franchise star Jenna Ortega, made the announcement official.
Wednesday is of course a spin-off of The Addams Family, specifically focused on eldest daughter Wednesday Addams, memorably played in the film series by a young Christina Ricci. Now a budding teenager, Wednesday sees its title character shipped off to private high school Nevermore Academy, where she gets wrapped up in a series of monster murder mysteries. That, and a whole lot of high school drama.
The show truly became a ratings juggernaut following its initial release in November, generating viewership numbers unlike anything else in recent Netflix history. It had been a little while since the world's largest streamer had what felt like a new series with truly universal pop culture impact, but Wednesday certainly fit the bill. Even those who haven't watched the series have doubtlessly heard about its much-discussed and parodied dance sequence performed by Ortega, and anyone on TikTok has likely suffered through countless parodies set to Lady Gaga's "Bloody Mary." This truly was a pop-culture moment at the close of 2022.
Check out the season 2 announcement from Netflix below.