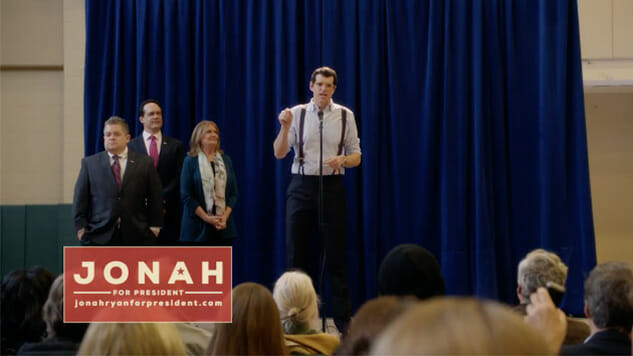 After an astonishing Veep season six finale that leaves us with both Jonah Ryan and Selina Myers running for president, the show has launched Jonah's (thankfully fictional) official campaign website, and it's as messy as you would expect. The website is packed with Jonah's typical blunders and vain policy ideals, all cringeworthy enough to rival his opponent's.
In the video below you can see Jonah sort-of announce his campaign for president in the same high school gym where he announced his run for Congress. Similar to the site made by the show for Selina Meyers's Meyer Fund for Adult Literacy, AIDS, the Advancement of Global Democracy, Assistance to our Military Families, and Fighting Childhood Obesity after Selina's memoir release, Jonah's campaign site is full of self-owns and egotistical runs.
Jonah's "issues" include (and are limited to) a 200 percent tax on tip jars because they're basically "a panhandler's upturned hat," throwing out Daylight Saving(s) Time, an "unconscionable burden … imposed by your bossy babysitter government," and a piece on nuclear disarmament that reads like one of Trump's speeches on foreign affairs.
The "News About Jonah" page features some of Jonah's biggest freak-outs from the show, in which the freshman Congressman from New Hampshire gets riled up on the House floor and in interviews.
If you have a few minutes and want a good laugh, you can access the site here. Watch Jonah's announcement below.