Take a First Look at BBC America's Terry Pratchett Adaptation The Watch
Photos via AMC Networks
TV
News
The Watch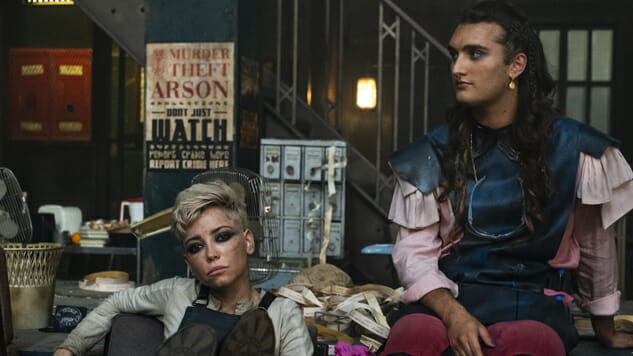 Following Thursday's presentation at the Television Critics Association, BBC America released a few first-look photos of their forthcoming series The Watch. Inspired by Terry Pratchett's popular Discworld series, The Watch concerns a group of cops living in a fantasy city where crime has been legalized. The show largely follows the conventions of the police procedural genre, with genre-defying elements of fantasy and adventure added in. The photos show off the show's unique blend of styles, pairing bomber jackets with chainmail and organized crime with crossbows.
Described in a press release as "uniquely anarchic and thrillingly entertaining," the show will star Game of Thrones' Richard Dormer, Anna Chancellor, Sam Adewunmi, Adam Hugill, Jo Eaton-Kent, Marama Corlett and Lara Rossi. The show currently has a projected 2020 release, with filming having already begun in Cape Town, South Africa. No word yet on an official date for The Watch.
Pratchett, who initially was reported to be overseeing the show's writing, passed in 2015 from Alzheimer's complications. He left behind a great many unfinished works, which he had destroyed post-mortem by running his hard-drive over with a steamroller. You can read our review of last year's adaptation of Good Omens, originally a collaborative novel by Pratchett and Neil Gaiman, here. See the first-look photos from The Watch below.