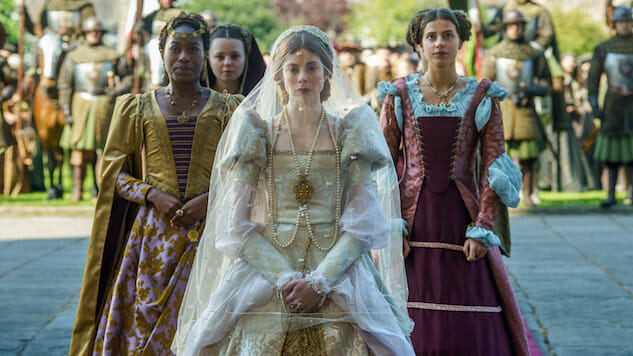 Watch Keri's video breakdown of The Spanish Princess below.
Do I enjoy watching a queen with red hair take over the world? Why yes, yes I do!
Plenty of people will see themselves reflected in Emma Frost's most recent historical fiction series, The Spanish Princess, brought to life on Starz. The story is based on Philippa Gregory's books The Constant Princess and The King's Curse, which are part of her series of Plantagenet and Tudor novels, including The White Queen and The White Princess. So, while The Spanish Princess is a limited series, it is also continues a storyline—and while it's not necessary to watch the previous series to enjoy this one, it will make some plot threads, especially those around Elizabeth of York (Alexandra Moen), make sense.
The story of the Tudors is one that has fascinated people for years, and there have been many shows and movies about this royal family. Usually, the story of Henry VIII begins with an older Catherine of Aragon and young, beautiful Anne Boleyn.
This version, from showrunners Frost and Matthew Graham, shows the beginning of her story. What many may not realize is that, for one, just because Catherine was Spanish doesn't mean she had black hair, and two, she was married to Henry for 24 years before he annulled their marriage.
The Spanish Princess gives us her triumphant part of the story.
Catherine (Charlotte Hope) is the daughter of Ferdinand and Isabella of Spain. Yes, the same rulers who funded Christopher Columbus' journey.
When she goes to court she takes her own ladies, one of whom is of African descent (the other is Spanish). She also has African guards. These characters are historically accurate: Black people lived throughout Europe during this time period, and were indeed part of Catherine's orbit.
The series itself is riveting, too. We see Catherine of Aragon telling people what she wants, when she wants it. She is no simpering miss who's been sent to wed a man she's never met before. She is in control of her choices.
And the costuming in this series, my goodness. It will take your breath away. Do not be surprised at all to see some corseted wedding gowns coming to a bridal runway near you.
While most of us can't relate to living in palaces and arranged marriages, though, The Spanish Princess doesn't shy away from subject matter we can all relate to. Grief is shown in a way that is real. So is being in control of your selfhood even when you cannot control the circumstances around you.
The Spanish Princess crafts an immersive world. Well written and enjoyable to watch, you don't even have to call it "just entertainment"—you'll be learning some history at the same time.
The Spanish Princess premieres Sunday, May 5 at 8 p.m. on Starz.
---
Keri is a professional chatterbox who loves watching TV & movies, reading about pop culture, and gawking at any craziness on the internet. You can follow Keri on Twitter.