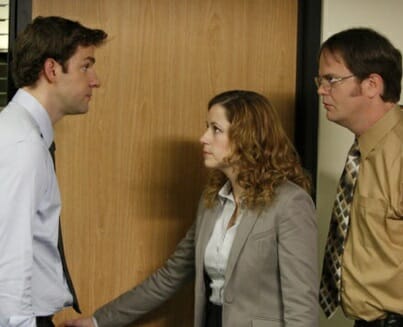 "The Lover" marks the sixth season's most spot-on episode, mainly, the well-executed schticks and screaming matches that inevitably ensue when an employee (Pam) discovers that her boss (Michael) has been sleeping with her mother— Michael's latest exposé in inappropriateness that sparked from Jim and Pam's wedding in "Niagara."
The concept isn't such a far reach for humor (especially in contrast to last week's strained "Mafia" plot line), and even better about this particular episode is that Pam's exploding reaction to Michael's affair is completely and utterly in line. Kudos to Jenna Fischer for delivering an unseen, uncharacteristically enraged side of Pam. She literally runs out of his office screaming, as she should have. For someone who loves her mother, even if only a little, and knows Michael Scott, maybe too well, there is no other way to react.
The eruption between the two musters ponderous and sobering questions: How much should Pam sacrifice of her family for Michael's welfare (a concept that many of his employees intermittently face)? Can she really talk to her boss like that? How far should Michael seek happiness in a relationship? Has he no limits? At first, they're not so easy to answer.
As the episode reels on, Pam's perspective is easier to understand as she turns on her boss with rebellious teenaged angst and fails to find solace in Jim's milquetoast counsel. Well, we can't be too hard on him. He was simultaneously turning Dwight's wooden mallard surveillance ploy on its head while gulping the abrupt realization that, yes, the honeymoon is really over. Don't fret, he comes through in the end, and surprisingly, so do Dwight's surveillance tactics.
The verdict for this episode? It looks like intriguing character development and authentic talents to follow it through can save this season from the ridicule of its numbed naysayers.