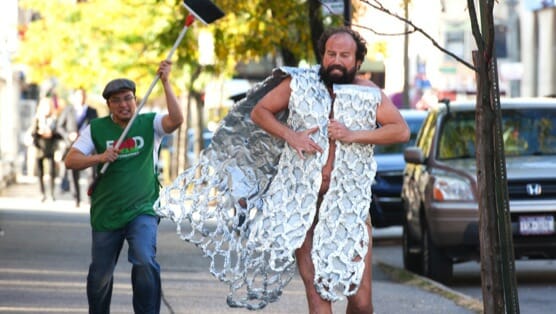 Although we might be spoiled by this Golden Age of Television, it's still always pleasantly surprising when a series comes along and offers up something new. As of right now, we don't really have anything to compare to The New Yorker Presents, and that's incredibly exciting. Director Dave Snyder has teamed up with Oscar-winning filmmaker Alex Gibney (and a host of others, as Snyder told Paste this was an incredibly collaborative effort) for the pilot episode, which brings the magazine to life using sketches, cartoons, documentary shorts, and even performance poetry. The pilot delivers a pleasant, although sometimes disjointed collection, featuring Alan Cumming, Marina Abramovi?, Andrew Garfield, the work of Jonathan Demme, and much more.
The episode opens with a short sketch that couldn't have been more perfectly cast—Alan Cumming is God and Brett Gelman is a devoted follower, who appears to be a crazy person living on the streets of New York City. But all you really need to know is that Alan Cumming is God. The short documentary on Marina Abramovi? is predictably provocative, but also—in providing some beautiful shots of individuals attending her performance pieces—shines a light on the intimacy so many are seeking when they go to see her. One of the most compelling pieces is the short, Jonathan Demme-directed adaptation of the story on renowned biologist Tyrone Hayes (The New Yorker's "A Very Valuable Reputation"). As the cameras follow Hayes back to his childhood home, the narrative becomes centered on the story of a black man whose unique upbringing in a swampland and family life led him to the Ivy Leagues. Where the short could have merely focused on the corporation trying to destroy and discredit him, instead it suggests that, even without the controversy, Tyrone Hayes was and is an incredibly fascinating individual with an important, American story.
The one oddball sketch might be Andrew Garfield's reading of Matthew Dickman's poem "King," but I'd argue that this is attributed more to a certain desire to keep celebrities and the notion of celebrity separate from a publication like The New Yorker, or even separate from the other types of stories in the pilot. Personally, I enjoyed the strangeness of it, and would love to see more readings with other actors or artists.
The New Yorker Presents does not need an episodic theme (indeed, that might detract from some of the excitement that comes from not knowing exactly what to expect), but there is something missing—a single, invisible thread that might have better connected the episode. It's an incredibly difficult task, but with all the talented hands on board—and the vast amount of stories, artwork, and journalism at their disposable—they can certainly figure it out. The result would be something like a delicious stew or gumbo—a collection of wonderful meats and flavors, with one secret ingredient to set it off. The pilot was undeniably fascinating, but the potential of The New Yorker Presents to become more of a staple in television or online programming is even more exciting.
---
Shannon M. Houston is Assistant TV Editor & a film critic at Paste, and a writer for Pink is the New Blog and Heart&Soul. This New York-based freelancer probably has more babies than you, but that's okay; you can still be friends. She welcomes all follows (and un-follows) on Twitter.