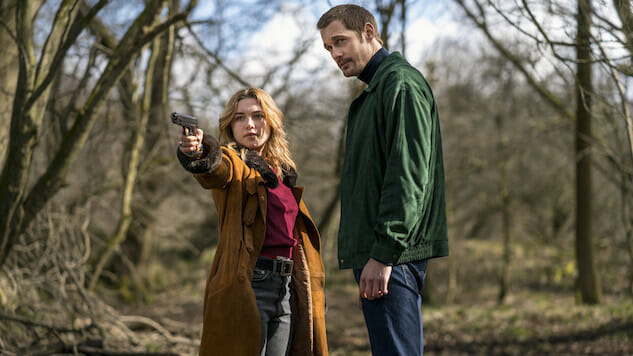 The Little Drummer Girl is the next big step into awards-seeking TV by the executive producers of The Night Manager, as they return to adapt another John le Carré novel into a miniseries, set to air Stateside on AMC. In it, Florence Pugh plays Charlie, a young actress whose predilection for storytelling and deception makes her a great actress and a perfect candidate for espionage work. Director Park Chan-wook, the mastermind behind The Handmaiden, Oldboy, and Sympathy for Mr. Vengeance, is an equally perfect candidate for putting it together: The South Korean filmmaker makes his TV debut by engaging his powerful grip on the viewer's sympathetic eye across different perspectives, layers, and schemes, both narrative and visual. What kicks off with a bombing, investigated by spy leader Kurtz (Michael Shannon, whose gruff brilliance finds an amplifying admirer in Park), soon becomes a viney erotic thriller between Charlie and an Israeli spy named Becker (Alexander Skarsgård), who is Kurtz's weapon of choice for pulling the new recruit into their anti-terrorist work.
Skarsgård channels a similarly dangerous, distant, potent energy as in his Emmy-winning Big Little Lies performance, though he and Shannon both sound a bit self-conscious in their adopted accents and Skarsgård's interplay with Pugh only contributes to the series' staggeringly slow pace. Often repetitive, sometimes purposefully, their mind-numbing relationship is a tar pit to the grand strut of The Little Drummer Girl's stunning set pieces.
The latter blend tension and sound, tying music and precisely sequenced cuts reminiscent of Dunkirk—if Christopher Nolan weren't allergic to color. Lush, warm, and utterly of the 1970s, the color palette of bright greens, yellows, and reds accentuates tiny camera zooms and perspective mimics—swinging back and forth like a character's gaze, for instance—with plenty of retro flair. Where many spy thrillers bash you over the head by being bleak, dark, and monotone, The Little Drummer Girl makes you sweat with movement and color. The camera is so often active that its restraint—refusing to show a face or complete a revolution around a star—is a piece of the action with its own meaning, and with exciting, dreadful implications. It's easy to get so caught up in the painterly framing that the plot becomes secondary to the cause, though the series tries to tie them together as deeply as it can.
Park often tells stories about intimately entangled people ruined by coldness (usually in the pursuit of revenge) with jarring closeness (usually expressed brutally). His love is a strange, damaged one, but it's one he's become an expert at developing. His crossfades can make you cry. Directors can't do that, but Park can. Through campfire songs, early beach mornings, cramped bedrooms, and crowded telescope lenses, he pushes everyone closer together, like a magician who knows that the pleasure of the trick is in the anticipation.
Looking the part is just as important as deciding what parts we're looking at. The Little Drummer Girl's period-appropriate clothing is as detailed and delicious as the intertwined plotting that pushes together Charlie's recruitment and a terrorist's interrogation as equally manipulative tortures. These tortures echo the ultimately reflective approach the miniseries takes towards spycraft, acting, and the Israeli-Palestinian conflict they both attempt to… well, "resolve" is the wrong word, but definitely influence. As the line between knowing one's enemy and feeling empathy for them is blurred, this indecisive mishmash of misdirection is seems more and more to be the true point of the series.
That's not to discount the power- and role-play of co-star, director, and writer, which are morally suspect yet seductive—especially when they're all embodied by the strapping Skarsgård. But the stagecraft/spycraft conceit is a little too trite for the tension, delaying much of Pugh's actorly efforts until the finale (where she kills it) while making for a lackluster romance. As Kurtz says, "I am the producer, writer, and director of our little show," though such direct references to the analogy, coupled with hoary some-people-aren't-cut-out-for-this-work-isms, can be heavy-handed, especially since the implications are a bit quick, a bit silly, and a bit condescending for the setting.
As Charlie finds herself deeper and deeper in over her head, acting—lying, creating a fantasy or a fiction, whatever you'd like to call it—as a balm for reality is damned through and through: Mocking the Method with an entire spy novel likely wasn't Le Carré's intent, but it's certainly a fun side effect. The dense plot's fascination with identity and the white radicals of the 1970s comes off well, but after six hours, all the angles seem exhausted from their relentless interrogation. For all its iffy metaphors and bewilderingly slow pace, though, The Little Drummer Girl hangs in there thanks to Park's confident captaining of actor and camera, punctuating its dreamy haze with moments of shock and violence.
The Little Drummer Girl premieres, Monday, Nov. 19 at 9 p.m. on AMC.
---
Jacob Oller is a writer and film critic whose writing has appeared in
The Guardian, Playboy, Roger Ebert, Film School Rejects, Chicagoist, Vague Visages,
and other publications. He lives in Chicago, plays Dungeons and Dragons, and struggles not to kill his two cats daily. You can follow him on Twitter here: @jacoboller.