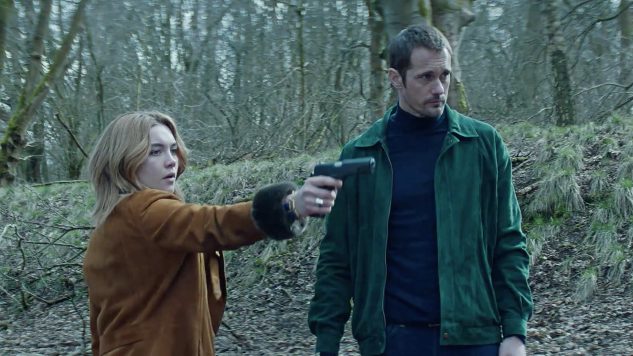 AMC has released the first trailer for the six-part miniseries The Little Drummer Girl, based on John le Carré's best-selling spy novel and premiering soon on the network as a "three-night television event."
The Little Drummer Girl sports a serious pedigree, coming from the executive producers behind the Tom Hiddleston-starring le Carré adaptation series The Night Manager, and is also an AMC and BBC co-production. The entire series was helmed by Park Chan-wook, the great Korean director behind such films as Stoker and The Handmaiden, making his television directorial debut. The series also stars Michael Shannon, Alexander Skarsgard and Lady Macbeth breakout Florence Pugh.
AMC has also released a synopsis for the forthcoming series:
The Little Drummer Girl weaves an explosive story of espionage and international intrigue; of love and betrayal. Brilliant young actress Charlie (Pugh) strikes up an acquaintance with an intriguing stranger while on vacation in Greece, but it rapidly becomes apparent that his intentions are far from romantic. The man is Becker (Skarsgård), an Israeli intelligence officer, who entangles her in a complex and high stakes plot orchestrated by Spymaster, Kurtz (Shannon).
The new trailer doesn't reveal much in the way of plot details, but from what we see, it's certainly a stylish television debut for director Chan-wook, and a project worth checking out for all the spy fiction fans out there.
The Little Drummer Girl premieres as a three-night "television event" starting with a two-hour episode on Nov. 19 at 9 p.m. ET.
Watch the trailer below and check out the official key art further down.
Seduction. Manipulation. Betrayal.
Featuring Michael Shannon, Alexander Skarsgård, and @Florence_Pugh, #TheLittleDrummerGirl's three-night event starts on AMC on 11/19. pic.twitter.com/2wPEuNe1aa

— AMC (@AMC_TV) October 8, 2018