HBO's The Last of Us Tells an Epic, Brilliant, Character-Driven Story
Photo Courtesy of HBO
TV
Reviews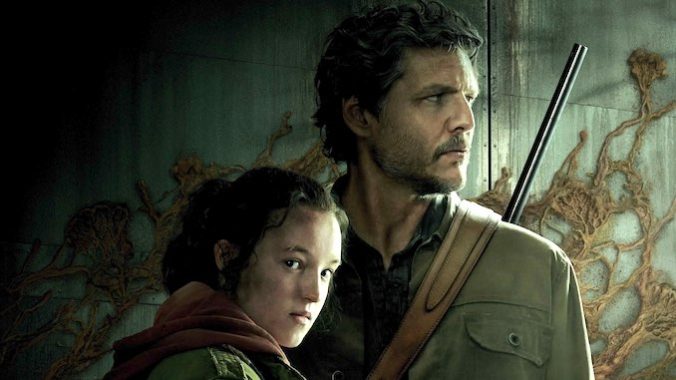 "Did you know diarrhea is hereditary? It runs in your genes."
You wouldn't think puns would work as connective tissue between characters in any television series, yet alone a post-apocalyptic drama, but it does just that whenever 14-year-old Ellie (Bella Ramsey) throws them at 50-something Joel (Pedro Pascal) throughout the first season of The Last of Us. In a world as dark and dangerous as the one viewers see onscreen, measured humor goes a long way.
Humor is one of the many tools that series creators/writers Craig Mazin (Chernobyl) and Neil Druckmann (designer of the videogame the series is based on) use to build layered characters to tell a heartbreaking, yet inspiring story filled with loss, hope, determination, and redemption. And it all revolves around Ellie and Joel.
When we first meet the unlikely pair, they couldn't be more diametrically opposed. Joel's a strong, silent, old-school guy who would prefer a teenager be seen and not heard. It's only natural that he'd initially clash with the strong-willed, opinionated Ellie who frequently challenges him. Of course, they're not matched by choice.
Joel and his partner Tess (Anna Torv) are hired by the leader of a militia group called the Fireflies to get Ellie out of the totalitarian controlled Boston quarantine zone to another group waiting for her nearby. Ellie's immune to the mutated strain of the Cordyceps fungus that turns infected humans into aggressive creatures that attack non-infected humans. Doctors will use her to find a cure. Ellie may be humanity's savior, but what starts as a simple mission falls apart.
It quickly becomes Joel's responsibility to get Ellie to a team of Firefly doctors waiting for her somewhere out west, and the trip is fraught with peril. Early in the season, The Last of Us has hints of The Walking Dead and Cormac McCarthy's The Road as the pair methodically make their way across the country, fighting off Infected but also dealing with something even worse: humans.
Over the course of the season, the relationship between Ellie and Joel gradually evolves from one of contempt to eventually respect, and then platonic love. It would have been easy to have made these characters one note, particularly considering the post-apocalyptic setting. But over nine episodes the two open up to each other in sincere, meaningful ways. They discuss their pasts, the things they've lost, and how it's impacted their lives. Yet they also dream of the future, rely on each other, tell silly puns, have arguments, and share intimate personal details they'd never tell anyone else. Their relationship feels genuine.
Pedro Pascal positively shines as Joel, perfectly balancing the physical aspects of the role with an emotional heft that's hard to pull off in a character who is a man of action and few words. But the breakout star of The Last of Us is Bella Ramsey. The actor, who was a scene stealer as Lady Mormont in Game of Thrones, is a wisecracking badass and certain to be a fan favorite. Together, the duo make a team that's easy to root for and more importantly, care about.
This kind of character development is a testament to the vision of Craig Mazin and Neil Druckmann, particularly because the track record for TV series based on videogames is unremarkable. Besides Halo and The Witcher, only animated series based on games have had much success on the small screen, but the formula for The Last of Us, a videogame that in hindsight seems ideally designed to segue into television, works to perfection.
Aside from Ellie and Joel, there are many other characters from the game that have had their backstories fleshed out and made more meaningful. Viewers will meet Joel's brother Tommy (Gabriel Luna), a former soldier and Firefly who still thinks the world can be a better place despite its current horrific state. An early season episode with survivalists Bill (Nick Offerman) and Frank (Murray Bartlett) is so poignant it's almost certain to make you cry. There are also several characters original to the series, with Kansas City resistance leader Kathleen (Melanie Lynskey) having a multi-episode arc and Marlon (Graham Greene) spouting one-liners in Wyoming. These are just a few of the memorable characters you'll get to enjoy or be terrified by.
What makes The Last of Us so unique is that every character is treated with care, with their short one or two episode arcs perfectly blended into Ellie and Joel's narrative so that they always add to the overall story and never detract from it. For fans of the videogame, there are plenty of nods to the PlayStation title in the TV series. The voice actors for Ellie (Ashley Johnson), Joel (Troy Baker), and Marlene (Merle Dandridge) all make appearances. There are also several other tips of the cap, from a t-shirt Ellie wears to the book of puns (No Pun Intended: Volume Too) she reads from. Easter eggs abound. For a gaming nerd like myself, those kinds of things added to my enjoyment of the series. But for my wife who isn't, these little morsels were either unnoticed or better yet, worked to further engage her into the story.
When I started watching the first season of The Last of Us, I did what I always do, I asked my wife to join me. I told her about the series and that it was based on a videogame, and her initial reaction wasn't positive as she doesn't care for games and isn't into post-apocalyptic settings. She even said, "I'll probably just watch the pilot and you'll be on your own from there." We ended up watching all nine episodes over the course of four days, and she was hooked. When the credits rolled after the season finale I asked her what she liked the most. Her response? The characters.
Complex characters combined with stellar acting, a wonderfully paced story, and an emotionally engaging plot make The Last of Us a brilliant series that is now the template all other videogame-to-TV adaptations should follow.
The Last of Us premieres Sunday, January 15th on HBO and HBO Max.
---
Terry Terrones is a Television Critics Association and Critics Choice Association member, licensed drone pilot and aspiring hand model. When he's not reading books full of puns, you can find him hiking in the mountains of Colorado. You can follow him on Twitter @terryterrones.
For all the latest TV news, reviews, lists and features, follow @Paste_TV.