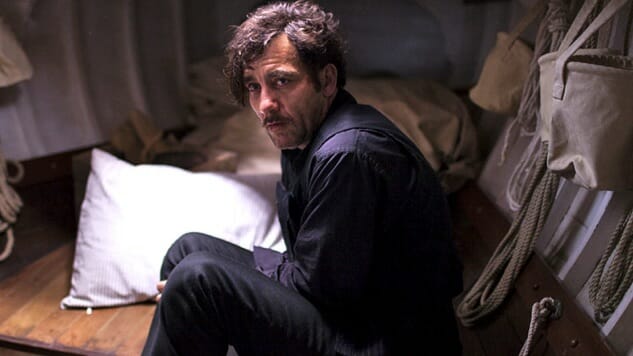 When we first caught a glimpse of the brilliant Dr. John Thackery at the beginning of The Knick's inaugural season, he looked like a rock star, complete with dark shades, bad attitude, and a healthy drug habit. As we open up the new season, he is the first thing we see, but he is a much changed man: haunted, hollow, and completely lost in the sway of a new addiction to heroin.
The sight is not a new one really, having watched him devolve over 10 episodes last year into a maniacal drug fiend willing to attempt boiling down the remnants left inside Coke bottles to get a fix. There's something deeper at play here, however, that might not be as easy to sleep and sweat off at sea as he does through this first new hour, with the "help" of his colleague Dr. Gallinger.
All praise be to Clive Owen yet again, for finding those new shades and new depths in his portrayal of Thackery. His sheer desperation for drugs as he's tied up in the hold of Gallinger's sailboat was shocking to see. His supposed determination to find a cure for drug addiction, as he does towards the end of the episode, feels good, but Owen delivers it with a slight tinge of half-heartedness. We want to take this great surgeon at his word, but we've seen all too well his fatal flaw.
The rest of this new episode brings us up to speed on the developments in the world of the Knickerbocker Hospital. There's the matter of breaking ground on a new space further uptown, all the better to cater to wealthier patients. As Nurse Elkins puts it in a bit of voiceover at the beginning of the hour, the move has the hospital administrator Barrow strutting around like a peacock. But there's still that dark suspicion that he's up to something bad in his efforts to raise funds for the new construction, a feeling that only grows when we find him negotiating down his debt to Ping Wu in exchange for giving the gangster's stable of prostitutes regular checkups. One wonders how he also plans to pay for the new motorized ambulance that Tom brings around.
For most everyone else, it's nothing but heartbreak and frustration. Poor Bertie is still stinging from the news that his beloved Nurse Elkins was hooking up with his mentor, Dr. Thackery. Gallinger is doing his best to help his beleaguered wife, including buying her some new teeth (nice cameo by comedian Todd Barry in this early scene, by the way). Sister Harriet finds herself stuck in prison for her work helping to facilitate abortions for young women, and looks about as healthy and hale as anyone incarcerated would. For the couple of Knick-style gross-out moments in the episode, the most upsetting was Mother Superior paying her former charge a visit and angrily rejecting her. And poor Cornelia finds out just what little control she has over her own life when she is forced to leave San Francisco and return to the East Coast by her unctuous father-in-law.
What's problematic already this season is the struggles of Dr. Edwards. The plot device of giving him a detached retina that he tries to hide from his colleagues seems unnecessary enough, but his fighting spirit remains troublesome. It made sense, somehow, that he vented his anger and frustration at being regarded as a third-class citizen, even in a city as cosmopolitan as New York, by getting into drunken bare knuckle brawls. But I find it hard to believe that he expected any other outcome than outright dismissal when he approached the hospital board and asked to be placed as the permanent Chief of Surgery. The leap of faith seemed too great, and his frustrated reaction to it outsized.
Through these scenes Andre Holland is also revealing his limitations as an actor. He cut through the bullshit of the first season well enough, but he seems to be straining in this first hour. We've got nine more episodes, and much more pus and many more syphilitic noses to go, so there's plenty of time for him to reset his course.
As for the rest of the show, it is well on its way to another memorable season, with director Steven Soderbergh leading the charge with his consistently inventive and energetic work behind the camera. Just watch the scene between Gallinger and Thackery in the rehab facility, and notice how he doesn't focus on the conversation happening between the two men, but the shaky interactions between two female patients. It doesn't take you away from the dialogue at all; it just deepens the scene by reminding us that there's a world outside the egotistical drives of these doctors.
---
Robert Ham is a Portland-based freelance writer and regular contributor to Paste, and the author of Empire: The Unauthorized Untold Story, available in bookstores now. You can follow him on Twitter.