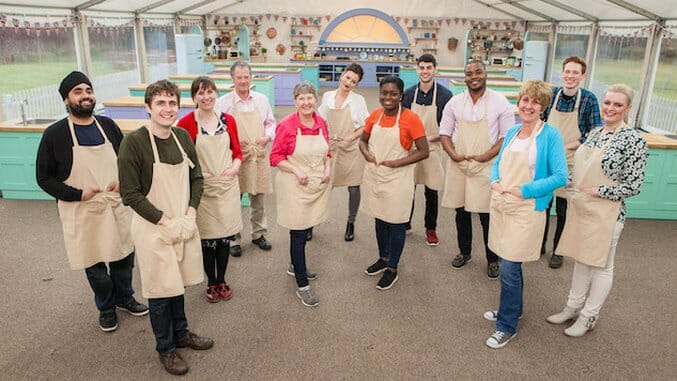 There are many reasons to love The Great British Baking Show. For starters, you have hosts Mel and Sue's saucy one-liners when discussing the participants' latest challenges. It's not every day, after all, that you can hear a line like, "Bakers, it's time to reveal your cracks" on PBS. You also have judges Paul Hollywood and Mary Berry's delightful, if inadvertent, double entendres ("Your crack is nice and moist") when tasting the always sumptuous-looking baked goods proffered by Britain's best amateur bakers. And then, of course, there's the sheer generosity upon which the show depends (every episode ends in a group hug!). Honestly, it makes the show feel less like a competition and more like a collective endurance challenge. But there's no better reason to love this British import than the sheer brazenness with which it subverts the central feature of American reality TV: drama.
Here's a show concerned with—and what a novel idea this is—its contestants' skills. With an almost fastidious attention to the craft of baking, the show sidelines any tear-jerking back stories and contrived competitive rivalries with gleeful abandon. Yes, you get to learn that retired teacher Val loves herself some Ed Sheeran and pastor Lee often bakes for his congregation, but the focus, both in how the show dreams up its challenges and how it cuts together the episodes, is on their talent as bakers.
On paper, that sounds very much what shows like Project Runway, American Idol, America's Next Top Model and even RuPaul's Drag Race rely on, too. After all, these wildly successful competitions bill themselves as looking for the best designers, singers, models, and drag queens in the land. But there's no denying that they just as often set that aside in their search for "good TV." Depending on how you see it, that either means empathetically showcasing or brazenly exploiting the personal stories of its contestants. You see it in the way Tyra's models and Ru's queens are encouraged to talk about their issues in confessional-style addresses to camera. Or in the way Idol perfected a formula wherein fans and viewers alike were encouraged to care about the performer over—and sometimes in spite of—the performance, giving us a template for the kind of cult of personality that now largely defines reality TV.
Idol's biggest competition, NBC's The Voice, knew that in order to topple the ratings behemoth, it needed to go back to what its rival purported to celebrate. The Voice marketed itself as a show that would put its contestants' talent front and center. The judges wouldn't even be offered the chance, during the buzzy "blind auditions" process, to see who they were listening to. The conceit was admirable, and clearly paved the way for a renewed attention to what a show like Idol was intent on showcasing: America's vocal talent. Except audiences didn't quite get the same experience. Where judges Adam Levine, Blake Shelton, CeeLo Green and Christina Aguilera were forced to make a decision on the thousands who auditioned with no knowledge of who these singers were or what they looked like, the show itself offered viewers pre-produced packages that introduced the potential contestants to the world right before their audition. In these candid intros, audiences learned about how family tragedies had pushed people to turn to singing; how dreams had been dashed because of health problems; how songwriting was an escape from a 9-to-5 job. In sum, they carefully created ready-made narratives that would raise the stakes in the blind auditions and later structure the contestants' personal arcs throughout their time on the show.
Similarly, a show like RuPaul's Drag Race has, over the course of its 9 seasons, made it impossible for judges and viewers alike to uncouple the skills needed to be America's next drag superstar ("charisma, uniqueness, nerve and talent," in case you're wondering) from personal journeys that got the queens on the show in the first place. Many a conversation in the workroom during the most recent season, for example, hinged on eating disorders, self-esteem issues, homophobic bullying and family trauma. It's no accident that Ru makes the final four queens address photos of their younger selves, forcing them not only to reflect on their growth as people and drag queens, but to keenly connect the two. A great "personal growth" edit can take you far in these kinds of competitions.
Not so on The Great British Baking Show. Where American reality TV competitions cannibalize privacy in order to produce television worth watching, this British import is refreshing precisely because it refuses to indulge such demands. Since the show is intent on focusing on the details of a well-baked Madeira cake or a perfectly whipped genoise sponge, audiences don't get to learn much about the lives of these bakers outside of the Bake Off tent. When we do get glimpses of their homes and families, the focus is rarely on connecting those biographical details with any kind of narrative arc for the episode or the season as a whole. They're genuine examples of the kind of baker they are.
True to the spirit of its "Technical Challenges," which are judged blindly, The Great British Baking Show wants you to know its contestants solely in terms of their competence in the kitchen. And it wants all its drama to come from baking-related incidents, like over-proofing your dough, creating an all-too-runny cream to fill your eclairs, or failing to pipe all of your biscuits in time. You know, the kind of dramatic tension that could only take place within a community of driven bakers who may not have come here to make friends (though they do anyways), but certainly didn't come to sabotage their way to the top or play the sympathy card all the way to the finals. It may very well be the greatest rebuttal of reality TV as a personality-driven genre currently on air. Better to judge these bakers for their soggy bottoms.
---
Manuel Betancourt is a New York-based writer who has contributed to
Film Comment, Los Angeles Review of Books, The Atlantic
and
Esquire.