The Good Wife's Final Episodes are Wasted on a Love Triangle
(Episode 7.21, "Verdict")
TV
Reviews
The Good Wife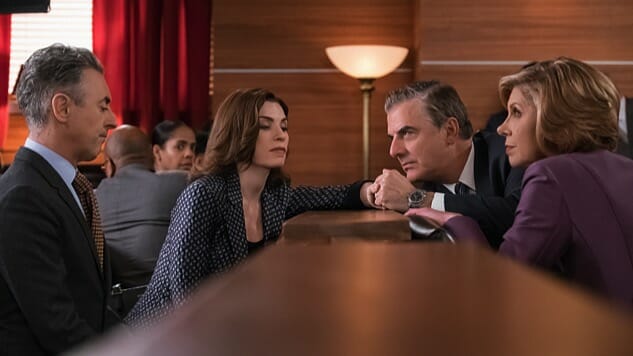 The Good Wife is really petering out in these final episodes.
Sorry. I couldn't resist the pun. But as much as this final run of episodes has focused on Peter's court case, I was still somehow surprised that the penultimate episode was all about Peter. I get the symmetry of it all. The show began with Peter's legal troubles and is ending with them. The cheating. The corruption. For all his speechifying, Peter hasn't changed. But still this isn't The Not-So-Good Husband. I realized last night that we'll never see another classic The Good Wife court case. Alicia fought her last legal battle and I didn't even realize it. All the other characters are being pushed aside for Peter, and I don't like it.
This also isn't Dawson's Creek. How has the show been reduced to some sort of love triangle between Peter, Alicia and Jason? That whole speech Lucca gave Jason about going to Alicia and telling her how he feels? No thank you. This is not what the show is about. Choose, yourself, Alicia. Choose yourself!!
Also, since when is Peter so important to Diane that she would ask Kurt to bend the truth for her? Is she concerned that Peter going to jail will tarnish the reputation of the all-female law firm? There were so many things that didn't make sense in "Verdict." Why was AUSA Connor Fox going to Alicia with his plea bargain offers and not Diane? Would Peter really trust his future to Lucca? Why wasn't Jackie at the trial? Wouldn't Lucca and Jason think it was a little strange that construction was happening without either one of them knowing a thing about it?
All that said, it was fun to have David Paymer back as Judge Richard Cuesta with his hash marks and general distain for everyone. It's always amusing for David Lee to be his best David Lee. And my favorite moment definitely came with Alicia's reaction to the news that Peter had a long standing affair with Geneva Pine. "Oh my God. I thought my husband no longer cheated," she faux cries to Louis Canning. But other than that, it was a lackluster episode. While all this is going on, the law firm is quite literally collapsing into itself, which at this point, is definitely a metaphor for the show itself.
The episode ends with Peter agreeing to take the two year deal, and Alicia promising to visit him. But just as he made that decision the jury comes back with their verdict, which sets up the series finale to be all about Peter's fate. Blech.
There's a thing kids do when it's time leave something they love—say preschool or summer camp. Sometimes they start acting out as a way to ease the transition. If the teacher is upset with them, maybe it will be easier to say goodbye. Do you think that's what The Good Wife is doing? This run of subpar episodes is definitely making it easier for me to come to terms with the fact that one of my all-time favorite shows is ending.
Stray observations:
"I'm not on trial buddy."
I think Matthew Morrison questioning Megan Hilty on the stand is the closest we'll ever come to a Smash/Glee crossover event. I so wish they had broken out into song. #TeamIvyForever
I'm still hoping for Eli to get the revenge he promised in this season's premiere but it doesn't look like that's going to happen.
We simply cannot leave Cary this unhappy.
I totally think Peter had an affair with Geneva Pine. You?
How is it that Robyn hasn't come back, especially now that Jason says he can no longer investigate for Peter?
---
Amy Amatangelo, the TV Gal ®, is a Boston-based freelance writer, a member of the Television Critics Association and a regular contributor to Paste. She wasn't allowed to watch much TV as a child and now her parents have to live with this as her career. You can follow her on Twitter or her blog.