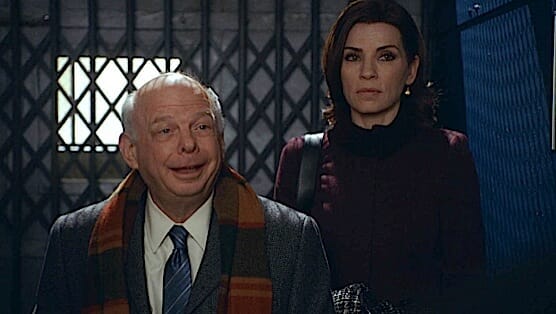 The Good Wife has been off the air since January—sidelined by the Grammys, the Oscars and the Olympics. It was far too long an absence for one of TV's best dramas. But the series made up for lost time by moving the action forward full throttle and converging multiple story lines. The episode was awesome and intense and intensely awesome.
My favorite villain (and come on he's yours, too), Lemond Bishop (Mike Colter), returns with his menacing personal attorney, Charles Lester (Wallace Shawn). Through a scheme involving lots and lots of pancake batter, Lemond, Charles and Alicia realize that someone is tapping Alicia's phones. They assume it's the DEA. But they are wrong. It's the NSA—a plot line we first heard about back in October. The NSA originally tapped Alicia's phones because she defended a translator accused of assisting the Taliban. The warrant was broadened once the NSA honed in on Zach's Somali ex-girlfriend. Now they probably don't have a good reason for the tapping any more, but that's not stopping them from passing along their information to the DEA and to the Office of Public Integrity (more on that in a bit). Alicia and her team immediately switch to burner phones, but that's no problem for the NSA—their wiretap scope is broad. They are listening in on everyone and everything.
Once again, the NSA doesn't come off looking great. The uber geeks who listen in on the calls are still fond of wacky YouTube videos, and they treat their eavesdropping as if they're following one big soap opera. "I think Will and Diane end up getting it on," one of them speculates. Later, he admits that he feels bad for Alicia. "It's none of our business anyway," his buddy tells him.
The real problem is that now the NSA has proof that Peter was aware of the voter fraud and Will's involvement in the cover up. Marilyn, upset that she's been shut out by Peter and dismissed by Eli, turns over the video of the stuffed ballot box to Nelson Dubek (Eric Bogosian) of the Office of Public Integrity. The NSA listens in on a conversation between Eli and Alicia, and by the end of the episode, Nelson is serving Will with a subpoena and threatening him with jail time as Will cites attorney/client privilege. I've found Marilyn to be such an annoying character that I wasn't surprised that she turned over the video, nor did I feel an ounce of sympathy for her. But, she served her plot purpose.
Once Alicia and Cary realize it's not the DEA tapping them, Cary remembers an article he read about the NSA passing along information to other agencies, and other agencies creating alternate explanations for how they obtained this information. It's called "parallel construction" (hence the episode's title, bitches), and now that Cary and Alicia are onto the NSA, things should get very interesting.
Although Alicia laments that they see more of Will and Diane now than when they worked with them, it was nice that this episode stepped away from the battle royale the two firms are engaged in and moved the long-simmering voter fraud storyline to the forefront. Will Peter once again be in jail next season? Will Judge Kluger forgive Alicia? Will Alicia ever be able to follow the plot of Darkness at Noon? I can't wait to find out.
Other thoughts on "Parallel Construction, Bitches":
—Clearly someone was a fan of Smash. Smash alums Brian d'Arcy James and Christian Borle have already appeared on the series. And that was Jack Davenport, sans his charming British accent, as the AUSA who quit and invoked the 5th amendment on the stand.
—Even though it was a bit heavy-handed, I giggled at Darkness at Noon, the show's version of a dark and dramatic AMC series. I particularly loved Alicia's utter confusion while watching.
—Last time, an NSA agent was played by Zach Woods, Gabe on The Office. This time, viewers were treated to Maulik Pancholy, Jonathan on 30 Rock. Who will it be next? I vote for Danny Pudi of Community.
—Why did Kalinda tell Diane Cary was lying when I'm fairly certain Kalinda knew he was telling the truth? What is she up to?
—I don't prefer an episode sans David Lee, but Wallace Shawn and Jeffrey Tambor are so fantastic in their respective roles that I was somewhat placated.
—Next week, Carrie Preston is back as Elsbeth Tascioni. Thank goodness. Will is going to need her.
Amy Amatangelo is a Boston-based freelance writer and a regular contributor to Paste. You can follow her on Twitter or her blog.