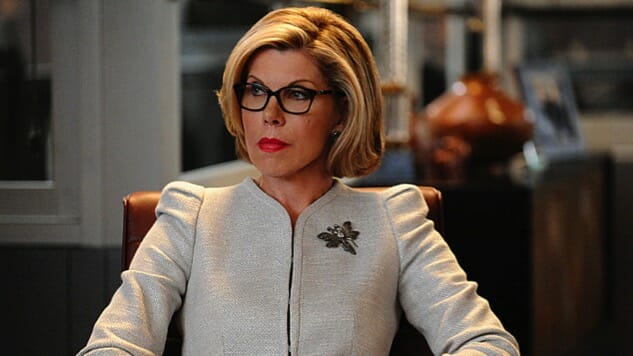 If you're like me, you're probably still thinking about The Good Wife series finale, which left viewers on an abrupt and unsettling note. It was the slap heard round the TV world. There were so many unanswered questions as many of our beloved characters were left in limbo. You can read my review of the series finale here.
Fans of the show have long talked about the possibility of a spin-off of the long-running CBS drama. Cunning political guru Eli (Alan Cumming), or brilliantly unique lawyer Elsbeth Tascioni (Carrie Preston) were the characters most often mentioned. News broke shortly after the finale that there is indeed a Good Wife spin-off in the works and, surprisingly, it is set to star two of the show's lead characters. The series will feature Christine Baranski as Diane Lockhart and Cush Jumbo, who joined the series in its final season, as Lucca Quinn.
We know that more Diane means we will have many more compelling courtroom scenes, fabulous outfits and stunning statement jewelry pieces. But beyond that, it seems like anything could be possible. Here are my five biggest questions about The Good Wife spin-off.
1. Are Lucca and Diane now the all-female law firm?
As The Good Wife ended, Diane and Alicia were forming an all-female law firm. But then Alicia orchestrated the attack on Diane's husband Kurt (Gary Cole) in court in order to save Peter. Diane was horrified and humiliated. Years of friendship was stripped away and the whole thing ended with Diane slapping Alicia. Does this mean Diane formed her firm with Lucca, and Alicia is out? Lucca was the one who questioned Kurt. So is Lucca part of a rival law firm that faces Diane in court? Or is Diane now a judge? That's a plot line that's been bandied about over the seasons. But all this leads to the bigger question of…

2. Where's Alicia?
If she's out from the law firm, where is she? Fulfilling Eli's dream and running for governor? In a law firm of her own? Off with Jason (Jeffrey Dean Morgan)? (My least favorite option.) Whatever the case, by choosing such central characters to spin-off, the show will be in a delicate position. They will have to explain away Alicia's absence, but also not make her a character that is constantly spoken about, but never seen. Alicia is such a big part of The Good Wife world if she's still practicing law somewhere, or in political office, it will be odd to never see her. (Unless, of course, Julianna Margulies decides to guest star.) Or maybe she's joined all the other Good Wife characters who have mysteriously disappeared over the years sans explanation, including Robyn Burdine (Jess Weixler), Damian Boyle (Jason O'Mara), and Dean Levine-Wilkins (Taye Diggs).

3. Will we see other familiar faces?
One of the best things The Good Wife did was create a vast world of clients, lawyers, friends and foes. The list of characters I would love to see again is long, but let's start with Lemond Bishop (Mike Colter), Elsbeth Tasconi, Neil Gross (John Benjamin Hickey), Nancy Crozier (Mamie Gummer), Louis Canning (Michael J. Fox) and Caitlyn D'arcy (Anna Camp—could she be part of the all-female firm too?)

4. Is Diane still married?
As the series ended, the drama did quite a bit to build up Diane and Kurt as a happy couple, which turned out to be a way of setting them up for a big fall. Diane, to quote Beyoncé, was completely drunk in love with her husband. But when we last saw Kurt, Lucca was asking him if he had an affair with Holly Westfall (Megan Hilty)? Did Kurt cheat, and if he did, did Diane forgive him?

5. Why CBS All Access?
The spin-off will be airing on CBS All Access, the eye network's subscription based streaming service which costs $5.99 a month. All Access' other big project is the new Star Trek, which premieres in January. In a way, it's a genius move. I mean a The Good Wife spin-off is definitely a way to get/blackmail me into subscribing to All Access. But when does all this disparate streaming stop? If you already have Hulu ($7.99 a month), or Amazon Prime ($99 a year) or Netflix ($7.99 a month), you're looking at spending $30 a month for all four streaming sites. Is the series going to, ultimately, be compelling enough to get TV-watchers to commit?
What are your biggest questions about The Good Wife spin-off? Talk about it below.
---
Amy Amatangelo, the TV Gal ®, is a Boston-based freelance writer, a member of the Television Critics Association and a regular contributor to Paste. She wasn't allowed to watch much TV as a child and now her parents have to live with this as her career. You can follow her on Twitter or her blog.