Marcia Clark's Back Story Fuels ABC's New Legal Drama, The Fix
Photo: ABC/Eric McCandless
TV
Reviews
The Fix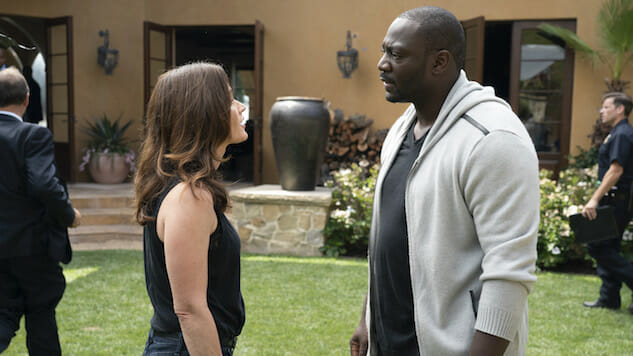 As far as back stories go, The Fix has a great one. Marcia Clark, who became famous (infamous?) during the 1995 trial of O.J. Simpson, serves as executive producer. Clark got a second and much better chance in the limelight in the 2016 FX miniseries American Crime Story: The People vs. O.J. Simpson, where Sarah Paulson brought depth and nuance to a woman who up to that point had mostly been a headline.
In The Fix, Clark leans into her personal narrative to tell the story of Los Angeles District Attorney Maya Travis (Robin Tunney), who eight years ago prosecuted famous actor Sevvy Johnson (Adewale Akinnuoye-Agbaje) for the double murder of his wife and her friend. Now, Sevvy's much younger girlfriend is dead. Maya has moved on. She's living on a farm, growing her own tomatoes (fresh produce always equals bliss on TV). "He did it again. You have to come back," fellow attorney/former lover Matthew Collier (Adam Rayner) tells her. "This time we're going to get him."
Clark is embracing the fact that people will connect her new series with her life. The ads for the series have her coyly saying, "Is this a revenge fantasy? Maybe." Her origin story might get people to tune in, but to keep viewers coming back, Clark and her fellow executive producers Liz Craft and Sarah Fain have to create a compelling murder mystery, too. The show can't just be fan fiction or a "choose your own adventure" book with a better outcome for Clark.
For the most part, in the two episodes available for review, the series moves away from Clark's story. Sevvy vacillates between appearing very guilty, mildly guilty and completely not guilty. In one of the more chilling scenes, he talks to Maya through the double mirror: "You're never going to get me, Maya. I'm an innocent man." Akinnuoye-Agbaje walks the fine line between simmering rage at his wrongful arrest and looking like he's a master at the art of the cover-up. The supporting cast, with a few exceptions, is strong, including Breckin Meyer as District Attorney Alan West. (Yes, the guy from Clueless is now the one in charge—I'll pause so you can take a moment to feel old.) The first two episodes also do a good job of setting up some other plausible suspects and lots of red herrings. I would tell you who I think did it, but I don't want to bias you.
Sevvy has children with varying degrees of conviction that their father is an innocent man. The series struggles a bit with the personal back story of the characters. Maya and Matthew are a little yawn-inducing, and I already feel bad for Maya's boyfriend, Riv (Marc Blucas), who most surely will be getting the boot sometime soon. As Maya's former best friend, Maxine, Merrin Dungey is always a welcome TV presence (#FrancieForever). And nobody does "sleazy attorney" better than Scott Cohen, whose Ezra Wolf (you gotta love the name, but why didn't the show just give him the surname of Shark?) defended Sevvy eight years ago and is back for more.
The one tough part about the series is that we are now in 2019, not 1995, and the optics of building your show around a potentially violent black man and the mostly white attorneys that are going to stop him isn't great. The series makes passing reference to this when Maya unseats Loni Kampoor (Mouzam Makkar) as lead on the case. "It's 2019, and optics matter," Loni says.
Akinnuoye-Agbaje is a fantastic actor, but the series might have been better served by not taking its origin story so literally. Perhaps as the 10-episode narrative progresses, we'll witness a more nuanced take on how race relations affect not only this story, but our understanding of crime and punishment in general. There's a throwaway line about Sevvy exploiting "400 years of racial injustice" to secure his not guilty verdict eight years ago, but the series needs to dig deeper on this.
The Fix could also do with less dialogue like, "Evidence doesn't lie. People do." The fix may not yet be in on the series, but it's good enough to keep me tuned in for more.
The Fix premieres tonight at 10 p.m. on ABC.
---
Amy Amatangelo, the TV Gal®, is a Boston-based freelance writer, a member of the Television Critics Association and the Assistant TV Editor for
Paste
. She wasn't allowed to watch much TV as a child and now her parents have to live with this as her career. You can follow her on Twitter (@AmyTVGal) or her blog .