Watch Karl Urban in the Bloody Final Trailer for The Boys
Image via Amazon Prime Video/YouTube
TV
News
The Boys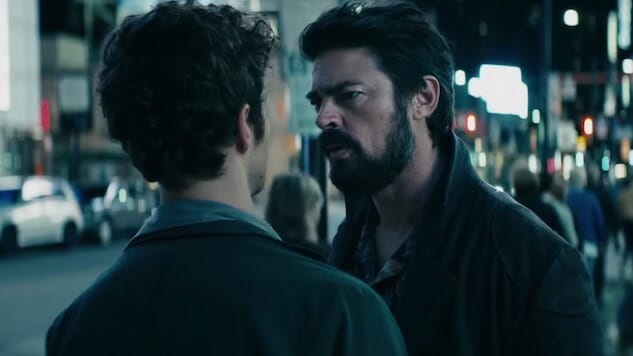 The final trailer for Amazon's forthcoming series The Boys is here, and it's wickedly funny, irreverent and just very bloody. But what are you going to expect from a show based on a Garth Ennis comic?
The trailer begins with the words, "People love superheroes," and introduces us to the facade we all know and love. Superheroes, compassionate and patriotic in all their shimmering glory, putting on a show for us, walking red carpets, swooping out of the sky to save the day.
But things aren't always as they seem.
That facade comes crashing down as we first see Hughie (Jack Quaid), out with his girlfriend when A-Train (Jessie T. Usher), a speedster of superhero group the Seven, zips straight through her, leaving a trail of blood and guts in his wake. Hughie is left with his girlfriend's blood on his face and her severed hands in his own, and we're left with the realization of what these heroes really are: narcissistic, sociopathic assholes.
"Supes lose hundreds of people each year to collateral damage," Karl Urban's character, Billy Butcher, tells us. "It's fucking diabolical."
"Pardon my French," he adds. "Fuck those fuckers."
Billy leads a group of vigilantes with one goal: "Spank the bastards," i.e. take out the Seven in the most violent ways possible.
"I've got the boys together," he says before turning to a still-grieving Hughie. "Join us."
We're also introduced to Starlight (Erin Moriarty), a new recruit to the Seven before she quickly realizes her teammates all just really suck and this self-obsessed version of the hero gig isn't what she signed up for.
"I'm supposed to be this hero idol symbol, but I don't know what the hell I'm doing," she tells a wide-eyed Hughie, once convinced all superheroes are evil and now considering joining forces with one.
And as an all-out, gore-filled war between the heroes and the vigilantes rages on, the cocky superheroes are finally forced to recognize the threat in front of them.
"I know you're trying to be tough, but we're superheroes," one skeptical superhero says after being locked in a dog cage. "Who are you?"
The answer? The Boys.
Already renewed for a second season, the series will premiere on Amazon this Friday. Until then, check out the new trailer below.