T.J. Miller is Leaving HBO's Silicon Valley
Photo by John P. Johnson/HBO
TV
News
T..J. Miller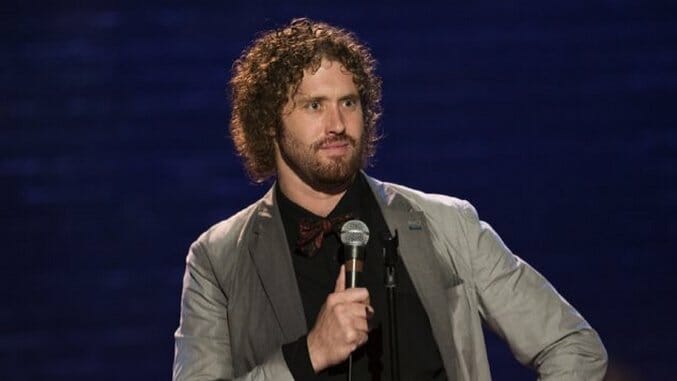 Well, apparently the world is a cruel, barren rock twisting silently through the unending void after all. Just hours after HBO announced their intention to renew the utterly-fantastic Silicon Valley for a fifth season, it's also been announced that one of the show's brightest stars will be jumping ship, per THR.
T.J. Miller is said to have "mutually agreed" with the show's producers to not return for the forthcoming season. For the past four years, Miller has played the eccentric and hilarious Erlich Bachman who owns an "incubator" where would-be tech creators live for free in exchange for a ten-percent stake in whatever start-up company the residents manage to build. The rest of the primary cast are Bachman's tenants and, as such, he's always angling for some share of whatever app they're developing while he himself usually either does very little, or does everything in his power to get in front of cameras to promote myriad products. The character is an integral part of the show, and it's difficult to see how the show could possibly be the same without Miller's larger-than-life presence on set.
While not confirmed, Miller's busy film slate is likely in part to blame for his departure. After recently starring in last year's Office Party—and Miller's memorable role in Deadpool—Miller is currently doing press junkets for his forthcoming Emoji Movie. Beyond parasailing into Cannes for that film, Miller reportedly has roles in Steven Spielberg's Ready Player One adaptation, forthcoming Western film Walden, Kristen Stewart's thriller Underwater and How to Train Your Dragon 3.
While we all wish Miller the best, we also just wish he'd stay. Just one more season. Just one more episode. Surely, we deserve that much. Right?
For more on Silicon Valley's renewal announcement from just hours ago, click here.