TV Rewind: Why 12 Monkeys Remains One of TV's Smartest Time Travel Shows
Photo Courtesy of Syfy
TV
Features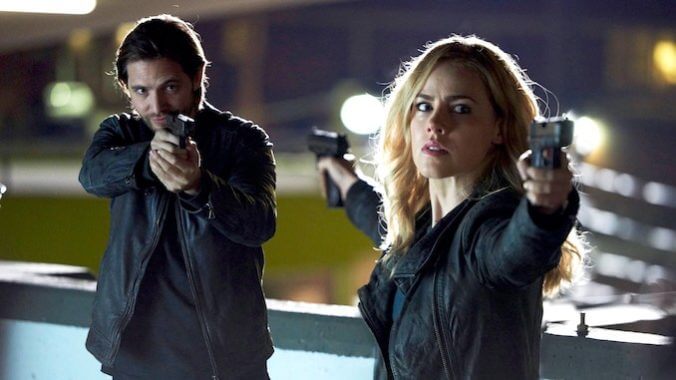 Editor's Note: Welcome to our TV Rewind column! The Paste writers are diving into the streaming catalogue to discuss some of our favorite classic series as well as great shows we're watching for the first time. Come relive your TV past with us, or discover what should be your next binge watch below:
Time travel is a hard concept to pull off—mostly because, when you can potentially change anything, it gets a whole lot easier to get pretty much everything wrong.
So the fact that a little-watched Syfy original series (which itself was loosely based on a cult hit Terry Gilliam film from a few decades prior) gets it so right is all the more amazing. 12 Monkeys ran for four seasons from 2015-2018 on Syfy, rolling out 47 tightly-paced episodes to relatively little overall fanfare besides a devoted, fervent fanbase.
Much like the 1995 film that inspired it, 12 Monkeys followed a time traveler named James Cole (Aaron Stanford) sent back in time from a broken future to try and avert the apocalypse. But this isn't a well-funded time travel operation, and Cole is instead sent back with few resources and little actual intel as he tries to piece together, on the fly, the events that caused the pandemic that eventually wipes out humanity. Along the way he teams up with virologist Cassandra Railly (Amanda Schull) from the present day, as the two attempt to unravel the mystery together.
The concept should sound vaguely familiar if you've seen Gilliam's acclaimed sci-fi think piece that preceded it. That film starred Bruce Willis as Cole, and focused portions of its narrative on the mental institution where he lands after traveling back through time. The film deftly tackled questions of inevitability, memory and fate—with co-star Brad Pitt scoring an Academy Award nomination for his role as a patient at the asylum where Cole lands in the first part of the film.
Gilliam received near universal praise for the film, and though it was a solid box office success in the mid-1990s, it's only grown in reverence and acclaim in the years since its release. Put simply, it was a risky property to try and adapt. Gilliam's film was known for being smart and ambitious, and any TV adaptation would be judged against that rubric, and tasked with figuring out a way to be just as smart and ambitious while stretching the story out across seasons.
The task fell to co-creators Terry Matalas and Travis Fickett, who developed the project as a standalone time travel TV pilot dubbed Splinter, which was eventually retooled into 12 Monkeys, since it was both generally good and a natural fit conceptually to interpret the IP. It's clear the duo fully embraced the themes, concepts, and iconography of 12 Monkeys, with a layered time travel tale and fully developed world that effortlessly jumps between eras, while never losing the through-line of the story it's telling.
Though Stanford and Schull's Cole and Cassie are the heart of the story, the show smartly builds out a unique ensemble to craft a world that feels real. Barbara Sukowa plays Jones, the scientist in charge of the time travel project; Emily Hampshire (of Schitt's Creek fame) plays a brilliant and crazy woman connected to the conspiracy; Kirk Acevedo (Fringe) plays Cole's best friend from the future; and Todd Stashwick (who recently jumped to the Star Trek universe in a memorable Picard role) played the leader of a group of deadly scavengers from the future and part-time ally to Cole.
It all starts with the characters, and thankfully, they get that right. The chemistry between Stanford and Schull is electric, and a burgeoning romance between the duo provides some essential "will they, won't they" to the mix from the jump. Watching Cole learn about the world, and figure out himself across these various time periods, is a fascinating journey of a man who never had a future finally finding a life in the past. Cassie is on a different trajectory, the saga of a successful scientist who gets pulled into a conspiracy and sees her professional and personal life unravel as she slowly comes to believe the unbelievable story Cole is telling.
With this being a time travel story, it's clear the creative team did the work and took the time to map out what that means and how the concept works within this world. It's never heavy-handed and always makes sense, and they threaded a consistency through it all that doesn't just survive, but thrives under scrutiny. Few shows get better upon a rewatch, but revisiting 12 Monkeys reveals details on top of details you would have missed the first time through, with connective tissue stretching from the pilot episode to the series finale (and back again—we are talking about time travel, after all).
But more than anything 12 Monkeys tells a story, a complete story, from start to finish. There is no cliffhanger, no questions left unanswered when the screen fades to black, no more puzzle box left to solve. The show layers a brilliant mystery around characters you grow to love, and it's a deftly-executed ride to get there, from start to finish. Then, like any good time loop or temporal paradox, it ends. They really did think of everything, and that amount of care and attention to detail makes this mostly-forgotten gem one of the smartest, most compelling sci-fi shows you (probably) didn't watch. And if you did? Well, I can guarantee you'll spot some new detail hidden between the margins on your next rewatch.
---
Trent Moore is a recovering print journalist, and freelance editor and writer with bylines at lots of places. He likes to find the sweet spot where pop culture crosses over with everything else. Follow him at @trentlmoore on Twitter.
For all the latest TV news, reviews, lists and features, follow @Paste_TV.