New "Sweet Victory" Version Released in Memory of SpongeBob Creator
Image via Nickelodeon/YouTube
TV
News
Sweet Victory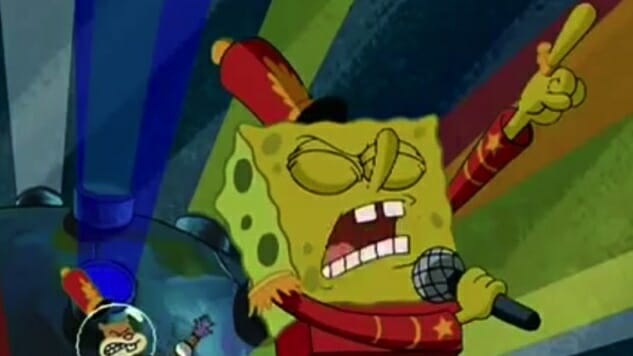 In honor of late SpongeBob Squarepants creator Stephen Hillenburg, who passed away one year ago today, Grammy Award-winning producer/guitarist Bob Kulick and celebrated hard-rock singer David Glen Eisley have released a brand new version of their iconic track "Sweet Victory."
Hillenburg was inspired to write the 2001 episode "Band Geeks" around the rocking anthem. The Bubble Bowl performance, with SpongeBob himself undertaking the role of enacting Eisley's vocal, has become hailed as one of the most memorable moments from the series.
"The episode exemplified Stephen Hillenburg's talents," says Kulick, "so we, the 'Sweet Victory' creators, along with Doug Katsaros (orchestration and background vocals), Katie Katsaros (background vocals), and Mike Gillies (mixer), humbly present to you this new abbreviated version in tribute to Stephen Hillenburg."
While the track debuted almost two decades ago, it recently resurfaced in 2018, when a petition was created via Change.org urging fans to rally behind a Super Bowl performance of the song in Hillenburg's memory. While the song was ultimately not performed by Maroon 5, a small SpongeBob teaser clip was played to introduce second act Travis Scott to the stage, causing on-demand streaming of the triumphant anthem via audio and video to rise by a whopping 566 percent in the U.S., per Nielsen Music.
Listen to the new "Sweet Victory" via Eisley's tweet below.
Sweet Victory Tribute to Stephen Hillenburg Version by Metmixer | Free Listening on SoundCloud https://t.co/3Ku2a0QdGK

— DavidGlenEisley (@DGEisley) November 26, 2019