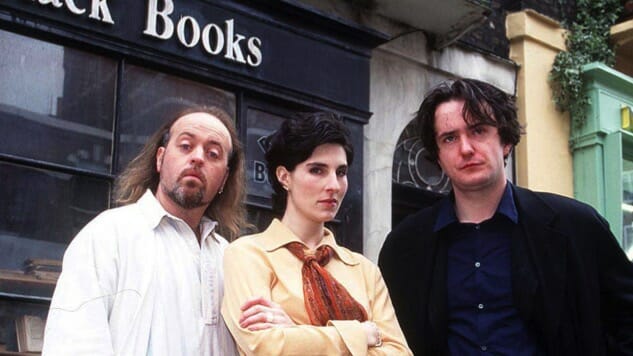 This summer marked the 15th anniversary of one of the most daring—and some may say distasteful—British television episodes to date: Brass Eye's Paedogeddon! special. In it, show creator Chris Morris tackles the subject of pedophilia and the resulting media panic and public shaming in a manner only the British are capable of—with an obscure, twisted sense of humor that succeeded in highlighting the problems of a society influenced by media outlets such as the Daily Mail. The very late nineties and early 2000's ushered in a lot of original British TV series and not all of them were created with the sole purpose of making you uncomfortable (like Nighty, Night), or urging you to ponder that tendency to swallow whatever the national press was shoving down your throat. In fact, this era saw the release of some of the best British sitcoms, and it all started with Simon Pegg, Jessica Hynes and Edgar Wright's Spaced.
Though there was hardly anything new or groundbreaking about a sitcom based on a group of friends/flat mates, the general approach to Spaced was unlike anything that had been done before. The series follows Tim (Pegg) and Daisy (Hynes), who pose as a couple in order to secure a flat in a haunted house-type building on 23 Meteor Street. Their day-to-day lives consist of hardcore gaming sessions, career musings and failings, a lot of cush-smoking and the occasional pill-popping. With their group of exceedingly eccentric friends Brian (Mark Heap), Mike (Nick Frost), Twist (Katy Carmichael) and their boozing landlord Marsha (Julia Deakin), things never got boring. In comparison to American sitcoms following the same twenty-something roommates at the "What am I going to do with my life>" stage (the obvious example being Friends), Spaced actually feels wholly authentic. Protagonists Tim and Daisy face the kind of career obstacles, fears, financial difficulties and soul searching we can relate to. And, on top of that, finding a significant other to eventually mate with and marry is not a top priority, quite the contrary to most other sitcoms in which characters, especially women, seem to base much of their life's value on this single issue.
Spaced was the answer for all those who could not find the humor or reality in shows like Friends. On Spaced, each character followed their own unique passion, and their accumulative knowledge of cult series (X-Files), movies (Star Wars) and games (Resident Evil), as well as their mutual interest in music, art and outdoor activities like paintball, only enhanced their creatively quirky storylines. Where Friends' most daring venture outside of the usual format were flashback episodes, Spaced incorporated fantasy sequences that allowed further insight into the respective characters' dreams and emotions. The characters and lifestyles on Spaced represented a London way of life, specific to the late nineties and early noughties era, which is why the creators opted against a third season when the show ended in 2001.
Fortunately, fans of the weird and the wicked didn't have to wait long for a new team of wacky but lovable characters to move in on Channel 4. Black Books, which is considered to be the sister show to Spaced, introduced the highly dysfunctional and permanently intoxicated Bernard Black (Dylan Moran) and his chaotic London bookshop. With only his equally loopy friend Fran Katzenjammer (Tamsin Greig) to keep him on the straight and narrow, the success of his book shop is pretty much doomed. Enter Manny (Bill Bailey), an accountant who can no longer stand the pressures of his high-end job. Fran recognizes a sense of calm optimism in Manny and figures he'll be the perfect candidate to bring some order into the bookshop's squalor. Bernard and Manny share the same streak of disarray but, other than that, they are polar opposites. Bernard is a neurotic mess, a misanthrope who gets more out of a bottle of wine and a pack of cigarettes than he does from human interaction. His worldview is nihilistic at best but, beneath all the abuse he throws his colleague's way, it is clear that Manny's kind-hearted and eager nature have helped Bernard become a better person. (Not that he would ever willingly admit or show it.)
What truly makes Black Books one of the best sitcoms of the early noughties is not only the absurdity of the situations the protagonists find themselves in, but the clear divide between the cynic, madcap narcissists Bernard and Fran, who drown their miseries in wine, and Manny, the naïve and good-natured buffer who always gets the shit end of the stick, but remains content no matter what comes his way. Dylan Moran, who created the series together with Father Ted co-writer Graham Linehan, used typical London second-hand bookshops as his inspiration for Black Books. He felt struck by the "loneliness and doggedness" he encountered in the men who ran these "death ships" and felt inclined to slip into this peculiar role. The Black Books shop set-up on the show is indeed very reminiscent of many a bookshop I've visited not only in London, but throughout the UK. It's not unusual to enter one of these charming spots, to find shop owners whose bodies have literally morphed into book-wormed spines, cowering behind piles and piles of books of varying genres. The shabbiness of the shop and Bernard's unkempt and bitter presence reflect the renowned British cynicism and the stuffy, struggling environment of indie bookshops, while the character's strong neuroses and, at times, wickedness, represent a TV era that was unafraid to celebrate these weirdo anti-heroes in all their glory.
By 2004, British Television moved on from the relatively realistic sitcoms, to the surreal world of The Mighty Boosh. What originally started out as a radio broadcast that was to be this generation's version of Goodies, was quickly adapted for television, following the success of The Mighty Boosh's third stage show Autoboosh (2000). Slipping into the roles of zookeepers Howard Moon and Vince Noir, comedians Julian Barratt and Noel Fielding created an inimitable TV experience complete with original music—and its very own musical genre, the crimp—an outrageous wardrobe, bizarre characters and a set design that appears to be a direct extraction of Fielding's brain regurgitated onto canvas. As was true of Bernard and Manny in Black Books, Vince and Howard couldn't be more different. But while they tend to grate on each other, ultimately love rules between them. Howard, a melancholic poet and jazzercise practitioner, is constantly caught up in some existential crisis and takes himself far too seriously, whereas his best friend and trusted sidekick Vince can best be described as an easy-going classic Camden-character, always styled to the max and up to date with the latest trends.
The Mighty Boosh and the worlds it inhabited were incredibly colorful and distinctive, to the point where the show was often visually intoxicating. It was an adult, magical wonderland full of absurd and fantastical characters (Ol' Greg, Spider Dijon), musical spirits (Rudi van DiSarzio, Howlin' Jimmy Jefferson), obscure creatures (The Crack Fox) and, of course, the talking Moon, most of which are played by Barratt and Fielding. Inspired by the legendary Monty Python, Fielding and Barratt often resorted to DIY approaches as a means of preserving the comic integrity, not allowing their work to be over-shadowed by CGI. Many of the animated graphics on the show were actually Fielding's creations. Music was one of the main driving forces behind The Mighty Boosh; whether they were crimping about Captain Cabinet, or tuning into their inner punks with I Did a Shit, you could count on them delivering with complete conviction and, in Fielding's case, a pair of snazzy, shiny boots. Fortunately, the Boosh did not remain Britain's secret national treasure and though the obsession may not be as strong in the US, they definitely gained a big following.
Continuing in the vein of surrealism and Python-esque farcicalities, Victoria Pile's Green Wing (2004) introduced a hospital team of the very special variety. Mostly filmed on location in two real-life working hospitals, Green Wing's fictional East Hampton Hospital Trust staff resulted in some of the kookiest characters on British TV—most notably Dr. Alan Statham (Mark Heap) and staff liaison officer Sue White (Michelle Gomez). The assembly of some of British comedies' key players allowed the writers to grant them a lot of freedom for improvisation, resulting in a natural flow and character immersion. Following a soap-style angle completely devoid of medical storylines, the series mixed various genre elements with a strong emphasis on sketch-like moments similar to Pile's earlier work in Smack the Pony. While the protagonists of the soapy love triangle—Caroline (Tamsin Greig), Mac (Julian Rhind-Tutt) and Guy (Stephen Mangan)—were likably flawed, those with darker, more obsessive motives—Statham, White and Joanna (Pippa Haywood)—bordered on the comically uncomfortable, at times reminiscent of Jill (Julia Davis) in the aforementioned Nighty Night (2004).
Julia Davis' work is a perfect example of how British sitcoms started to conform to the general masses as the 2000's rang in the end of its first decade. Though this dark take on humor continues to thrive, it seems the shock value and general wackiness has been toned down a notch. When the pilot episode of Davis' and Haynes' Lizzie and Sarah aired on the BBC in 2010, it was advertised with great ambiguity and slotted at the worst possible hour. It was almost as if it was the BBC's dirty little secret. And while it generated favorable reviews, it never even passed the first episode. Lizzie and Sarah's depressingly vile and oddly hilarious nature may have trumped even Nighty Night, but had it been released prior to, say, 2005, it would have fit right in with a daring, comic format that appears to be too risqué for the current TV climate and its average viewers. Current shows like Davis' Hunderby and Barrat's Flowers definitely tap into that familiar gloomy energy and beloved British cynicism, but while they are both excellent in their own right, they appear to be stylistically and creatively slightly more contained than their predecessors. Having gotten to know just how dark the queen of obscurity can get, I feel Davis may have been holding herself back, with Hunderby.
The quiet fading out of Lizzie and Sarah, which could have been another bitingly cruel and brilliantly written female-headed British sitcom, indicated the end of the naughty noughties—that time where surrealism ruled and flippant storylines weren't immediate cause for a semi-national sulk.
---
Roxanne Sancto is a freelance journalist for
Paste
and
The New Heroes & Pioneers
. She's the author of
The Tuesday Series
& co-author of
The Pink Boots
. She can usually be found covered in paint stains.