ICYMI: Siblings Is the British It's Always Sunny You Didn't Know You Needed (But You Do)
Photo Courtesy of Hulu
TV
Features
Siblings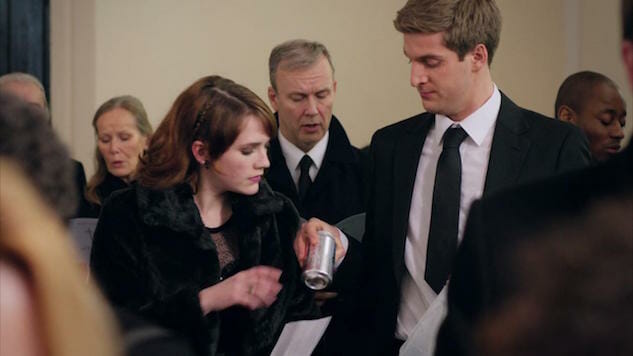 What exactly makes a foreign television show (those that are not created as international co-productions, anyway) a hit in the United States? Is it just a sweet American distribution deal or is it more about intense word of mouth? Is it honestly just luck? I've wondered before in this very column why Black Mirror became such a hit in the States while its contemporary Inside No. 9 still hasn't. In that particular case, it really did boil down to a combination of distribution (exclusively to Netflix, becoming one with that brand versus a cocktail of inconsistent, in terms of season availability, streaming and buy options on more than one platform available to Americans) and word of mouth (which Black Mirror had from the start, while Inside No. 9, for whatever reason, did not). It's also arguably the reason the delightful Lovesick—formerly known as the less tonally appropriate but still content-appropriate Scrotal Recall—lasted as long as it did.
All of this is to say: It's now been over three years since it last aired, but to this day I regularly question how and why the British sitcom Siblings didn't become even somewhat of a minor cult hit in the States, both through that combination of word of mouth and a convenient streaming service (in this case Hulu, though it was never branded as a "Hulu original," which made a world of difference). You know that Semisonic song from 10 Things I Hate About You, "F.N.T."? Specifically the lyrics, "I'm surprised that you've never been told before/That you're lovely and you're perfect/And that somebody wants you"? Those lyrics don't just work to create a memorable scene with Julia Stiles, Heath Ledger, and paintballs: They also describe exactly how I feel about Siblings and have since the first moment I saw it in 2014.
Created and written by Fresh Meat writer Keith Akushie, Siblings starred Charlotte Ritchie (also coming straight off of Fresh Meat's four-season run at the time) and Tom Stourton as Hannah and Dan French, the series' titular siblings. Described as a "sitcom about the world's worst brother and sister," for the two six-episode seasons that it ran, in its simplest form, Siblings was essentially a British version of It's Always Sunny in Philadelphia, only one that chose to focus on just Dee and Dennis' toxic sibling relationship (and toxic relationships with others) instead of the entire gang's brand of dysfunction. The Sunny comparisons were ingrained in Siblings, as the series—which debuted in 2014 and ended in 2016—even went with the Sunny approach to musical contrast in the face of terrible people doing terrible things, with the combination of its cheery, atonal opening title theme music and episodic score. But unlike Sunny, Siblings' Dee (Hannah) had more of the sociopathy of Dennis going for her, while its Dennis (Dan) had the questionable mental capabilities of Charlie. (The series confirmed on more than one occasion that there's technically nothing wrong with Dan. He's just extremely dumb. And accident-prone. And, when the series begins, has been recently released from a months-long prison stint for an undisclosed non-violent crime. At best, he's child-like. At worst, he's a man-child who's a danger to himself and others.)
While Sunny has become more of an intense satire as it's progressed, Siblings' short time on the air didn't allow for much of that, if that was ever really a place it wanted to go. While there was certainly minor satire—as the titular siblings were upper-middle-class, posh-adjacent brats, which put everything about these characters into focus once that was revealed, like how Dan has money without a job—Keith Akushie's series was ultimately more concerned with seeing just how far it could push the envelope with its characters and its scenarios. Unlike Sunny, it was satisfied with being unencumbered by a point or a message, because all it needed was to let the audience witness every awful thing Hannah and Dan did. Then we watch in glee—and a little terror—as it all came back around on them, after they've warped what was supposed to be a good thing into something awful. In Season One's "Intern School," Dan's decision to be an inspiration to the modern-day nerds at his former primary school—based on his own grade school bullying "just because [he] was different"—reveals how he ruined another kid's life during the self-proclaimed best years of his life. In Season Two's "Kevin Rugby," Hannah somehow warps a doctor's diagnosis that she is severely unhealthy into a bizarre lesbian love triangle. My favorite episode, Season One's "Burrito Neighbour," is a tour de force when it comes to witnessing Siblings' particular brand of destruction: Hannah somehow goes from obsessing over a Swedish crime drama to throwing her born-again Christian boyfriend off the wagon, with Dan becoming a "shit Mr. Ripley" in 10 days, when all he was asked to do is look after a neighbor's pet fish.
One of the keys to Siblings was the fact that, despite both being self-involved, self-absorbed characters—at one point in the series, Hannah has a botched move to the States for her dream job and, despite having told Dan she was leaving for good, he'd thought she was only on a temporary trip—the way Hannah and Dan project those personality traits are completely different. Dan lacks the malice Hannah has, but both characters are different sides of the same self-absorbed coin. As the series progressed, you saw that Hannah was the product of their parents in terms of their personality and actions, while Dan was the product based on their nurture, or lack thereof: the combination of their mother's coddling and their father's disappointment. The world revolves around the French siblings, and it's a fascinating—occasionally terrifying—perspective. It's the type of perspective that should have led to thinkpieces on Hannah and "Are you a Dan or are you a Hannah?" Buzzfeed quizzes. (And not just because most people who think they're Hannahs are actually Kevins, Hannah's long-suffering co-worker whose life only gets worse once Dan decides to involve himself in it.) Hannah is a vengeful obsessive who can never just let things go—a trait that even Dan realizes is both troubling and annoying—while, at the same time, the kind of insecure person who tried to confidently call herself "Momma" in conversations, only to backtrack and explain that she is, in fact, "Momma." Dan, on the other hand, is the type who falls in love with every new woman he meets, and does every dare his posh bro friends tell him to, just because it "would be weird."
However, it's the Siblings second season/series finale, "Jack's Wedding," that is so hilariously, upsettingly dark on multiple levels that it's the kind of mic-drop that says, "Fuck it. Like Dido's 'White Flag', I will go down with this ship." (There's also a very good joke about Dido's "White Flag" in the first season, by the way.) It's unclear if Keith Akushie and the cast and crew of Siblings knew or had a feeling that Season Two would be Siblings' last, but the fact that it was actually brings to mind the major reason why Siblings was doomed to fail in the UK and, unfortunately, had little chance of being saved in the States. A month after Siblings' second season aired and ended, BBC Three—its home network—ceased to be a linear/terrestrial network and instead made the transition to over-the-top streaming site. The change was a result of major budget cuts and was initally pitched in March 2014, before being finalized in November 2015.
But the other thing about pre-online BBC Three was that, not only did it target the younger, 16-34 age demographic—which, based on my research, is not as coveted at the 18-34 demographic is in the United States, with the average BBC One viewer being 61 years old once a BBC Three show really gained traction outside of just the youth viewership, it would be poached by the larger BBC networks. Meaning that, while BBC Three was never the ratings gold mine of BBC One or BBC Two, it also wasn't allowed to keep its shows that actually began to break out. Shows like Gavin & Stacey (which aired its first two seasons on BBC Three, then aired reruns on BBC Two for a larger audience, then ended on BBC One), Nighty Night (which moved to BBC Two for its second season), Torchwood (which moved to BBC Two for Season Two, BBC One for Season Three and Season Four, with Starz also getting Season Four). In fact, BBC Three even had a moment as a television graveyard, as Coupling was moved from BBC Two to BBC Three in its final, mediocre season. While the move online (to BBC's established iPlayer streaming service) could have been considered a natural progression, given the younger audience and the change in how TV has been watched, the fact that the move online only existed because the younger audience was considered dispensable during budget cuts told the real story.
As for how successful that change was? As of March 2019, "BBC Three" now has its own hour-long branded block on BBC One, on Mondays through Wednesday. It was a decision led by the international popularity of Phoebe Waller-Bridge's Fleabag, basically creating a new version of the former model of BBC Three's hit series moving on to the bigger BBC stage.
Siblings ended up on Hulu in April 2016, a few months after it ended in the UK and a few months before its cancellation was made official. It's still there, available to be discovered and talked about, asking why no one ever talked about it. There's honestly no telling that even if BBC Three had remained a terrestrial network the show would have gotten a Hulu co-production deal, or if it would have been deemed special (and older-skewing) enough to move on to a bigger BBC network. But considering how the series was given a sign of good faith originally—in a second season renewal before it even aired—it's difficult not to think that the shifting of the network paradigm played a major hand in the series' continuation and ultimate success as a long-lasting season.
As previously mentioned, Siblings is similar in tone to It's Always Sunny in Philadelphia—though, in coming out of the mouths of Brits, it feels slightly less rough around the edges—but I'd argue that Siblings belongs more in the pantheon of gone-too-soon cult sitcoms like Happy Endings, Don't Trust the B in Apartment 23, and The Mick. While just a cut beneath those first two in terms of wittiness, Siblings understood the humor in self-absorbed characters going on absurd adventures in a similar way to those series and it relished pushing things to the edge like the latter series (with the ability to get even raunchier, due to being a British series and not on an American network). There's no doubt in my mind that Siblings should have been a hit in the States—or at least on the same scale as Lovesick on Netflix—and that it didn't is one of the bigger "What if?" questions I have when it comes to television. But at least it's still available to stream, again and again and again while I continue to ponder.
Siblings is currently streaming on Hulu.
---
Despite her mother's wishes, LaToya Ferguson is a writer living in Los Angeles. If you want to talk The WB's image campaigns circa 1999-2003, LaToya's your girl. Her writing has been featured in
The A.V. Club
,
Indiewire
,
Entertainment Weekly
,
Complex
,
Consequence of Sound
,
and Flavorwire
, among other publications. You can find her tweets about TV shows, movies, and music you completely forgot about @lafergs;.