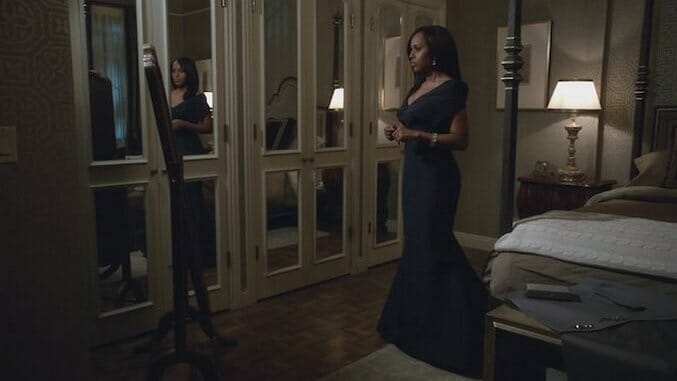 Game of Thrones might be dominating watercooler conversation this summer, but if there's one thing Shonda Rhimes knows, it's how to land a shocking twist. The news that the creator/EP and her Shondaland shingle are moving from ABC to Netflix broke Sunday night like a last-act cliffhanger on Scandal—The Wall Street Journal, which first reported the news, published it at 12:01 a.m.—and the reverberations for Rhimes, ABC, Netflix and even the future of TV itself are likely to be significant:
This is a major loss for ABC. Rhimes is one of the last bona fide hit makers left in broadcast, and ABC built its schedule around her. With the 2014 debut of How to Get Away with Murder, Shondaland series made up the entire Thursday-night "TGIT" bloc (reminiscent of NBC's "must-see TV") and the network has reaped the rewards: HTGAWM and Rhimes' flagship soap, Grey's Anatomy, were both among the 20 top-rated broadcast series of the 2016-2017 season in the 18-49 demo coveted by advertisers, and the zeitgeist-defining Scandal remains a decent performer despite slipping from its Season Four peak.
Rhimes' multiyear agreement with Netflix won't affect these shows, which will remain at ABC with Shondaland's involvement, but as Grey's ages, Scandal approaches its end, and HTGAWM stalls, losing Rhimes' future output is sure to be damaging long-term. With the exception of Designated Survivor, ABC's non-Rhimes successes are properties growing rather old in the tooth, such as The Bachelor and Modern Family. It's unclear if the network has the development prowess to fill the hole she'll leave behind; certainly, its most impressive debuts of recent vintage have come not in drama but in comedy: black-ish, Fresh Off the Boat, Speechless and the late, lamented Downward Dog. (This is pure speculation, but I wonder if the network's big bet on American Idol was influenced by the knowledge that Rhimes planned to depart.)
This is a major get for Netflix. After a spate of cancellations (Sense8, The Get Down, Gypsy) and reports of the platform's mounting debt, the agreement with Rhimes has one immediate benefit: As Don Draper once advised, "If you don't like what's being said, change the conversation." Still, Netflix's number one goal is to attract and retain subscribers, and in the absence of financial details about the Shondaland pact—not to mention reliable viewership data—the streaming service's calculations are hard to parse. (Variety reports that the pact likely involves "innovative" terms for Rhimes to receive a cut of backend profits; at ABC Studios she was earning an estimated $10 million annually.) At minimum, Rhimes brings with her a passionate audience and built-in interest in whatever she does next—an increasingly important consideration in an oversaturated marketplace. Netflix is wagering that she'll generate enough new subscriptions to justify the cost.
This is a creative opportunity—and a risk—for Rhimes. Citing the platform's "fearless space for creators" in a statement on the announcement of the deal, it appears that Rhimes is itching for the freedom of streaming after more than a decade working under broadcast network constraints. But this is a double-edged sword. On the one hand, with shorter seasons, no commercial breaks, and no standards-and-practices department to keep happy, Rhimes has a chance to stretch her legs—or add more spice to her next potboiler. On the other, Rhimes' foremost weakness is editing, broadly defined: Grey's and Scandal both sit atop so many twists, turns, detours and dead ends that they've become as indecipherable as ancient runes. (I'm convinced she'd knock a limited series in the vein of Big Little Lies or American Crime Story right out of the park.) Unfortunately, Netflix's indulgence of overlong episodes and poorly structured seasons is unlikely to do much for Rhimes on this front. Fingers crossed that she proves me wrong.
The Rhimes-Netflix deal might be remembered as an epochal shift. Until now, streaming platforms such as Netflix, Hulu and Amazon have, in their choice of projects, positioned themselves primarily as competitors to cable and premium channels. With the exception of Unbreakable Kimmy Schmidt and a handful of others, none of the sites' most-discussed series (Orange Is the New Black, The Handmaid's Tale, Transparent) could air on one of the major networks except in radically altered form, and the artists who produce said series largely cut their teeth in indie film, or on networks such as AMC, FX, HBO and Showtime. But the Rhimes pact, set alongside Netflix's relationship with mega-producer Chuck Lorre (whose Kathy Bates vehicle, Disjointed, debuts on the streaming service later this month), opens up a new salient in the ongoing battle of "peak TV." Whether the idea is to lure older viewers—who may not have a Netflix account yet—or simply to diversify its programming in order to keep current subscribers happy, Netflix has now poached one of the biggest, boldest names in TV. If the streaming competition offers so much money and creative freedom that broadcast networks can't hold onto their principal talent, it's going to be an ugly fight.
---
Matt Brennan is the TV editor of
Paste Magazine
. He tweets about what he's watching @thefilmgoer.