Sherlock and Watson Will Never Get Together, Sherlock Showrunners Say
A sinking "ship"
Images via BBC
TV
News
Sherlock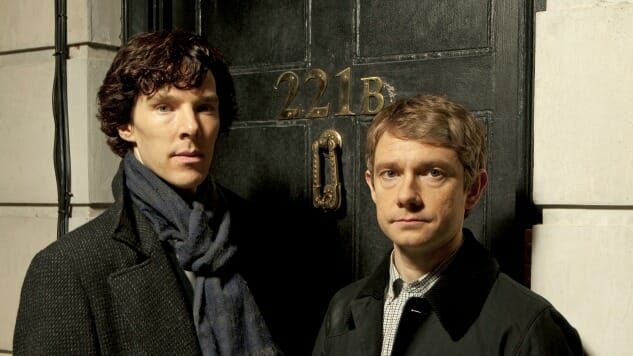 The Sherlock fandom has loved to "ship" Sherlock Holmes and John Watson together romantically for years now. In fact, people have thought Sherlock and Watson would be good together for long before Sherlock began. But at San Diego Comic Con, showrunners Steven Moffat and Mark Gatiss put the last nail in that possibility's coffin, explicitly stating that "Johnlock" will never become canon.
A recent bout of speculation was kickstarted when Moffat discussed the importance of of queer representation in media at a panel unrelated to Sherlock. Fans believed his comments to mean that Sherlock and Watson might actually get together.
"It is infuriating frankly, to be talking about a serious subject and to have Twitter run around and say oh, that means Sherlock is gay," Moffat told With An Accent. "Very explicitly it does not. We are taking a serious subject and trivializing it beyond endurance."
Gatiss gave his support for fans writing their own version of the story in fanfiction, but made it clear they are not depicting Sherlock as gay:
We've explicitly said this is not going to happen – there is no game plan – no matter how much we lie about other things, that this show is going to culminate in Martin and Benedict going off into the sunset together. They are not going to do it. And if people want to write whatever they like and have a great time extrapolating that's absolutely fine. But there is no hidden or exposed agenda. We're not trying to fuck with people's heads. Not trying to insult anybody or make any kind of issue out of it, there's nothing there. It's just our show and that's what these characters are like. If people want to do that on websites absolutely fine. But there's nothing there.
Moffat also discussed what he said at the previous panel: "I was talking about the representation of minorities in science fiction shows and in popular culture. Using the example of talking about gay characters and how you present them. I was actually largely talking about Doctor Who, 'cause Doctor Who addresses children," Moffat said, as he has been the showrunner on Doctor Who since 2010.
He clarified further:
I was talking about how do you handle gay characters in a fiction like Doctor Who when you are addressing very directly, children. You don't want it to be campaigning. You don't want to be table thumping about it. You don't want to essentially tell children that there's something to campaign about. You want to say this is absolutely fine and normal. There is no question to answer. You want to walk right past it, in a way. You're just saying you're gay and it doesn't matter. There's no issue.
This is undoubtedly disappointing for many fans, who had been hoping that Sherlock might include much-needed queer representation through its main characters. Hopefully the incredible amount of fan art and fanfiction can provide them some solace, especially in the interminable wait between seasons.