See: How the Apple TV+ Dystopian Drama Finds a New Way to Look at Blindness
Photo Courtesy of Apple
TV
Features
See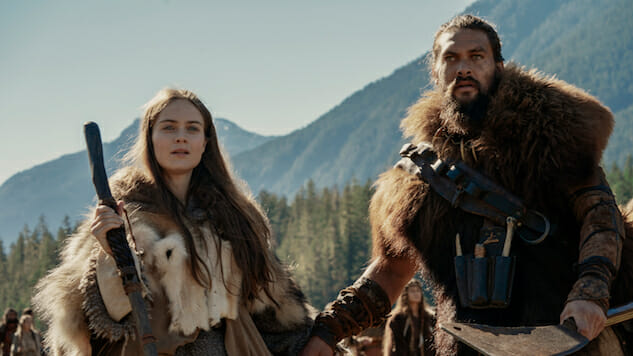 There is far too much about the most dystopian of Apple TV+'s new line-up to unpack in just a few minutes. See, set in a far-flung future where centuries ago humanity literally lost its ability to see, is full with small touches and big swings that add up to an extremely dense narrative. But, during a recent junket hosted by Apple, members of the cast and director Francis Lawrence made an effort to hint at the layers of complexity in store. 
At the center of the story, created by Steven Knight (Peaky Blinders), are Kofun (Archie Madekwe) and Haniwa (Nesta Cooper), the two adopted children of Baba Voss (Jason Momoa). Voss is a warrior who knows it's essential to protect them because they were born with the ability to see, making them a threat to forces like the evil Queen Kane (Sylvia Hoeks) and her loyal witch hunters, led by Tamacti Jun (Christian Camargo). While the focus of the premise is on the question of (literal) vision, those involved were excited to explore how the show's large ensemble could represent a wide range of stories. 
"Typically in TV and movies, and things like that," Lawrence said, "blind people are often portrayed as victims, somebody who needs saving or somebody who needs fixing. And so the idea of having the opportunity to tell stories where these characters can just be sort of fully formed human beings—they can be great heroes, there can be evil queens, you know, like we can have the full spectrum of people. Blindness is an aspect of that, but it's not the thing that defines them." 
As Cooper added, "It's really fun to see people who are blind as different people—not just a token diverse person. Everyone has their own personality." 
And it offers up a unique twist on old cliches of "in the land of the blind," because as Cooper put it, "the concept of blindness doesn't really exist until we come in," because this is a world where blindness is the norm. 
The world-building of the series is dense, but the cast was an active part in developing it. "They did build everything, but they built it with us," Camargo said. "It wasn't like we had to fit into a formula, because being part of a first season meant we were very involved. I mean, as actors, you don't often get an opportunity to dive into a new world and brand new creation like this."
Hoeks agreed, adding that "really collaborating from the beginning meant that we understood the language so much, because you have to represent a world that has been blind for 600 years, where that is the norm. And I think collaborating and creating this world together made us feel very at home in what we were doing." 
While the production teams worked to literally build the show's look and feel, the actors spent several weeks collaborating with blindness consultant Joe Strechay, movement choreographer Paradox Pollack, and others to create the details which populate the show. 
As one example, Camargo mentioned that a chant he and Hoeks created in rehearsal utilized both touch and rhythm, and "you can see it in pieces of the show—we have these patterns that we touch—and then the movement coach broke it out into a language and then made that part of the language of the army."
Aspects like this, on top of the wardrobe, make-up, and other production choices, helped the actors feel fully immersed in the story. "The world was rich with that kind of detail—we went to a screening yesterday, and people were asking me, like, I saw this, I picked up on this, what does that mean? Is that coming back?" Madekwe said. 
The scale of the production, Camargo said, was "bigger than anything that I've done. And this cast is like the most welcoming, inclusive, gorgeous group of people. So you feel very held and safe and you can just play." 
Cooper and Madekwe, playing the two characters who have sight, engaged with the world of the show in a very different way. "We live in a world now that's built by sighted people for sighted people," said Madekwe. "And people that are blind have to navigate this world that isn't built for them. Whereas by now living in [the show's] world, which is built by people that are blind for people that are blind, we're the people that are entering into that world and learning how to navigate that. And yeah, it was a challenge, but it was fun." 
Not only did that world feel real to the cast, but it wasn't necessarily a world they hated the idea of living in. "I think that we start off in in a future that is not desolate and terrible," Cooper said. 
It was a sentiment shared by Hoeks. "When I saw the first two episodes, is it utopian? Or is it dystopian? Because people seem very happy. Having no social media, having no distractions, being in a tight knit community, having people of every color, women fighting amongst alongside men. You know, I found that very wonderful. So there was a positivity—and also to portray blind people who can do anything."
See is currently available on Apple TV+
---
Liz Shannon Miller is a Los Angeles-based writer and editor, and has been talking about television on the Internet since the very beginnings of the Internet. She recently spent five years as TV Editor at Indiewire, and her work has also been published by The New York Times, Vulture, Variety, the AV Club, the Hollywood Reporter, IGN, The Verge, and Thought Catalog. She is also a produced playwright, a host of podcasts, and a repository of "X-Files" trivia. Follow her on Twitter at @lizlet.
For all the latest TV news, reviews, lists and features, follow @Paste_TV.