Follow the Flavor in Trailer for Netflix Food Series Salt, Fat, Acid, Heat
Images via Adam Rose/Netflix, Netflix
TV
News
Salt Fat Acid Heat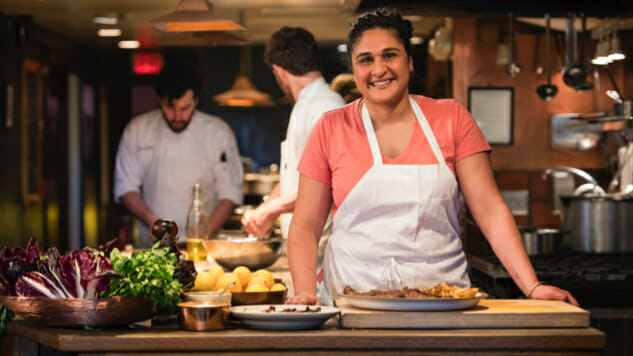 From the creators of Cooked comes a new Netflix food series, Salt, Fat, Acid, Heat. The streamer released a trailer for the series on Tuesday morning, and it's a delight. The show is based on chef Samin Nosrat's James Beard Award-winning cookbook of the same name, and hosted by Nosrat herself.
Describing the book, Nosrat summarizes her food philosophy: "Master the use of just four elements—Salt, which enhances flavor; Fat, which delivers flavor and generates texture; Acid, which balances flavor; and Heat, which ultimately determines the texture of food—and anything you cook will be delicious."
Each episode of the four-part series (dir. Caroline Suh) will focus on one of the four titular elements of cooking. Nosrat's goal is to analyze what makes food tasty, and to make those elements accessible for every person and every plate of food. To do that, she's traveled to Italy, Japan, Yucatán and her home of Berkeley, Calif., talking to fellow chefs and eating loads of their food.
Nosrat is both an authority on cooking and a host willing to have fun. See for yourself in the season one trailer below, and watch for Salt, Fat, Acid, Heat to hit Netflix on Oct. 11.