Rocko Gains Celebrity Status in New Teaser for the Rocko's Modern Life Netflix Special
Images via Netflix
TV
News
Rocko's Modern Life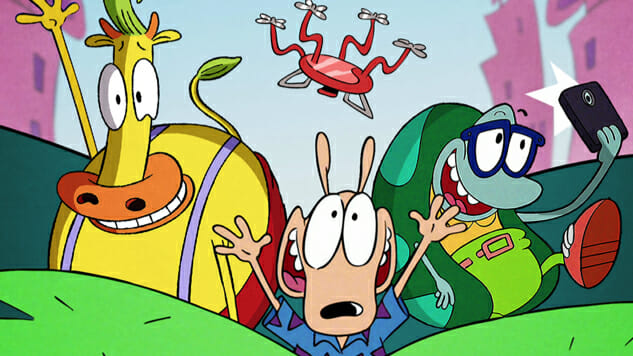 Rocko's Modern Life: Static Cling has another new teaser ahead of its swiftly approaching Aug. 9 release date, and it's all a little meta. The brief clip features the exasperated wallaby facing scores of adoring fans and an overzealous reporter—is there any other kind?—all desperate to get a peek at the mild-mannered marsupial. Animated crowds chant what we're all thinking: "We love Rocko!"
A bit of subversive humor sneaks in as well, in true Rocko's Modern Life fashion. A news ticker scrolls by with phrases like, 90'S CARTOON SOLVES PROBLEM$ and, "That wasn't technically a reboot, but the sign said reboot," states pedantic jerk on the internet. Those subtle digs at, ahem, modern life remain a part of what made the Nickelodeon series so loved.
An official synopsis also sounds like the new film has lost none of the series' bizarre charm:
After being in space for around 20 years, Rocko and his friends attempt to conform to an even more modern life in O-Town, where coffee shops are on every corner, food trucks offer multi-layered tacos, touch-screen O-Phones are being upgraded on a near-constant basis, an instant-print kiosk has replaced Rocko's old job at Kind-of-a-Lot-O-Comics, and radioactive energy drinks turn their consumers into mutants.
The original voice cast returns for the hour-long special, which means we'll hear Rocko (Carlos Alazraqui), Heffer (Tom Kenny) and Filburt Turtle (Mr. Lawrence), just as nature intended. Additional cast members include Charlie Adler, Linda Wallem, Jill Talley, Steve Little and Cosmo Segurson.
Rocko's Modern Life: Static Cling premieres on Netflix Aug. 9. Check out the special's teaser and key art below.
chanting WE LOVE ROCKO! #RockosModernLifeStaticCling comes to Netflix on 8/9 pic.twitter.com/ydYE3wZ9SV

— Netflix Family (@netflixfamily) July 16, 2019