Riverdale Season Two Will (Probably) Have Sabrina the Teenage Witch
And The Dark Gets Implausibly Darker...
Main Photo: Cole Sprouse and KJ Apa
TV
Features
Riverdale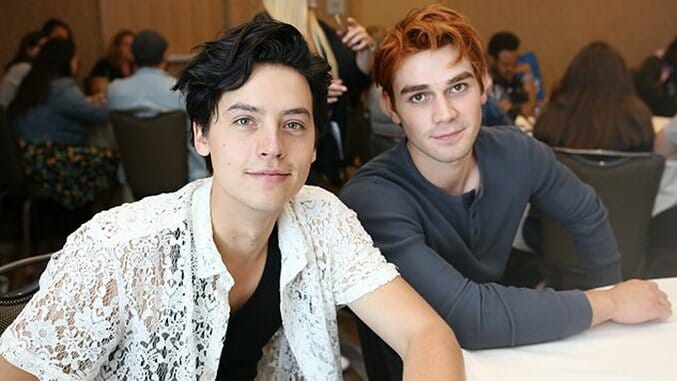 For 76 years, the greatest crisis every-teen Archie Andrews faced was navigating a love triangle between a gorgeous blonde girl-next-door and a gorgeous brunette socialite. But one of the career goals of producer, playwright and comic scribe Roberto Aguirre-Sacasa is to escort the redhead '50s icon to the gates of hell—literally. In 2014, Aguirre-Sacasa tossed Archie and his Riverdale peers into a gauntlet of zombies and eldritch horror in Afterlife with Archie—a gruesome 2014 comic released in tandem with a line-wide relaunch of all things Archie, including series for quirky BFF Jughead and, later, Betty and Veronica.
But Aguirre-Sacasa was far from finished putting these sterling co-eds through the existential ringer. Last January, the showrunner and Chief Creative Officer debuted Riverdale, a CW drama that cast a Lynchian shadow over the property. Laying in the middle of a Venn diagram between high school soap opera and neo-noir, the 12-episode season set up a murder mystery that also slid incest, drug trafficking and statutory rape into the recipe. And it was pretty damn great. Or, to quote Paste's own Mary Houlihan, "It's very good, and it's also bad, and you're gonna love it."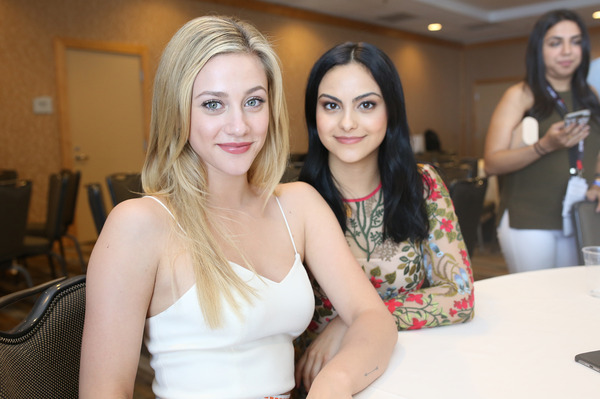 Actresses Lili Reinhart (Betty) and Camila Mendes (Veronica)
In anticipation of its second season, Paste sat down with the cast and Aguirre-Sacasa during a roundtable at San Diego Comic-Con and asked if these poor kids could catch a break after enduring a flaming carwreck of melodrama and hormones last season. (Spoiler: the season concluded with Archie's Dad, Fred—a DILF-ish Luke Perry—receiving a gunshot to the gut.) "It's sad and hopeless," lamented Camila Mendes, who plays reformed socialite Veronica Lodge. "It's heartbreaking watching that conflict unfold. It's coming from a place of love and protection. The audience will be hurt watching it."
Mendes specifically referred to upcoming trauma that will wreak havoc on both her character and her relationship with Betty; actress Lili Reinhart foreshadows that she'll be "vulnerable" after "circumstances break her." By the end of roundtable, each actor had a similar prediction for their character; aside from a second episode flashback that sees the cast channeling their idyllic, '50s forebears, all the denizens of Riverdale seem to be heading toward (another) personal apocalypse.
"We had a murder mystery in Season One," Aguirre-Sacasa explained. "We have a very strong crime and noir element that's a little bit more dangerous than Season One. So it does get darker."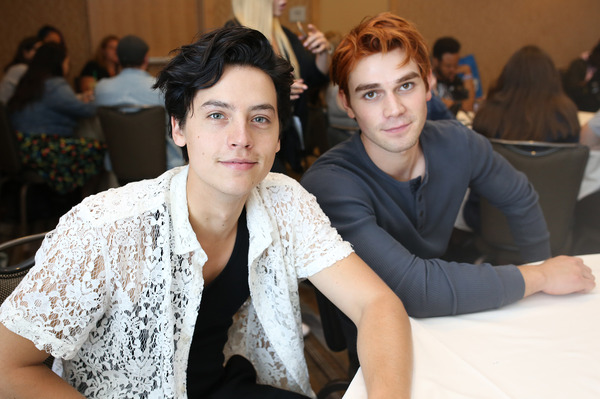 Actors Cole Sprouse (Jughead) and KJ Apa (Archie)
Making the show darker would require an inspired sense of sadism. Besides the looming fate of Fred Andrews (Perry's listed as an actor in 13 episodes of Season Two, so do your own math), Jughead was ousted to the seedy Southside of Riverdale where a drug-running gang, The Serpents, took him into their coils. The majority of the despair, though, revolved around mean girl Cheryl Blossom. Played with icy vulnerability by Madelaine Petsch, the character's brother suffered a Laura Palmer-esque death, fueling the biggest questions of the series: Who killed him? Why? And was there incest between the siblings? (Answers: her heroin-slinging father, who also committed suicide after being discovered/Because he didn't want to sling heroin/Probably?)
"But I will say this," Aguirre-Sacasa continued. "Even in episode one, when the stakes are so high and everyone's waiting to learn as Fred's life hangs in the balance…there's that great scene with [Kevin] and Betty talking about what's going on with her and Jughead. There's always going to be humor and aspirational friendship elements."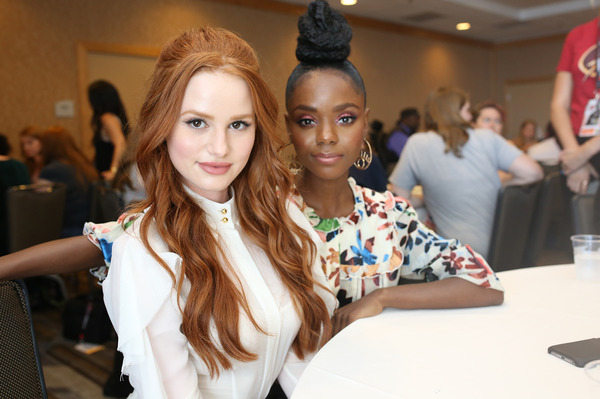 Actresses Madelaine Petsch and Ashleigh Murray (Josie)
And the group hinted at what new friends may join the gang. Aguirre-Sacasa has even been penning the adventures of one speculative addition for the past three years: Sabrina the Teenage Witch. Starring in the Robert Hack-drawn comic The Chilling Adventures of Sabrina, the budding enchantress assumes a darker, far more satanic narrative than her G-rated early comics or '90s ABC sitcom. But like Archie, she still assumes a winsome attitude maneuvering a maze of scheming adults and finicky co-eds.
"I make no secret: I love Sabrina. Sabrina is part of the Archie universe. I'd love to introduce her," Aguirre-Sacasa says with elevated energy. "It's tricky. We've got this universe where it is dark and there is crime, but there's no supernatural. It does feel that if you're going to introduce that character, the rules of the world change. A part of that is figuring how that is actually going to work. I probably have actually said too much, but it's certainly something I aspire and hope to do in some way."
As the first season featured a matriarch who could foresee the future—Nana Blossom, whose current whereabouts are unknown after Cheryl burnt down the family estate—witches aren't quite the off-brand gamebreaker described above. Sabrina could even serve as a new romantic option for Cheryl.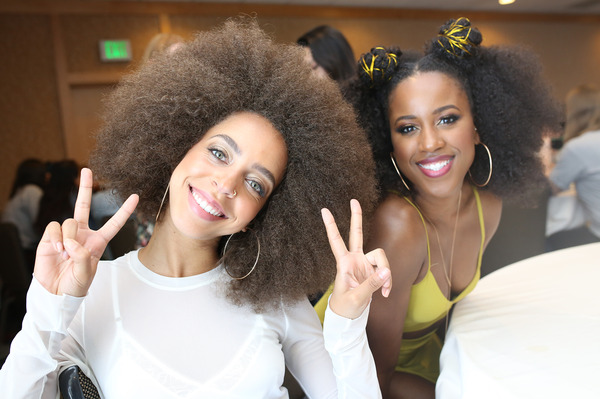 Actresses Hayley Law (Valerie Brown) and Asha Bromfield (Melody Valentine)
"She's going to be a lot stronger with her Mom, and a lot colder and meaner to the outside world because her walls are even higher after last season," hints Petsch. "And she gets an unexpected love interest…" hints Petsch. The more logical candidate would be Toni Topaz, an import from the comic who happens to be bisexual and will allegedly bond with Jughead at Southside. Played by Vanessa Morgan, she'll also add to the musical elements of the show which have, thus far, centered on high school band Josie and the Pussycats.
But the biggest indication of season two direction lies with Archie himself, played with moody swagger by New Zealand native KJ Apa. After witnessing his aforementioned father fall to a burglar's gunshot, a sense of Death Wish vengeance may ignite under the varsity jacket. "I think he's willing to go as far as he can," Apa said. "He goes pretty deep into it. He's determined for his town and for his family…The relationship between Archie and Fred is one of the more admired relationships of the show. It means everything to him, and he will try his hardest to find justice."
Gangs, drugs, love triangles, vengeance, (probably) witches and implausibly attractive actors will collide on the October 11 premiere of Riverdale Season Two.
Read Paste's reviews of Riverdale Season One here.