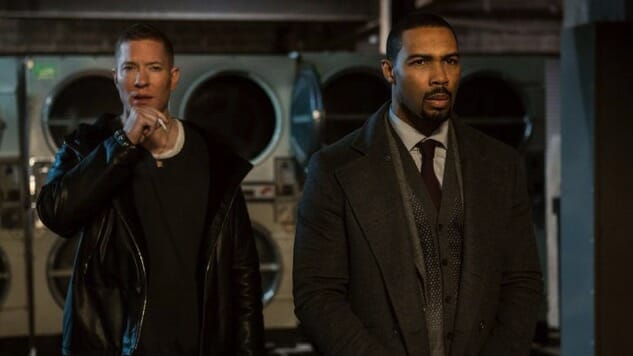 "Don't Go," proves that Power just keeps getting better. If you're watching this show, there's no way you're not enjoying the ride more and more, each Sunday. Unlike Ghost, who's ready to jump off his life's carousel of non-stop enemies and dreams deferred, we're in this for the long haul. Here are the top 5 moments from last night's Power.
1. Tommy, Meet the Serb Whom Eats People
We still have no idea if this rumor is true, but after watching Milan choke and break a man's neck for not following directions, well, we're terrified for Tommy and Ghost's crew.
2. Tommy is Looking for His Penance
We knew it was coming, and it came by way of Tasha, attempting to fix Tommy's life. He's fully aware of Holly's pregnancy. Knowing he took the life of his unborn child shows us another side to Tommy, a man who is filled with nothing more than regrets. Religion hasn't played a major part on Power but it's making its way in through Tommy, as he talks with his Pastor-client about regrets and evil deeds.
Tommy will not forgive himself, and Milan knows that he would have more luck dealing with Tommy than Ghost, since Tommy has nothing to lose.
3. The Task Force is Under Investigation
After Agent Knox's takes two bullets to the chest, he's quick to yell foul about the Lobos transfer-turned-shit-show. He's right, but the whole team has to be investigated, and it is damn fun watching the agents squirm under the fire of questions. We find out Cooper Saxe has past transgressions (which we need to be made aware of—for funsies!), Greg is still bitter and Angela's special skill set is duping people into believing she used James St. Patrick for information. Leader Mike Sandoval is the only who seems confident that he's going to end up fine, but he follows Knox's lead in throwing suspicion towards Angela. Here's a question: When will someone realize that, in Mike's sloppiness, he ordered a trace to Lobos' burner phone? Yes, they know someone called the phone, but don't they record calls in a federal building? Again, sloppy.
4. Angela Begins to Crumble (and the Return of Paz)
I, for one, have waited patiently for the eventual breakup of Angela and Ghost, but not for nefarious reasons—really. It's good to finally watch Angela's motivation be more about her own well being, rather than a man who continues to lead her into a rabbit hole. The writers poke a hole in the lovers' bubble, and now Angela is beginning to see more clearly—even if she's wrong about Ghost's love for her. Of course she tells her older sister that she still wants the man who broke her hear—we've all been there. Angela is aware of the deep, muddled waters she's in after the investigators ask her questions about James St. Patrick. While she still has to protect Ghost, it's for her sake. Not his. And Tasha digs the knife in deeper by coming up with the story about the marriage being back on, which tears Angela even further.
But let's give Paz the Greatest Big Sister Ever Award for threatening a murderer and packing up his stuff. She may not know he's got a body count, but she's loyal as hell and down for the cause.
5. Ghost and the Terrible, Horrible, No Good, Very Bad Day
The episode began with Ghost dreaming that he wakes up with Angela, only to wake up alone. It's the start to this terrible day and having the episode center on a day in the life of Ghost makes it a tense watch from start to finish.
Ghost is losing more than his cool; for the first time, he's terrified and backed to corners that he can't manipulate his way out of. Milan isn't easy to neutralize, which we saw when Milan invited himself over to Tasha's for a makeshift dinner party. His family isn't safe, Tommy's gone rogue, and Angela, is quite angry. So he goes to bed—alone and lost.
Stray Observation:
Keep Kanan away from your grandparents, y'all. That is all.
---
Iris A. Barreto is a writer for
Fangirlish
, freelance writer for
Paste
and social media intern for
Pink is the New Blog
. Heavily caffeinated. Forever lost in Westchester, NY & NYC; all GPS apps hate her. You can follow on Twitter.