Paste's Power Rankings: The 10 Best Shows on TV Right Now
(Week of 3/19/18)
Header photo: Greg Gayne/The CW
TV
Features
power rankings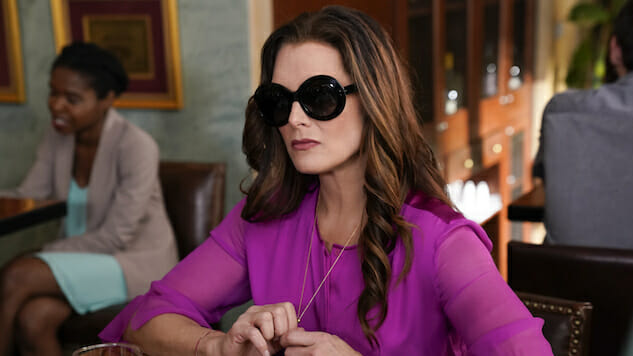 Spring is heating up! Well, on TV, that is. (Sorry, folks caught in yet another March nor'easter.) The honorable mentions this week would make a formidable list of their own, including Netflix's reality TV sensation, Queer Eye—in its last week of eligibility—and one of the best episodes of Saturday Night Live this season—thanks to host/former cast member Bill Hader, who revived our beloved Stefon. And that's to say nothing of the familiar titles—and one surprise newcomer—that made the final ten. Read on!
The rules for this list are simple: Any series on TV qualifies, whether it's a comedy, drama, news program, animated series, variety show or sports event. It can be on a network, basic cable, premium channel, Netflix, Amazon, Hulu, YouTube or whatever you can stream on your smart TV, as long as a new episode was made available the previous week—or, in the case of shows released all at once, it has to have been released within the previous six weeks.
The voting panel is comprised of Paste editors and TV writers with a pretty broad range of tastes. We're merciless: a bad episode can knock you right off this list, as much good TV is available right now.
Honorable Mentions:
Corporate, Counterpart, The Flash, Good Girls, Last Week Tonight, Queer Eye, Saturday Night Live
10. Ugly Delicious
Network: Netflix
Last Week's Ranking: 8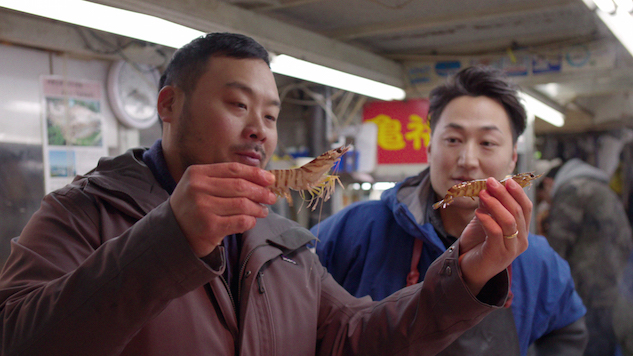 The Virginia-born child of Korean parents, renowned chef David Chang is deeply interested in how foodways travel, intersect, and melt together. What begins to hit you once his new docuseries finds its groove—the second episode, for me; your mileage may vary—is that this is legitimately something beyond the super-trope established by Tony Bourdain all those years ago (Chef Seeks Wisdom in Travel and Eating the World). Chang is not a Bourdanian. He's after something else: the notion that real authenticity isn't about purity. On the contrary, it's about recognizing diversity of contribution, making connections, and not being a damn snob. He doesn't need you to be dazzled. He wants people to be open to one another. And, as one Vietnamese Houstonian notes in the series' shrimp debate: "Food is the bridge." —Amy Glynn (Photo: Netflix)
9. Seven Seconds
Network: Netflix
Last Week's Ranking: 7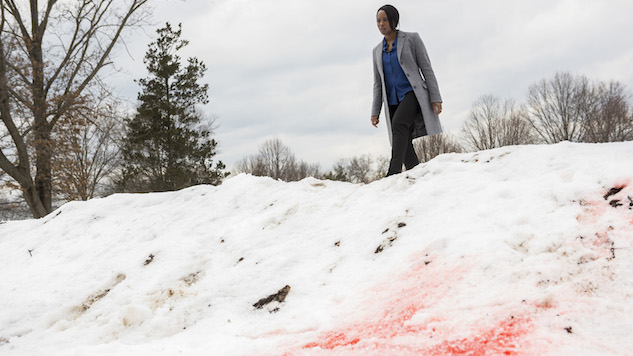 The Killing's Veena Sud returns with another searing look at how an adolescent's tragic death ricochets through a community. When narcotics officer Pete Jablonski (Beau Knapp) hit and kills Brenton Butler with his car, his boss forces him to cover up the crime while Brenton's parents (a stellar Regina King and Russell Hornsby) search for answers. Even in her hungover state, functioning alcoholic and assistant prosecutor K.J.Harper (Clare-Hope Ashitey) knows something is not right. Michael Mosley is Joe "Fish" Rinaldi, the homicide detective not wanting to see this as anything less than an open-and-shut case. K.J. and Fish are a terrific pairing: Their reluctant rapport is the series' biggest strength. As with The Killing, the characters and performances outshine the sometimes meandering and cliched story. Seven Seconds tells an imperfect but thought-provoking story of whose lives are valued, how good people do bad things, and how bad people can still be good. As the grieving mother, King is devastating. As a parent myself, her performance cuts me to my very core. Ashitey is a revelation, creating a character that will simultaneously infuriate you and evoke your sympathy. You'll root for her even when she's doing so much self-destruction. And the pilot's final image, of Brenton's blood sprawled over the Jersey City snow, will haunt you for days. —Amy Amatangelo (Photo: Jojo Whilden/Netflix)
8. Champions
Network: NBC
Last Week's Ranking: Not ranked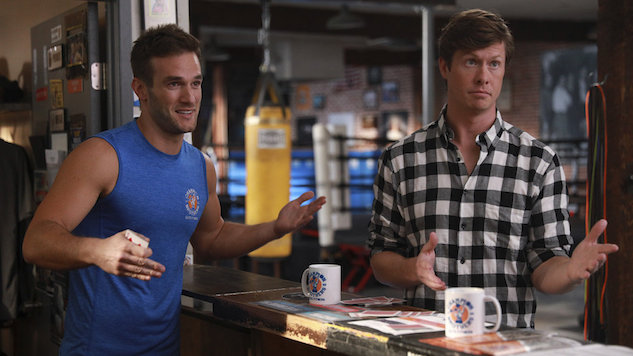 One of the greatest things about Mindy Kaling's now-completed comedy, The Mindy Project, was its ability to make social commentary side-eye come out of the mouth of her heroine, an otherwise vapid character who was almost as obsessed with leading a romantic comedy dream life as she was with herself (My favorite quote: "It's the 21st century. A woman can have professional ambitions and still have a family. I mean, rich women"). Similarly, Champions, which Kaling co-created with her friend and former co-worker, Charlie Grandy, and which stars former Mindy paramour Anders Holm, puts a warm spin on the otherwise dry trope that two single dudes will totally muck up raising a child who (surprise!) turns up on their doorstep.
The child in question here is J. J. Totah's Michael, a Broadway-obsessed teenager from Ohio who moves to New York to attend a fine arts high school—and whom Holms' Vince never bothered to mention to his sweetheart of a brother, Matthew (Andy Favreau). Another thing he didn't tell him: He'd planned to sell their dad's gym in order to delay #adulting for a few more years. A cast of extremely talented comics and character actors—including another Mindy holdover, Fortune Feimster—keep the latter part from happening, thus ensuring the show's setup past the pilot.
But the real breakout is Totah. He plays Michael with enough dimension that you can laugh at imagining him being exactly what would happen if Kaling, who cameos as his mom, were entrusted with raising a gay son and also feel for him as someone who is old enough to know that he's been lied to and thrust into a whole new world but still young enough to be frustrated about the situation. —Whitney Friedlander (Photo: Jordin Althaus/NBC)
7. The Good Fight
Network: CBS All Access
Last Week's Ranking: 5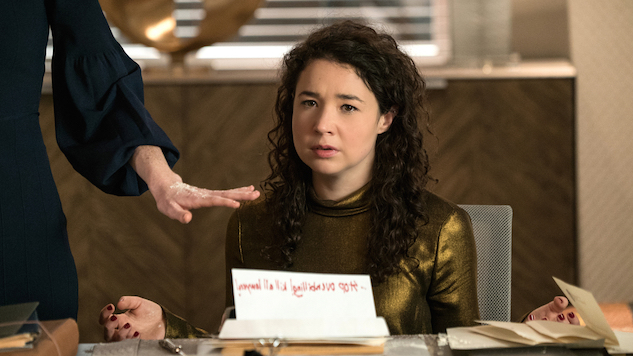 "Day 422" is the fullest showcase yet for The Good Wife veteran (and frequent scene-snatcher) Sarah Steele: As Marissa Gold, she confronts none other than a potential ricin attack—it turns out to be a hoax—with her usual insouciance, going so far as to invite the man in a hazmat suit tasked with testing the suspicious powder that spills on her and Maia (Rose Leslie) to join them for a drink. It's the sort of plot twist that makes The Good Fight so much fun, capped off by the opening salvo in the battle royale between Diane Lockhart (Christine Baranski) and new partner Liz Reddick-Lawrence (Audra McDonald): "Fuck you." —Matt Brennan (Photo: Elizabeth Fisher/CBS)
6. Jane the Virgin
Network: The CW
Last Week's Ranking: Honorable mention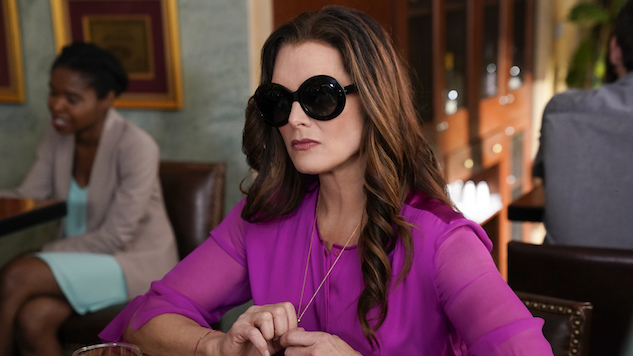 Every episode of the whizbang Jane the Virgin is a new opportunity to make a Stefon joke ("this. show. has. everything…), but last Friday's "Chapter Seventy-Seven" really went for the gold, feinting away from the previous week's cliffhanger—Xo's (Andrea Navedo) surprise breast lump—for the majority of the hour as Rogelio (Jaime Camil) poured his terror into professionally wooing (and burning the signature eyebrows off) his acting nemesis, River Fields (Brooke Shields), Jane (Gina Rodriguez) poured hers into reframing her wild origin story from the POV of a side character, and said side characters Luisa (Yara Martinez) and Petra (Yael Grobglas) achieved new levels of character growth and inner peace giving away all their money (Luisa) and bringing the magic back into Mateo's life by dressing up as the Villanuevas' legendary silver-haired Tooth Fairy (Petra, obviously). And if that weren't enough, Petra and JR (guest star Rosario Dawson) finally ferreted out the simultaneously shocking and still utterly "Oh, duh" identity of Petra's stalker (and, I guess, Anezhka's murderer?), Petra's newly discovered bisexuality was kept beautifully in bloom, Rafael's (Justin Baldoni) rare non-Jane-related orphan story was given room to grow, and even all three Villanueva-Solano kids were given a fully realized dramatic arc as Petra's no-bullshit twins burst every one of Mateo's bubbles of innocent fairytale belief. And then, Xo's biopsy results came back, and the show took a leap back into one of its boldest OG trademarks—the Villanuevas' deeply held religious identity—and had Jane, Xo, Rogelio, and Alba (Ivonne Coll) fall to their knees, hand in hand, to pray as the episode panned out the credits.
While most shows that get moved to a Friday night end up withering from lost attention, Jane the Virgin has so deeply committed itself to breathing vitality into the entire medium that its move has instead made Fridays a beacon. As the show moves into this new Xiomara storyline, that vitality will only grow. —Alexis Gunderson (Photo: Greg Gayne/The CW)
5. The Looming Tower
Network: Hulu
Last Week's Ranking: 6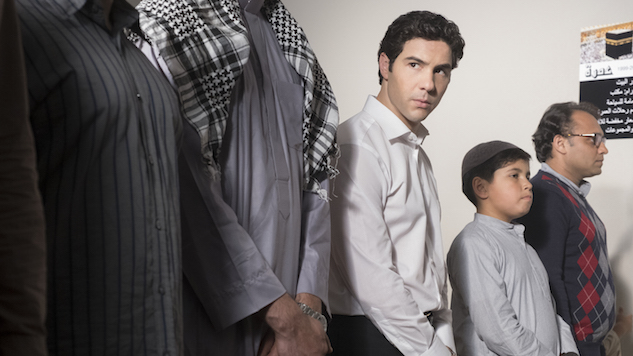 In "Y2K," The Looming Tower confronts two threats—one pressing, one distant. As we now know, of course, fears of the systemic computer crisis at the beginning of the new millennium turned out to be overstated, while the threat of al-Qaeda operatives infiltrating the United States would prove to be more significant than our worst nightmares. In addition to preparations for a potential New Year's Eve terror attack, the episode, written by former Paste TV editor Shannon M. Houston and directed by Ali Selim, focuses much of its attention on Lebanese American FBI agent Ali Soufan (the excellent Tahar Rahim) and his complicated relationship with Islam. By the time the hour (and what was once called "the American century") comes to a close, with an archival clip of late ABC News anchor Peter Jennings discussing the known and the unknown, the predictable and the unpredictable, "Y2K" emerges as a chilling reminder that the most dangerous threats are usually those we cannot see. —Matt Brennan (Photo: JoJo Whilden/Hulu)
4. The Assassination of Gianni Versace: American Crime Story
Network: FX
Last Week's Ranking: 4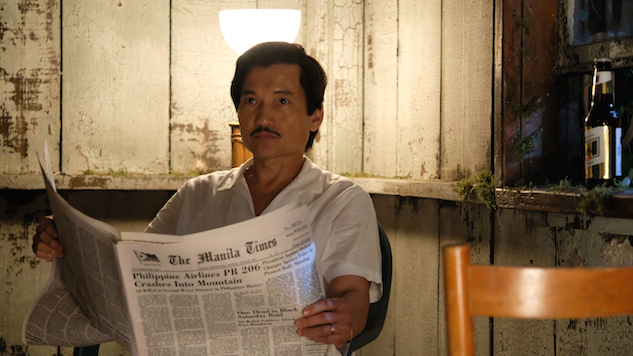 We use the word "ego" almost as if we're describing a character flaw. In fact, the literal translation of the word is "I am." To be completely egoless might be the ostensible aim of some religious philosophies, but there's a big difference between relinquishing one and never developing one in the first place. People with broken or empty or malformed egos are miserable and very often highly dangerous. "Creator/Destroyer" is basically a primer on how to build a human being with no stable idea of who he is—in this case, Andrew Cunanan (Darren Criss), by his father, Modesto (Jon Jon Briones). The pressure of that instability is like the seismic buildup between tectonic plates in a subduction zone. The longer the pressure builds, the more catastrophic the quake's going to be when the ground finally gives way. —Amy Glynn (Photo: Ray Mickshaw/FX)
3. Jessica Jones
Network: Netflix
Last Week's Ranking: 3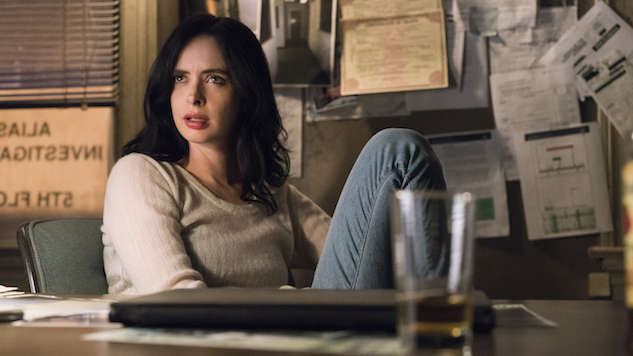 In its sophomore effort, Jessica Jones digs deeper into the issues that made Season One interesting—in particular, power, control, and female anger. Season Two doubles down on that in a way that feels extremely of the moment (and showrunner Melissa Rosenberg saw to it that, among other things, all the episodes were directed by women). As a treatise on the complexities of female road-rage in all its varied facets, it's excellent. It also makes the wise choice to deepen Jessica (Krysten Ritter, still killing it) and Trish's (Rachael Taylor) complicated relationship, delving into their shared past. That was definitely the least fleshed-out aspect of the first season, and it's a much-needed asset here. —Amy Glynn (Photo: David Giesbrecht/Netflix)
2. Atlanta
Network: FX
Last Week's Ranking: 2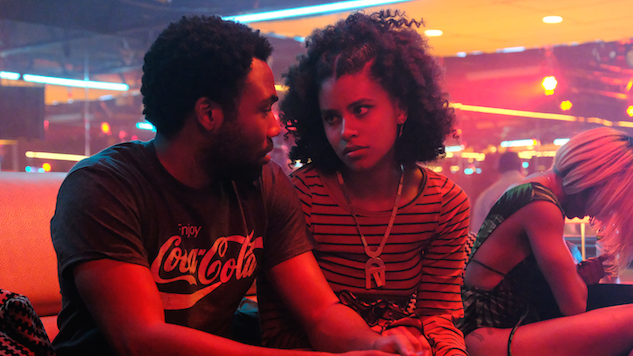 With "Money Bag Shawty," Atlanta suggests that money magnifies the essence of the person who has it: Earn (series creator Donald Glover) has money, so of course the (often self-positioned) underdog is going to push his ego onto it. But money can't change a stuntee into a stunter, whether at a strip club, a movie theater, or a hookah bar. Part of the issue is straight-up racism: Earn is constantly discriminated against when he tries to pay with a $100 bill. Part of it's personal: His girlfriend, Van (Zazie Beetz), rubs it in, the sympathetic heckler (a hard-to-nail dichotomy) to Earn's constant victim. Or, put another way, the schlimazel to Earn's schlemiel. She can joke along with the world, tricking him into thinking that the phrase "caught red-handed" has a racist origin, or merely absorb some of the collateral damage, like when she spends some of his money on a "pity dance" from the world's skinniest, least-gyrating stripper. No matter what, Earn is the butt of the world's joke, and Van is right there beside him. —Jacob Oller (Photo: Guy D'Alema/FX)
1. On My Block
Network: Netflix
Last Week's Ranking: Ineligible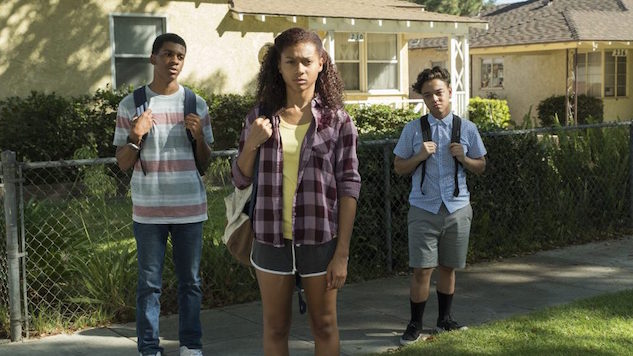 Netflix's new dramedy On My Block is one big, irreverently cocksure nod to all the (whitest) parts of the modern cultural canon one would least expect to find in a coming-of-age story about brown 14- and 15-year olds just trying to survive daily life on their gang-ruled streets. And for the first couple of episodes, all this slangy allusiveness makes for a story that feels shaggy at best, structurally unsound at worst; the central characters are cohesive and convincingly earnest as a dysfunctional friend-family unit—not least because the actors are actual, not adult, teens—but taken individually they seem to be leading entirely different shows. When the final credits hit, though, it's clear that not one second of the season's 10 short episodes was wasted: Every line was measured out, every background track meticulously calibrated, every initially jarring tonal shift set up precisely for a singular cumulative effect that lands in the season's final moments like a punch to the chest you realize too late you should have seen coming from a mile away. —Alexis Gunderson (Photo: Netflix)