Paste's Power Rankings: The 10 Best Shows on TV Right Now
Week of 1/14/2019
Photo: Byron Cohen/FXX
TV
Lists
power rankings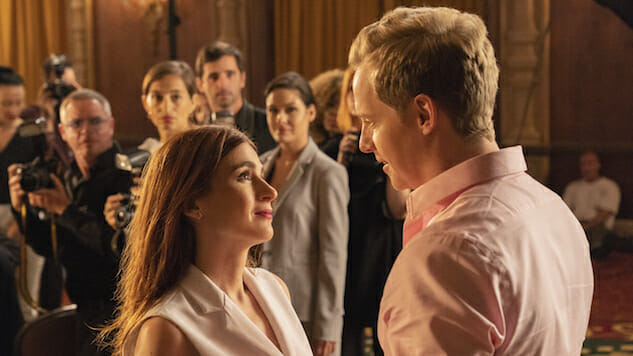 The best part of the Power Rankings at the start of a new year—if not always for those of us putting it together—is the speedy turnover: With new series premiering and others returning from winter hiatus practically every night, nothing on the list can get too comfortable. Case in point: None of the top five titles below appeared on the list last week—in fact, none were even eligible. That's good news for you, if you're in the market for a new show to get into, and good news for us, because Paste's got you covered.
The rules for this list are simple: Any series on TV qualifies, whether it's a comedy, drama, news program, animated series, variety show or sports event. It can be on a network, basic cable, premium channel, Netflix, Amazon, Hulu, YouTube or whatever you can stream on your smart TV, as long as a new episode was made available the previous week—or, in the case of shows released all at once, it has to have been released within the previous six weeks.
The voting panel is comprised of Paste editors and TV writers with a pretty broad range of tastes. We're merciless: a bad episode can knock you right off this list, as much good TV is available right now.
Honorable Mentions:
Crazy Ex-Girlfriend, The Good Place, Valley of the Boom, Victoria
10. Vanity Fair
Network: Amazon Prime Video
Last Week's Ranking: 8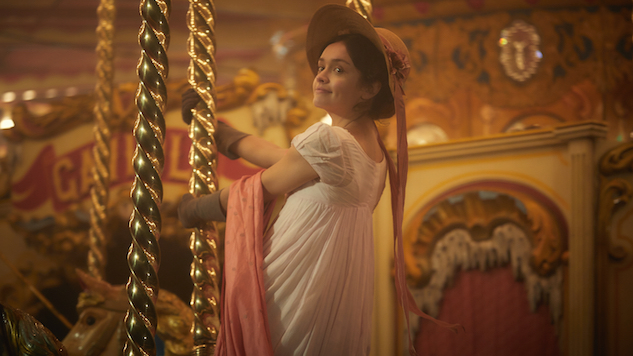 I say this with all the sincerity in the world: Becky Sharp is terrible—and thank God for it.
Brought to life by Olivia Cooke (Bates Motel), the Becky Sharp of Gwyneth Hughes' dreamily sardonic adaptation of William Makepeace Thackeray's novel is the dark changeling version of all the intrepid pro-woman, anti-elite heroines that television critics now adore. Born to a lowly artist and French opera girl and orphaned at a young age, Becky is introduced to the audience as a clever young woman justifiably incensed at the lot fate has handed her, and is set up as the protagonist for viewers to root for as she attempts to bootstrap her way into a position of greater security on her era's still-limited social ladder. As far as comparisons go, just imagine what you might get if you crossed Kate Beckinsale's Love & Friendship with Heath Ledger's A Knight's Tale: Period drama staging so lavish is verges on clownish and a protagonist who seems to exist just slightly out of the time she's stuck in, with a few truly resonant emotional threads buried amidst what is otherwise seven full hours of tightly performed, very funny satire, all wrapped up with a big, irreverent bow. —Alexis Gunderson (Photo: Robert Viglasky/Amazon Prime Video)
9. Dirty John
Network: Bravo
Last Week's Ranking: Not ranked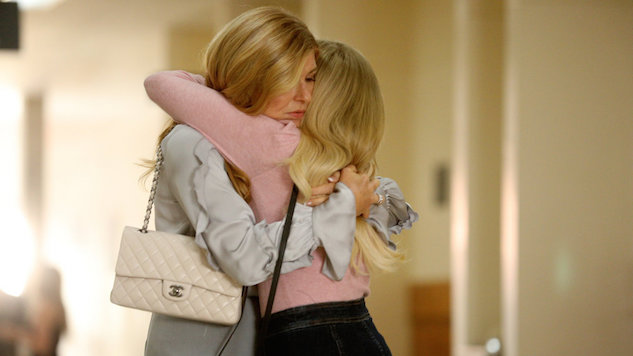 Bravo's pulpy true crime miniseries came to a shocking (if you didn't already know the story) conclusion, as the tragic love affair between successful interior decorator Debra Newell (Connie Britton) and nefarious con man John Meehan (Eric Bana) finally ended. It falls squarely in the "truth is stranger than fiction" department, as the hour included an heroic dog and a car chase led by an Uber driver. What truly made the series unique was Bana's terrifying performance as a man who could charm anyone while keeping his long-simmering rage percolating just beneath the surface. And as Debra's fashionable, spoiled daughter, Veronica, Juno Temple was the series' breakout star: Temple brought much-needed humor to the series, and also brilliantly walked the fine line of a protective daughter who loved her mother even as she made snarky remarks. Hopefully Dirty John is a launchpad for Temple and we will see her in many more things in the future. —Amy Amatangelo (Photo by: Jordin Althaus/Bravo)
8. A Series of Unfortunate Events
Network: Netflix
Last Week's Ranking: 5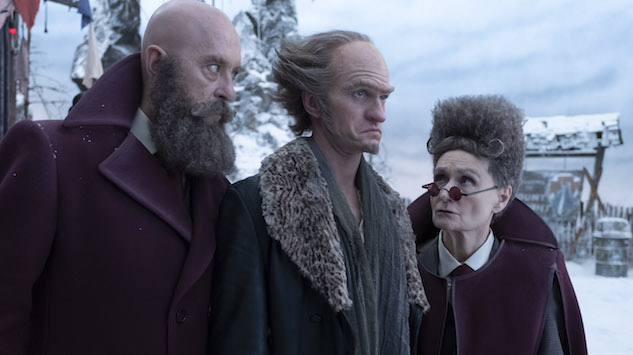 Don't quote me yet, but I think Netflix maybe has the notoriously slippery kids book-to-screen adaptation formula solved. I mean: To All the Boys I've Loved Before, Dumplin', and, for some good but mostly ill, 13 Reasons Why. Then, and more impressively: A Series of Unfortunate Events. In the vast and increasingly stormy ocean of original Netflix content, A Series of Unfortunate Events, based on the sharply unrelenting book series by Lemony Snicket (Daniel Handler), has been from the very first title card an unsinkable dinghy of exquisitely executed vision—a phrase which here means, to quote the youth, iconic. Honestly, between the killer casting, the grotesquely perfect costuming and set design, the ever-changing, always ominous titles sung by Count Olaf (Neil Patrick Harris), and the truly astonishing, straight-from-the-source body count, this kids' series is such fun television it's almost offensive. And now, with its newly released third season—planned from the start, in an act of network wisdom I hope will be become an industry trend, to be its last—A Series of Unfortunate Events is also a model of satisfyingly complete storytelling. Covering the final four books in Snicket's 13-volume series, the seven episodes of this final season rise to the artistic and narrative challenges set by the first two, introducing compelling new characters (portrayed by Allison Williams, Max Greenfield, Morena Baccarin and Peter MacNicol) and bringing back all the old favorites (including Tony Hale, Kerri Kenney and Joan Cusack), while still finding the time to tie up all the loose plot and character threads the series ever introduced into a weirdly hopeful, Baudelaire-shaped bow. It's so satisfying, and so sweet, and no spoilers here, but reader: I cried. —Alexis Gunderson (Photo: Eike Schroter/Netflix)
7. Future Man
Network: Hulu
Last Week's Ranking: Ineligible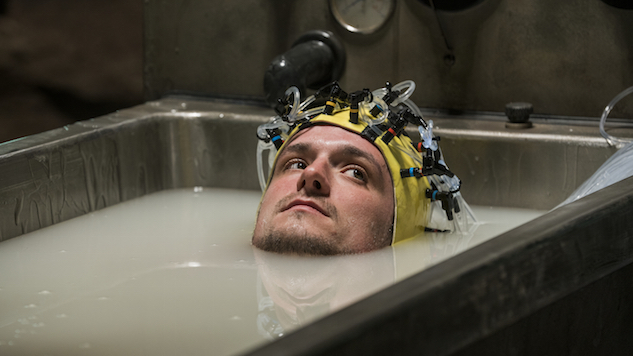 The premise sounds both ridiculous and tired: Josh Futterman (Josh Hutcherson), a loser good at videogames and bad at life, is mistakenly chosen to save the future of humanity by a pair of time-travelers trying to prevent the development of their dystopian society, caused by the unintended consequences of a cure for herpes. But, as they did with This Is the End, Seth Rogen and Evan Goldberg have made the ridiculous entertaining, writing a crass, over-the-top, well-plotted love letter to the sci-fi canon of the late 20th century. The characters are fleshed out and original, especially Derek Wilson's Wolf, who got sidetracked from his revolutionary cause in Season One by becoming a love for cooking. In Season Two, we learn that saving the world takes more than one try, but Josh Futterman is the accidental savior we need. —Josh Jackson (Photo: Greg Lewis/Hulu)
6. Tidying Up with Marie Kondo
Network: Netflix
Last Week's Ranking: 4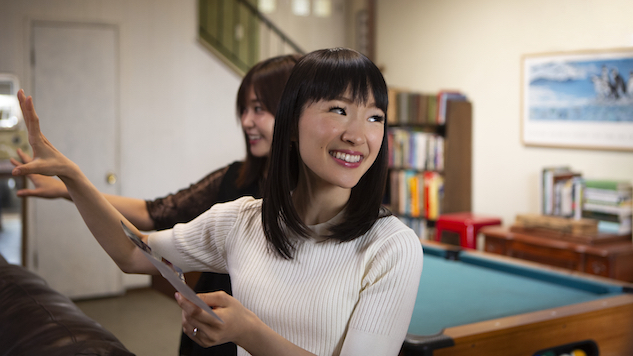 Tidying Up with Marie Kondo will convince the most cynical among us that it's reasonable to derive joy from every single thing in your house, and that anything you're hanging onto that doesn't provoke a joy reaction should be seriously held to account. What's interesting about Tidying Up is that it isn't especially voyeuristic—and that seems to be what makes it work. Kondo skims the spaces she enters, maintaining a polite distance (she mostly speaks Japanese, which keeps a certain veneer of non-enmeshment between her and her generally English-speaking, Angeleno subjects). Most of the heavy lifting is done when she leaves, in solitude. She has a "method," but she also has a point: minimizing, paring down, organizing, all the things she calls "tidying," are about closing the gap between who you want to be and who you are on a given day. —Amy Glynn (Photo: Denise Crew/Netflix)
5. You're the Worst
Network: FXX
Last Week's Ranking: Ineligible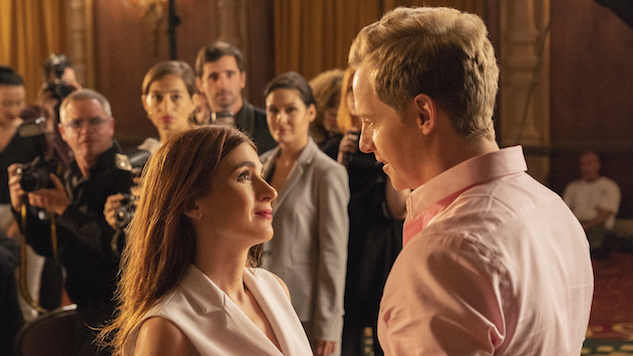 After being off the air for more than a year, You're the Worst returns for its fifth and final season with the glorious attitude that makes the show so unique. Those expecting to get immediately caught up on Jimmy (Chris Geere), Gretchen (Aya Cash), Edgar (Desmin Borges) and Lindsay (Kether Donohue) were instead treated to a montage of two young kids in the 1990s falling in love in a video store. The sequence celebrated/mocked all the romantic movie tropes the show is constantly skewering, and even featured a shout-out to Notting Hill. The big twist, of course, was that the story was actually Jimmy and Gretchen recounting their (fictional) love affair to some duly horrified wedding planners. It was an uproarious bait and switch that proved the FXX comedy will continue to be a hilariously disruptive voice in the TV comedy landscape as it takes its final bow. —Amy Amatangelo (Photo: Byron Cohen/FXX)
4. Good Trouble
Network: Freeform
Last Week's Ranking: Ineligible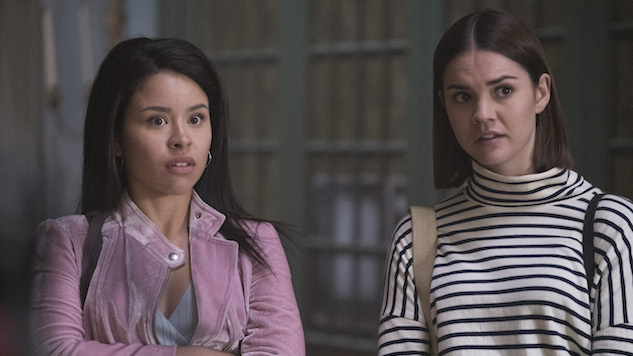 Like its forebear, The Fosters—which ended its five-season run in June—on paper, Good Trouble seems like a socially progressive series intent on checking all the boxes: It features, among others, a bisexual character, a transgender character, a lesbian who is not yet out to her conservative parents, and a woman who grew up in the foster care system but was never adopted out. But, as in The Fosters, Good Trouble never comes across as patronizing or lecturing. You never feel like the producers are making TV that feels like homework. Instead, the series is an entertaining young adult drama that accurately reflects the world we live in.
When sisters Callie (Maia Mitchell), a recent law school graduate, and Mariana (Cierra Ramirez), fresh out of MIT, move to Los Angeles to embark on the next phase of their lives—and into a building known as The Coterie, with its eclectic group of residents, shared co-ed bathroom, communal kitchen—It makes for a very of-the-moment Melrose Place. (Fun fact: The Coterie's roof deck pool is actually the same one used in Melrose Place.) The series deftly captures what it's like when you're in your early twenties and just starting out, navigating a new career, new living situation, and new relationships. Good Trouble is well worth your trouble. —Amy Amatangelo (Photo: Freeform/Beth Dubber)
3. True Detective
Network: HBO
Last Week's Ranking: Ineligible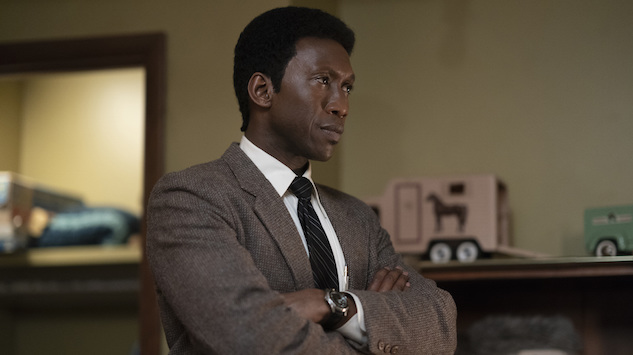 The Season Three premiere of True Detective tries to reconnect the series with its Season One glory days. The first line, delivered by Detective Wayne Hays (Mahershala Ali), is "Of course I remember." We're about to set out on a major excursion into the nature of time and memory. Indeed, if you go into this edition of True Detective for the actual crime story, you're likely to be underwhelmed: It brings nothing particularly new or significant to the genre; as a murder mystery, most of its moves are familiar, even obvious. If you found the series' previous seasons ponderously laden with literary references, be warned that you're going to be dragged through Robert Penn Warren poems and Tim O'Brien stories. But if you're interested in memory and its insidious betrayals, you're in for a treat. Ali's tense, restrained performance is spectacular, and it manages to justify an arguably precious time-bending structure from the start. —Amy Glynn (Photo: Warrick Page/HBO)
2. Brooklyn Nine-Nine
Network: NBC
Last Week's Ranking: Ineligible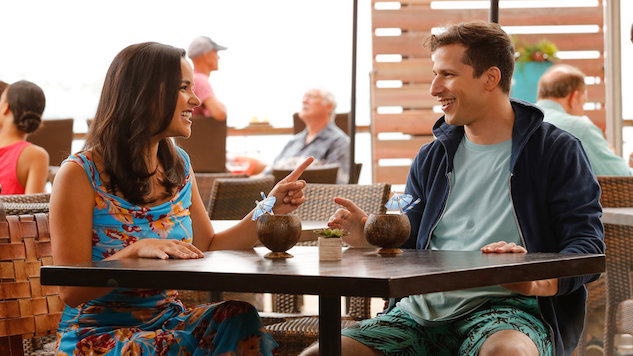 It is with the lightest of hearts that I settle in to report: There is absolutely nothing remarkable about the newest episodes of Brooklyn Nine-Nine. By that I mean the series, in its move to NBC, is what it has always been: kind, quick, and very, very funny. (Its NBC premiere also scored the Nine-Nine its highest ratings in two years, which is worth a boost in the Paste Power Rankings, too.) The entire ensemble is working at the height of their abilities, and while the shape of that ensemble will necessarily change following Chelsea Peretti's planned exit from her role as a series regular, its tightness is as warm and familiar as a big family hug—which, following the whirlwind cancelation cum network-hopping revival of the beloved precinct comedy last spring, is obviously the best of all possible outcomes. So, no: Nothing about the new season of Brooklyn Nine-Nine is all that remarkable. And that is excellent news. —Alexis Gunderson (Photo: Vivian Zink/NBC)
1. Sex Education
Network: Netflix
Last Week's Ranking: Ineligible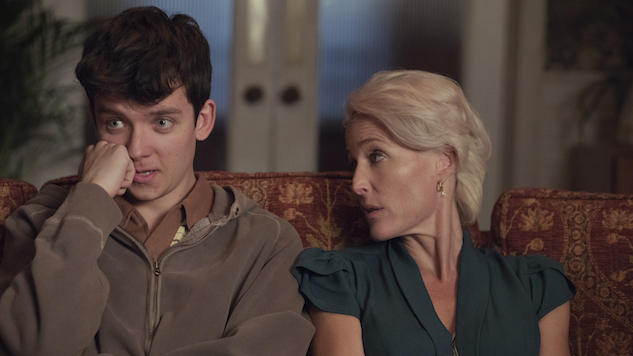 You're an insecure, bright, sensitive teenage boy Asa Butterfield) with a wildly uninhibited sex-guru mother (Gillian Anderson), an absentee dad (the epically hilarious James Purefoy), a chronically foot-in-mouth bully-magnet best friend, a limited social life and a clinically interesting fear of your own penis. You have a stealth crush on your school's official Way Too Precocious girl, who's hard up for money. So, naturally, you open a sex clinic for high-school students in an out-of-service school lavatory, right?
Of course you do.
Netflix's Sex Education is a decidedly raunchy and thoroughly adorable coming-of-age dramedy. While it's not exactly afraid of well-worn tropes, it also doesn't rely on them to a detrimental degree… and it has Gillian Anderson as a sex therapist, which would be enough for a lot of us even if nothing else about the show worked. Luckily, that isn't the case: A testament to the power of character development, the series is riveting. None of its superbly crafted characters waste a single frame. —Amy Glynn (Photo: Sam Taylor/Netflix)