Paste's Power Rankings: The 10 Best Shows on TV Right Now
Week of 10/1/2018
Header photo: Justin Lubin/NBC
TV
Lists
power rankings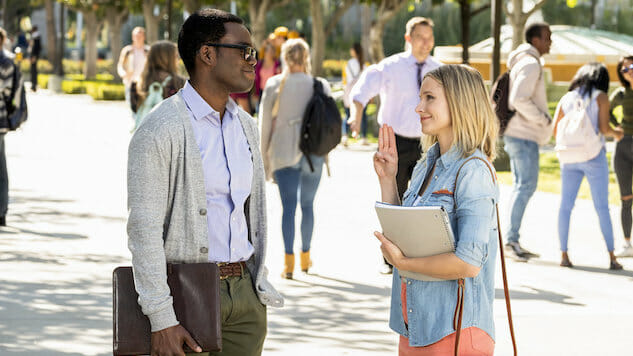 As they say on Twitter, the last week has been a looooong year. But here at Paste, we understand that you need a respite from the sound and fury, so in addition to the grueling Senate Judiciary Committee hearings that captured the nation's attention on Thursday, the latest Power Rankings include the return of The Good Place, the revival of Murphy Brown, and a Jimmy McGill/Kim Wexler con for the ages. See? Just like our favorite Albuquerque attorney (in good standing), we try to use our powers for good.
The rules for this list are simple: Any series on TV qualifies, whether it's a comedy, drama, news program, animated series, variety show or sports event. It can be on a network, basic cable, premium channel, Netflix, Amazon, Hulu, YouTube or whatever you can stream on your smart TV, as long as a new episode was made available the previous week—or, in the case of shows released all at once, it has to have been released within the previous six weeks.
The voting panel is comprised of Paste editors and TV writers with a pretty broad range of tastes. We're merciless: a bad episode can knock you right off this list, as much good TV is available right now.
Honorable Mentions:
Atypical, The First, Insecure, Lodge 49, Poldark, Sorry for Your Loss, This Is Us, Wynonna Earp
10. Forever
Network: Amazon Prime
Last Week's Ranking: 7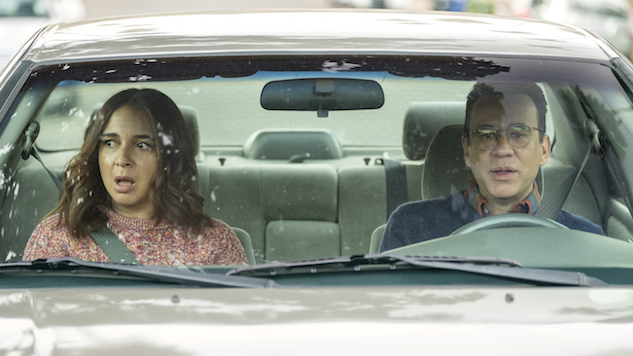 Perhaps no show is more suited for the binge-watch era than Amazon's new dramedy, Forever. You watch the first episode thinking you know what the show is going to be about, only to have those expectations completely upended. Then you spend the second episode thinking, "OK, now I really know what the show is going to be about," only to have your expectations, formed by years of watching TV, completely upended again. (And no, if you've gotten this far without learning what the big twist in the series is, I'm not about to be the one to ruin it for you.) The double bait-and-switch the series pulls off works because we are waiting only seconds between episodes, and so we can enjoy Forever even though it truly begins in the third episode, as June (Maya Rudolph) and Oscar (Fred Armisen) explore their marriage and the notion of forever. Pro tip: If you don't want to invest in the entire series, just pop in on the sixth episode, which is essentially a stand-alone episode. Hong Chau and Jason Mitchell are phenomenal as a couple whose timing is never quite right. It's thirty minutes that will break your heart. —Amy Amatangelo (Photo: Amazon Prime Video)
9. Murphy Brown
Network: CBS
Last Week's Ranking: Not eligible

Let's be honest, as Murphy Brown's fearless leader would want us to be: The classic sitcom's revival, which brings back star Candice Bergen in her multiple Emmy-winning role as the anti-heroine journalist, didn't start off with a bang. But the show is one that, not unlike ABC's short-lived Roseanne revival, seemed almost a foregone conclusion after the election of Donald Trump. And, speaking as a member of the pussy hat contingent who was raised by Murphy and her fellow respectable journalists, it's good to have her back—even if the first episode focused on exposition about where Murphy's been, her plans to get the gang back together, and her willingness to take on the president via screens small or hand-held. And while that half-hour did set some fine groundwork and feature excellent stunt casting (hi, Hillz!), I do hope the revival develops beyond obvious story lines about Twitter feuds. As Murphy's now-grown son, Avery (Jake McDorman) reminds her: Shows have been cancelled for less. (See what they did there?) —Whitney Friedlander (Photo: John Paul Filo/CBS)
8. The Deuce
Network: HBO
Last Week's Ranking: 6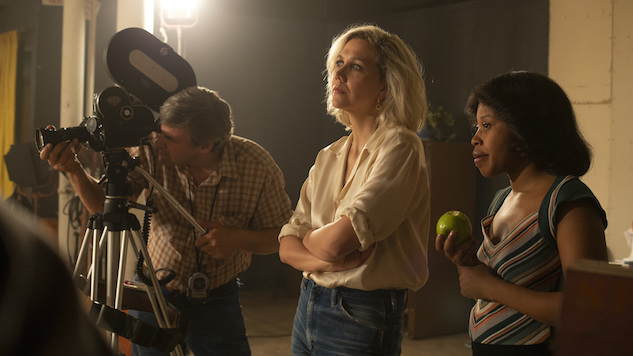 This week's installment, "What Big Ideas," isn't perfect—it has many of the same weak points The Deuce has displayed throughout its run—but it still hits more often than it misses. It seeds some of the small seeds haphazardly planted earlier in the season begin to germinate: Eileen's (Maggie Gyllenhaal) son is becoming a horny teen finding porn on his own, and Lori (Emily Meade) is attempting to get new management while still shackled to the abusive pimp-ho dynamic. Plus, it begins with a pimp facing objectification for the first time and rising to the occasion with plenty of endearing flash—and, of course, flashing some endearing flesh. With Larry's (Gbenga Akinnagbe) role reversed as he tries to break into porn, The Deuce lets deadpan reign for big laughs and bigger ideas, becoming more than the title's fairytale riff. —Jacob Oller (Photo: Paul Schiraldi/HBO)
7. American Vandal
Network: Netflix
Last Week's Ranking: 5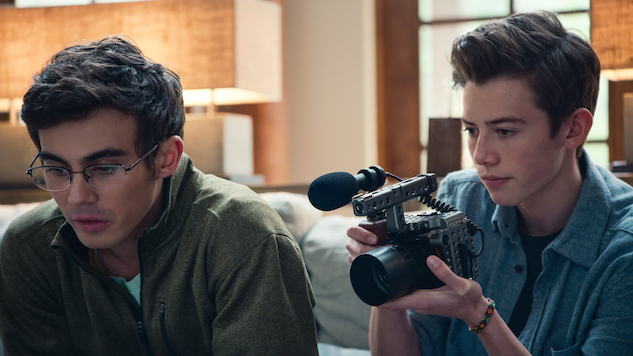 The first season of Dan Perrault and Tony Yacenda's American Vandal applied murder-level seriousness to a harmless crime, taking that imbalance to narrative and comic heights by never stretching beyond its small scope. By drilling down into all the avenues of relatable weirdness that teens navigate regularly in the high school social scene, the series plumbed investigative depths that didn't need to be gritty to be engaging. Much of that still applies as Peter (Tyler Alvarez) and Sam (Griffin Gluck) return—as the show's most consistent comic element—to battle wits with basketball stars, overly religious students, and the mystery of the Turd Burglar. A new season, a new school, a new prankster: American Vandal is like the true crime mysteries it parodies in almost every way. In Season Two, St. Bernadine's, a Catholic high school, has been attacked by weaponized diarrhea in a lemonade-poisoning incident more heinous and humiliating than dick drawings could ever be. And that's just the tip of the turtlehead in the gross-out follow-up to one of last year's best new shows. The stakes are higher and the relationships more tangled this season, even if it's not as wildly funny as its novel debut. —Jacob Oller (Photo: Netflix)
6. Better Call Saul
Network: AMC
Last Week's Ranking: 2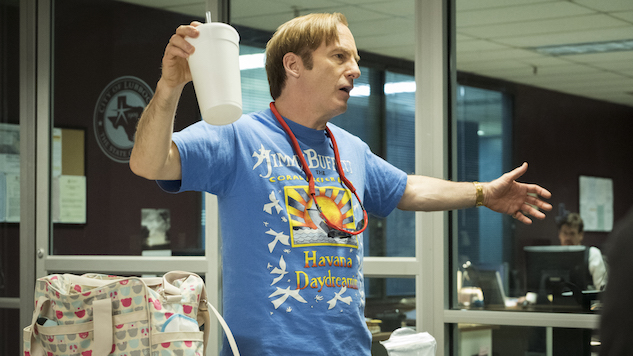 For the third straight week, Better Call Saul's cold open is a master class: In this case, Jimmy (Bob Odenkirk) and Kim (Rhea Seehorn) run an ingenious con against the City of Lubbock, mainly for kicks. ("How is that using our powers for good?" Jimmy inquiries, noting that the primary beneficiary is Mesa Verde. "We'll know it when we see it," Kim insists.) The rest of "Wiedersehen" is liable to test one's patience—though we discover the origins of Tio Salamanca's (Mark Margolis) infamous bell, we also have to endure the German demo expert complain about missing his wife—but the initial montage is an amuse bouche for an episode full of potent Jimmy/Kim moments. From Jimmy's failed attempt to convince the bar to shorten his suspension (Go Land Crabs!) to the couple's blowout argument atop the parking garage, it's not just the question of his sincerity that threatens to throw a wrench in the works. It's the fact that the pair's respective fates are destined to diverge, of which Better Call Saul can't help but remind us. —Matt Brennan (Photo: Nicole Wilder/AMC/Sony Pictures)
5. BoJack Horseman
Network: Netflix
Last Week's Ranking: 3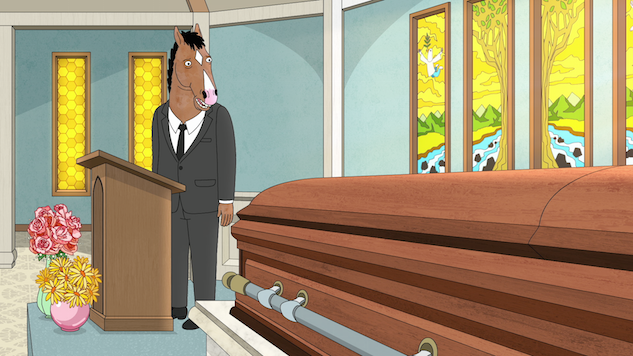 BoJack Horseman, like the depressed, pill-popping star of its Hollywoo satire, may be getting on in age, but in its fifth season it remains as audacious as ever. As BoJack (Will Arnett) films a prestige drama named Philbert—produced by his agent, Princess Carolyn (Amy Sedaris), co-written by his closest friend, Diane Nguyen (Alison Brie), and co-starring Diane's ex-husband, Mr. Peanutbutter (Paul F. Tompkins), Netlfix's wickedly funny, pitch-dark original series tackles its usual array of topical material, most especially #MeToo, with its usual blend of rapid-fire quips, industry inside baseball, and marrow-deep pathos. All this and it still squares space for a travelogue in Vietnam, a flashback to a country childhood, an installment that takes places across four Halloweens (and four romances), and another, the extraordinary "Free Churro," almost entirely comprised of BoJack's wrenching eulogy for his mother. BoJack Horseman, are you Season two through Nine of The Simpsons right now? Because you're one of the best animated series in the history of television. —Matt Brennan (Photo: Netflix)
4. King Lear
Network: Amazon Prime
Last Week's Ranking: Ineligible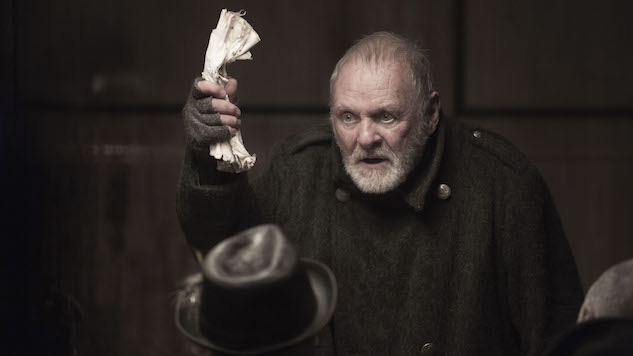 Set in an alt-now version of England, the latest adaptation of King Lear, starring Anthony Hopkins, is blessedly immune to Revamp the Script To Be Timely Disease (though it's trimmed to two hours), so prepare to have to focus a little bit: You're gonna get 115 minutes of AP English words and a lot of what a Joe Bob Briggs review might once have termed "soliloquy-fu." Every character in this adaptation is cast brilliantly, from Lear's three daughters (Emma Thompson, Emily Watson and Florence Pugh, respectively) to the various schemers and plotters in his inner circle (Jim Broadbent as Gloucester and Tobias Menzies as Cornwall stand out, but then again, so do Andrew Scott as Edgar, Jim Carter as Kent, and Karl Johnson as the Fool. And you know what? Basically everyone with a line. Seriously, it is wall-to-wall brilliant acting). Broadbent, Thompson and Hopkins are all utterly masterful in interpreting Shakespeare's complex 400-year-old diction and making it feel modern, approachable and powerful. Hopkins' increasingly demented ranting, capering and jeering are eloquent as hell and profoundly discomfiting to watch. Thompson is honed like a high-end chef's knife. Broadbent is an elocutionary magician; Jim Carter exudes his hallmark gravitas and I'm not sure who currently does bat-shit crazy better than Andrew Scott. The production design is sleek and cogent and a bit creepy, both opulent and bleak. There's affecting use of cinematography—it doesn't come across as a camera trained on a stage play—yet it retains its form in a way that reminds you that it is a stage play at heart. After all, Lear is timely in every time and place, because men in power are reliably arrogant, judgmental, and keen to maintain a grip on their power at all costs, and it is always tragic. —Amy Glynn (Photo: Ed Miller/Amazon Prime Video)
3. Maniac
Network: Netflix
Last Week's Ranking: 1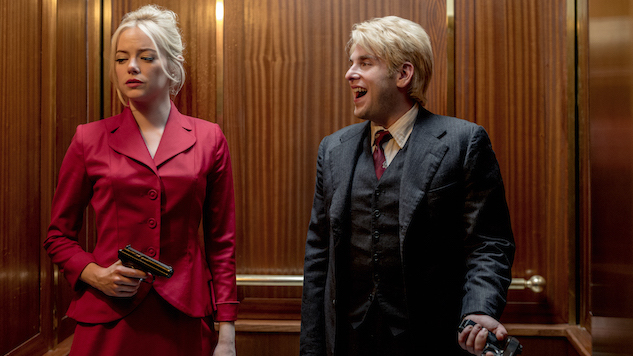 A trafficked ring-tailed lemur. Popcorn problems. The lost final chapter of Don Quixote. And Gassing Up the Miata. Netflix's new miniseries, Maniac, has its imperfections. But it proves that even if reality might be a debatable construct, metaphors and tropes and symbols are pretty stinkin' permanent. Writer Patrick Somerville (The Leftovers) and director Cary Joji Fukunaga (True Detective) have created something that's as much like visual poetry as any TV show I can recall seeing recently-and unlike most poetry, it's also freaking hilarious. Annie (Emma Stone) is profoundly depressed, prone to substance abuse and lying, and has some serious issues with a sibling. Owen (Jonah Hill) might be schizophrenic, and he's under a lot of pressure from his wealthy family over a legal matter, and he has some serious issues with a sibling. Arguably, neither of them is a good test subject for a highly experimental pharmaceutical trial, but this one happens to be for a series of pills to "cure" all the ills of the psyche, and they're both hard up for money… and for answers, closure… relief. The result? A surrealist masterpiece. —Amy Glynn (Photo: Michele K. Short/Netflix)
2. The Good Place
Network: NBC
Last Week's Ranking: Ineligible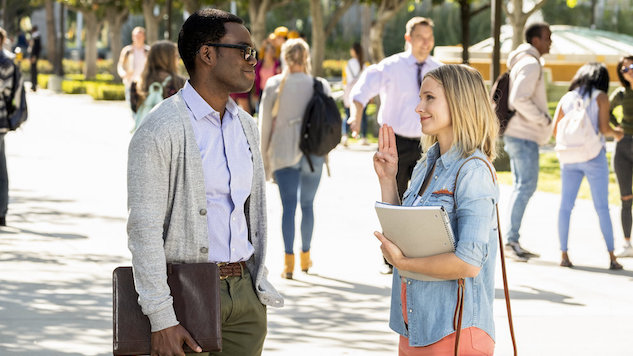 Even in the ocean of content excess that marks this period of "peak TV," few shows feel necessary. Good or not, great or not, illuminating or moving or shocking or not, the majority of the shows currently on TV (and elsewhere) are, at the end of the streaming day, just more entertainment. But then there is The Good Place, which, in its unwavering commitment to investigating how even the trashbaggiest of people can be better, more morally sensitive people—not just philosophically, but tangibly—feels absolutely, almost cosmically necessary. This was certainly the feeling that The Good Place fans had last week, when the series' third season premiered on Thursday night after that day's nine-hour long, morale-shattering Senate Judiciary Committee hearings (see below)—and thus pulled off, in the real world, an echo of the so-dumbly-obvious-it's-genius "Bad vs. Good" narrative juxtapositions (AKA, Moral Philosophy 101) that have been the core of the show in every one of its iterations since Season One. Obviously, just seeing the hot messes that are Team Cockroach back on our screens was a balm—a balm electrified by the addition of their hilariously odd new friend, Simone (Kirby Howell-Baptiste)—but it's the series' more meta qualities, teaching us how to be moral in a world that so often wishes we wouldn't be, that keep striking me, and most of Twitter, as the thing not to lose sight of.
That is to say: The Good Place is back, and it is as necessary as ever. —Alexis Gunderson (Photo: Justin Lubin/NBC)
1. The Ford/Kavanaugh Hearings
Network: Multiple
Last Week's Ranking: Ineligible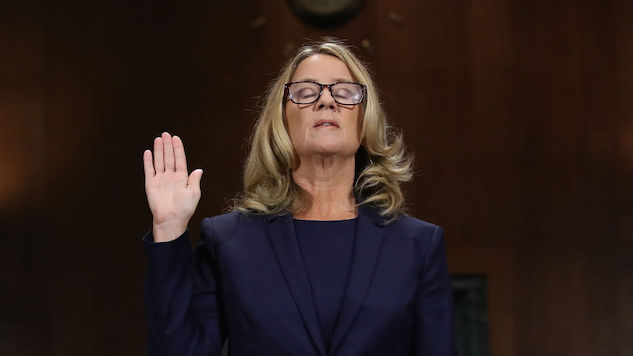 Matt Damon played the spitting mad Supreme Court nominee in the season premiere of Saturday Night Live. John Oliver devoted the lion's share of the latest Last Week Tonight to enumerating reasons he's unqualified. Seth Meyers placed him (and the president) under the microscope for "A Closer Look." But though Brett Kavanaugh's embarrassing, highly partisan histrionics before the Senate Judiciary Committee passed seamlessly into late-night satire, led cable news clip packages, and exposed once again the gaping maw of America's "gender chasm," it is women's voices that continue to keep the fight against sexual harassment and assault in the forefront of the national consciousness. From Sens. Feinstein, Hirono, Klobuchar, and Harris, posing pointed questions in committee; to sexual assault survivors Ana Maria Archila and Maria Gallagher, confronting on-the-fence Sen. Jeff Flake in a Capitol elevator; to Dr. Christine Blasey Ford herself, a figure of inconceivable courage and immense poise, this week we witnessed women refuse to be silenced by domineering men, and so, following in the footsteps of Anita Hill, speak their truth to power. —Matt Brennan (Photo: Win McNamee/Getty Images)