Paste's Power Rankings: The 10 Best Shows on TV Right Now
Week of 4/2/2018
Header photo: The CW
TV
Lists
power rankings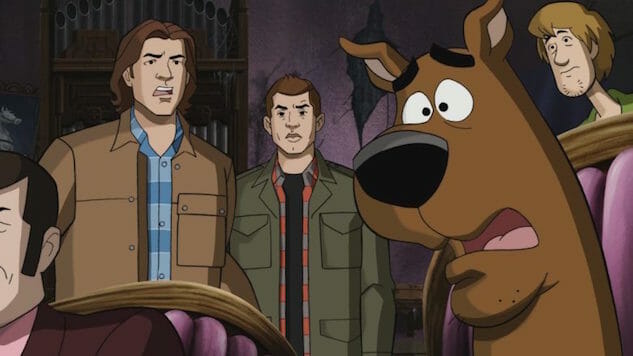 In our weekly poll of Paste staff and TV contributors, which is how we come up with the TV Power Rankings, the new No. 1 raised a few hackles. Is Roseanne a timely reboot of a beloved sitcom, or the just latest in a string of of nostalgic money grabs? Is it an attempt to grapple with what we often label "kitchen table" issues, or simply a platform for its conspiracy theory-spewing star? Whatever your answers, we're of the belief that "power" on TV can be measured along a number of axes, and there's no question that ABC's revival has dominated the cultural conversation since its premiere. But it won't be able to coast on buzz forever. Tune in next week to find out if it can hold on to the top slot—a couple of communists might have something to say about that.
The rules for this list are simple: Any series on TV qualifies, whether it's a comedy, drama, news program, animated series, variety show or sports event. It can be on a network, basic cable, premium channel, Netflix, Amazon, Hulu, YouTube or whatever you can stream on your smart TV, as long as a new episode was made available the previous week—or, in the case of shows released all at once, it has to have been released within the previous six weeks.
The voting panel is comprised of Paste editors and TV writers with a pretty broad range of tastes. We're merciless: a bad episode can knock you right off this list, as much good TV is available right now.
Honorable Mentions:
Barry, Counterpart, Full Frontal with Samantha Bee, Last Week Tonight with John Oliver, Marvel's Agents of S.H.I.E.L.D., One Strange Rock, Silicon Valley
10. Santa Clarita Diet
Network: Netflix
Last Week's Ranking: Ineligible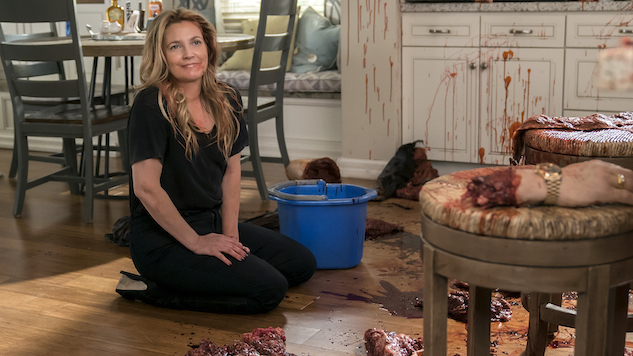 Netflix's horror-comedy follows normal couple Sheila (Drew Barrymore) and Joel (Timothy Olyphant), a real estate duo attempting to raise their daughter Abby (Liv Hewson) right. The neighborhood is good, problems are at a minimum, and the middle-class living is all the American Dream promised. Until Sheila hacks up a mysterious orb and starts hungering for human flesh, that is. Freckly neighbor kid Eric (Skyler Gisondo) has been roped into the scheme, too. Together, they put the "dead" in "deadpan." Sheila's fundead chipperness recalls Crazy Ex-Girlfriend's method of surrounding its dark, psychologically- or physically-upsetting narrative turns with hyper-sunny aesthetics, saturating each shot with catalogue color even when the gore flies. It's as if the traffic-discussing members of the Saturday Night Live skit "The Californians" were in a Saw movie. —Jacob Oller (Photo: Saeed Adyani/Netflix)
9. Brooklyn Nine-Nine
Network: FOX
Last Week's Ranking: Not ranked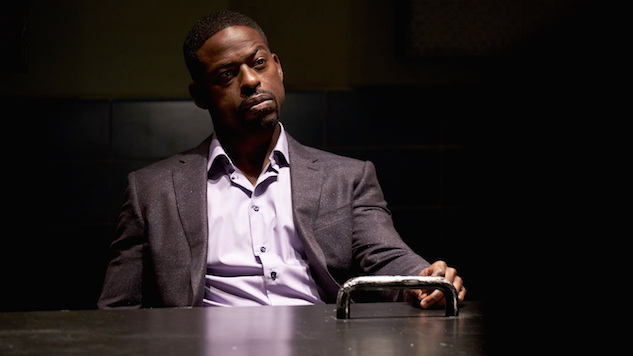 Brooklyn Nine-Nine has been, since its very first episode, a remarkably self-contained show. The 9-9 may be charged with keeping the whole of their half-dozen streets of Brooklyn safe from New York's finest weirdos and bad guys, but at the end of the day, those streets are nothing but a framing means to a comedic end: They give the show a basic sense of place and the cast some set piece variety, but it is ultimately the messily human, effortlessly hilarious people who make up the 9-9, not the city's streets, that are key to the show's success. Stick any combination of the tightly-bound ensemble of the 9-9 in a box, and their ability to solve crimes while cracking wise wouldn't change one iota. Which is exactly what Brooklyn Nine-Nine, in last week's bottle episode, literally titled "The Box," set out to prove, trapping Jake (Andy Samberg) and Holt (Andre Braugher) alone overnight with a smoothly smug dentist/accused murderer (plated by Sterling K. Brown), and nothing but the four walls (and intermediary two-way mirror) of the 9-9's interrogation room for their investigative skills, personal flaws and jokes to play off of. Unsurprisingly, these constraints make for an exceptional episode, distilling Samberg and Braugher's signal comedic strengths—individually and as a duo—down to their most potent essences, and giving Brown a guest star turn that, in its glossy villainy, stands out from the show's already illustrious guest star history. On a show that is almost all high points, "The Box" is a series best. —Alexis Gunderson (Photo: FOX)
8. Jesus Christ Superstar Live in Concert
Network: NBC
Last Week's Ranking: Ineligible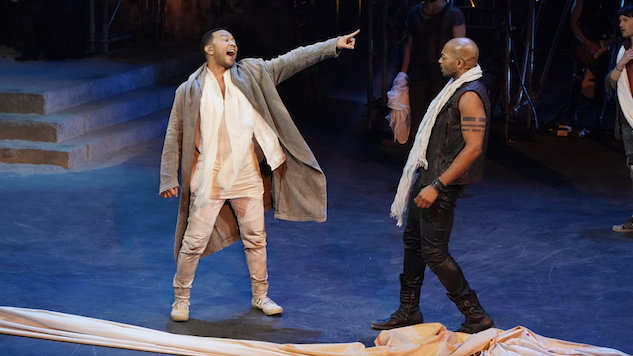 A rock opera in every sense of the phrase, Andrew Lloyd Webber's 1971 musical came to life from the Marcy Armory in Brooklyn, N.Y. The live audience at times infused the production with energy and at other times were an annoying distraction (way too much whooping going on). The costume choices were a little odd (Jesus looked like he was modeling lounge wear) and there was so much glitter (as a parent who has taken home many school art projects, I can tell you that glitter will be on the stage for years to come). But oh those voices! Legend was the perfect Jesus. He exudes a calming presence and his vocals, including his incredible falsetto, were amazing. As Mary Magdalene, Bareilles gave me chills during "Don't Know How to Love Him." Broadway star Brandon Victor Dixon should be a household name after his take on Judas Iscariot. And Alice Cooper almost walked away with the whole thing during his show-stopping number as King Herod. No matter what your religious beliefs, this was one of the greatest live musicals ever told. —Amy Amatangelo (Photo: Virginia Sherwood/NBC)
7. Jessica Jones
Network: Netflix
Last Week's Ranking: 5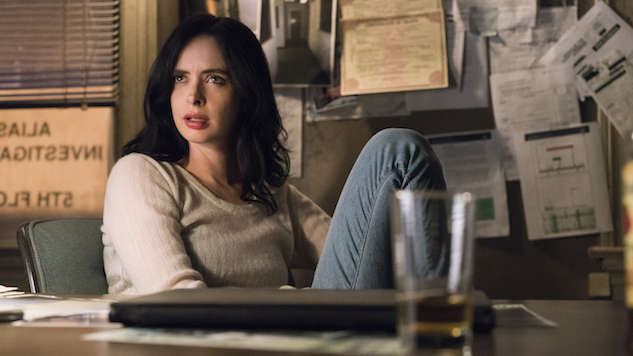 In its sophomore effort, Jessica Jones digs deeper into the issues that made Season One interesting—in particular, power, control, and female anger. Season Two doubles down on that in a way that feels extremely of the moment (and showrunner Melissa Rosenberg saw to it that, among other things, all the episodes were directed by women). As a treatise on the complexities of female road-rage in all its varied facets, it's excellent. It also makes the wise choice to deepen Jessica (Krysten Ritter, still killing it) and Trish's (Rachael Taylor) complicated relationship, delving into their shared past. That was definitely the least fleshed-out aspect of the first season, and it's a much-needed asset here. —Amy Glynn (Photo: David Giesbrecht/Netflix)
6. On My Block
Network: Netflix
Last Week's Ranking: 3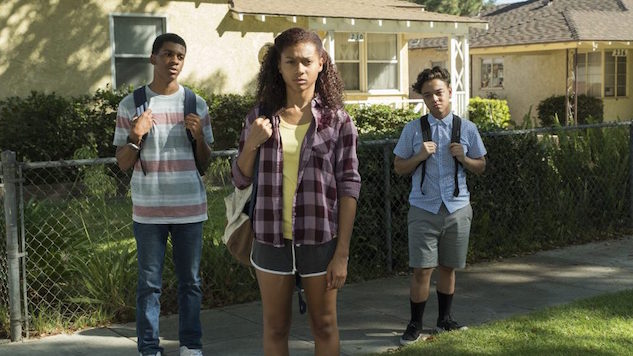 Netflix's new dramedy On My Block is one big, irreverently cocksure nod to all the (whitest) parts of the modern cultural canon one would least expect to find in a coming-of-age story about brown 14- and 15-year olds just trying to survive daily life on their gang-ruled streets. And for the first couple of episodes, all this slangy allusiveness makes for a story that feels shaggy at best, structurally unsound at worst; the central characters are cohesive and convincingly earnest as a dysfunctional friend-family unit—not least because the actors are actual, not adult, teens—but taken individually they seem to be leading entirely different shows. When the final credits hit, though, it's clear that not one second of the season's 10 short episodes was wasted: Every line was measured out, every background track meticulously calibrated, every initially jarring tonal shift set up precisely for a singular cumulative effect that lands in the season's final moments like a punch to the chest you realize too late you should have seen coming from a mile away. —Alexis Gunderson (Photo: Netflix)
5. Supernatural
Network: The CW
Last Week's Ranking: Not ranked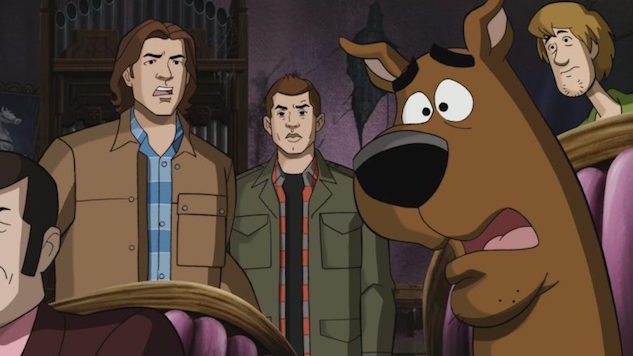 Like Ready Player One, the latest episode from Supernatural was fueled by nostalgia. But instead of a litany of obscure references, their Scooby-Doo crossover episode was more about reverence for the stories of our youth and a celebration of innocence. The Winchester Brothers never really got a real childhood, and, for Dean especially, the cartoons that were available in every hotel room his father dragged him to were as close as it got. But what really makes this episode work is its humor. Over the course of 12 and a half seasons, the show's family of writers, producers and cast has felt the freedom to break outside its regular formula, and the special episodes (the musical, the Supernatural convention, the TV show within a TV show) are often its best. Like that other Scooby Gang from Buffy the Vampire Slayer, the fantasy format allows for maximum creativity, and it works in "Scoobynatural" as Sam, Dean and Castiel have to both solve the mystery and restore the faith that Velma, Daphne, Fred, Shaggy and Scooby have in their scientific approach to unmasking real-estate developers and proving there's no such thing as ghosts. —Josh Jackson (Photo: The CW)
4. Atlanta
Network: FX
Last Week's Ranking: 2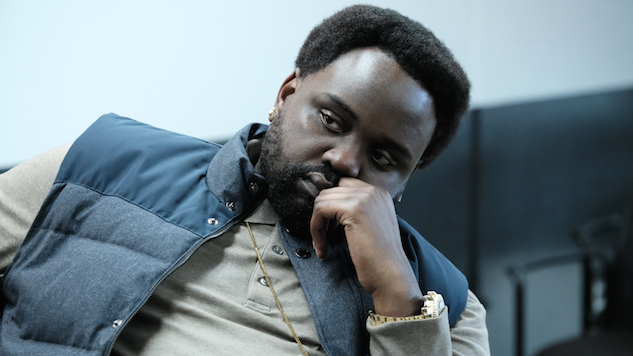 In "Barbershop," Alfred "Paper Boi" Miles (Brian Tyree Henry) and his guy Bibby (Robert Powell III) battle each other in the art of conversation. The intimacy in this relationship is one of hair trust. When you find someone that can do it right, you develop trust so deep it can be bent and twisted into all sorts of absurd pretzels without snapping. You'll make justifications all day because you know, as the James Bond song says, Nobody Does It Better. It's like love. Or at least good sex. Channeling the physicality of those gags, Bibby and Alfred become a tag-team comedy duo where Bibby's Bluetooth patter and casually Stoogey elbow-lean on top of Alfred's head is answered with the latter's briefly flared nostrils and Moe-like frustrations. But neither can quit the other. —Jacob Oller (Photo: Guy D'Alema/FX)
3. A Series of Unfortunate Events
Network: Netflix
Last Week's Ranking: Ineligible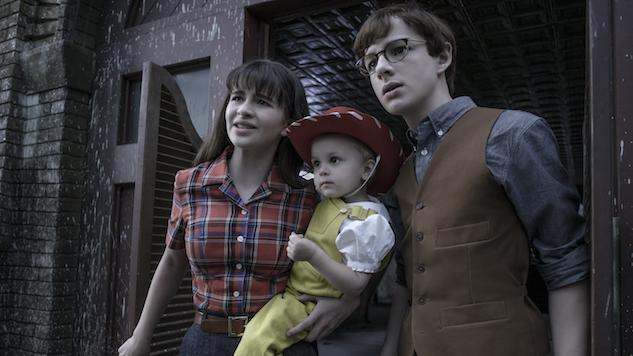 You probably don't have to be a bookworm, or a kid, to appreciate this adaptation of a series of ironic, lachrymose, self-parodying children's stories, because the series is just so damn funny, not to mention seamlessly styled, well-cast and well-acted. It does also happen to be an adaptation that should delight fans of the books because it generally knows exactly how much or how little to deviate from its source material to adapt to the constraints (and liberations) of episodic television. It retains the slightly steampunk, highly absurdist, semi-Gothic and delightfully wordsmithy sensibility of its source material and adheres remarkably well to character and plot. My suggestion? Don't binge watch this show! Let it breathe. Like a fine wine. Because it's kind of a masterpiece. —Amy Glynn (Photo: Photo: Eike Schroter/Netflix)
2. The Americans
Network: FX
Last Week's Ranking: Ineligible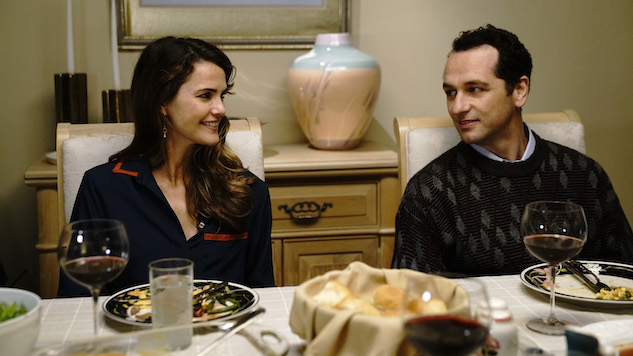 In its sixth and final season, FX's espionage drama remains one of the medium's most quietly stylish series, a model of precision and patience in an age obsessed with speed: When Philip (Matthew Rhys) finally confronts Elizabeth (Keri Russell) in the closing moments of "Dead Hand" — "Your whole way of being seems off," he says — their disagreement vibrates with the same unnerving energies that writers Joe Weisberg and Joel Fields and director Chris Long build into the opening sequence. That montage—lest you'd forgotten that The Americans has mastered the technique—sets the table for the episode, the season, in crisp, caustic strokes. There's Philip in his natty suit, overseeing the travel agency's expansion; there's Elizabeth in a Washington, D.C., hotel room, staring mournfully at the spot-lit Mall after bedding a target; there's Philip smiling through his car's open sunroof; there's Elizabeth in a long coat and baseball cap, waiting on something, anything, to point the way forward. Most telling, though, is the contrast between Elizabeth's home health aide disguise—bright pastels and auburn hair, the picture of misplaced optimism—and her patient's charcoal sketch of her—faceless and colorless, rather skeletal, as dead as Elizabeth's exhausted expression. As it happens, the beginning of the end for The Americans is reminiscent of the end of the beginning, in which the spies' most dangerous game is any game they play apart. —Matt Brennan (Photo: Patrick Harbron/FX)
1. Roseanne
Network: ABC
Last Week's Ranking: Ineligible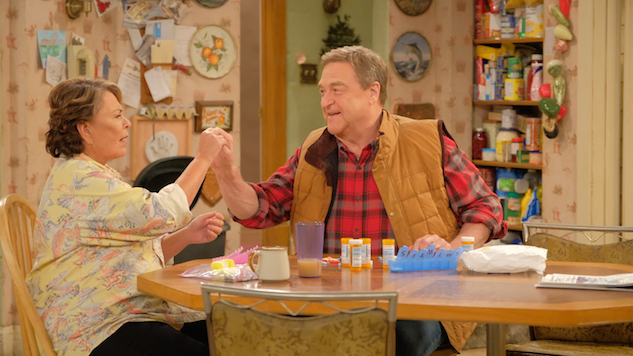 When is a TV show just a TV show? When I reviewed Roseanne, I of course acknowledged star Roseanne Barr's controversial opinions and combative off-screen persona. But I didn't dwell on it. Just as I don't dwell on anyone's real life when reviewing a TV series. But it's harder with Barr, who spent the week of her show's triumphant return to television spewing hateful, vile conspiracy theories and mocking victims of mass shootings (oh, and getting a congratulatory phone call from Donald Trump). These two premiere episodes launched a thousand think pieces about why people watched, whether Barr represents the forgotten Trump voter, and whether you can separate the art from the artist. And, honestly, I don't know. I haven't watched a Woody Allen film since his affair with Mia Farrow's adopted daughter was revealed, but I still love Hannah and Her Sisters. Despite Barr's vulgar commentary, Roseanne is good. The Conner family fell naturally back into our TV sets. This revival, unlike others, felt right. The writing was sharp. The delivery funny. Difficult topics were tackled with grace. Sara Gilbert is a national treasure, and it's high time she's recognized as such. Barr seems intent on sabotaging the series, which is too bad. I want to be able to laugh with the Conner family again. —Amy Amatangelo (Photo: ABC/Adam Rose)