The 10 Best TV Shows on Right Now: Zoey's Extraordinary Playlist, Outlander, More
Illustration by Christine Fernando and Soleil Collins
TV
Lists
Power List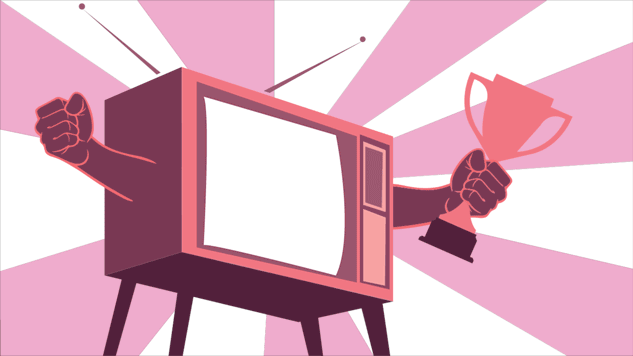 Romance is in the air in our post-Valentine's Day Power Rankings, from the return of Outlander to the advent of Hulu's High Fidelity adaptation. There are a lot of joyful series on our list this week in general, including a rousing episode of Legends of Tomorrow, the gleeful Zoey's Extraordinary Playlist, and a groundbreaking addition to Grey's Anatomy. Let's celebrate!
The rules for the Power Rankings are simple: Any series on TV qualifies, whether it's a comedy, drama, news program, animated series, variety show or sports event. It can be on a network, basic cable, premium channel, Netflix, Amazon, Hulu, YouTube or whatever you can stream on your smart TV, as long as a new episode was made available the previous week—or, in the case of shows released all at once, it has to have been released within the previous four weeks.
The voting panel is composed of Paste editors and TV writers with a pretty broad range of tastes. We're merciless: a bad episode can knock you right off this list. So much good TV is available right now.
Honorable Mention: Miracle Workers: Dark Ages (TBS), The Outsider (HBO), The Sinner (USA), Seven Worlds, One Planet (BBC America), Homeland (Showtime), Avenue 5 (HBO), Doctor Who (BBC America)
10. The Magicians
Network: Syfy
Last Week's Ranking: 7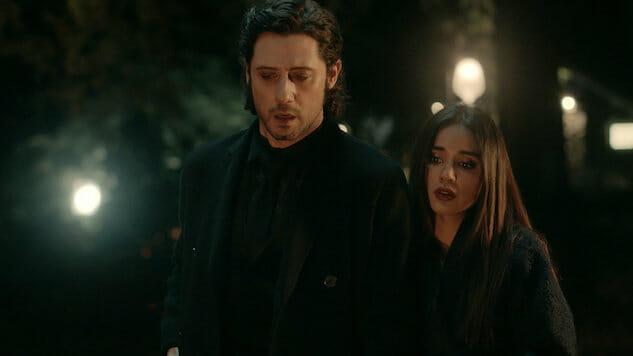 Last season, The Magicians made a bold choice to kill off the oft-presumed main character of this fantasy journey. Grief may have changed some viewers' relationship to the show, but it hasn't changed The Magicians. The show is still snappy fun in between magical crisis after magical crisis. The Magicians has always been about trauma, grief, and pain, and Season 4 continues that journey in a cathartic and touching way as characters process that death. Whether an individual viewer will want to watch will likely depend on how they have come to feel about his death. As Julia says in Season 3, "When things happen they leave a mark. Figuring out how to deal with it takes time."
Characters keep trying, trying, trying to make themselves feel better when they just won't. Margo and Eliot interact with an actual brick wall in Fillory, but they and the other characters also hit a metaphorical one. They must decide to either crash into their grief or let it go and run the other way. When something does go right and a character comes back unharmed, it felt like such a relief I could have laughed. When another decides to remember the truth instead of lying or ignoring the pain, it was a revelation.
Because it's The Magicians, I'm sure the relief will be short lived. These bits of grace are a good reminder that life goes on, and the show must, too.—Rae Nudson
9. BoJack Horseman
Network:Netflix
Last Week's Ranking: 9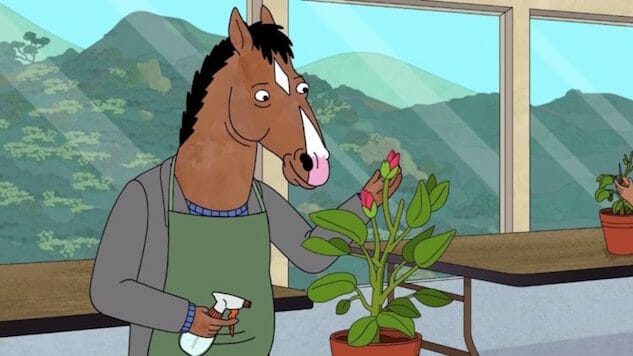 It's time to say goodbye to Netflix's BoJack Horseman, and wow, what wacky adventures we've had with this cartoon horse, huh? So many shenanigans! Like the time he stole the D from the Hollywood sign, and the time he and his pals snuck into the Nixon Presidential Library to shoot a scene for a movie, and the time he nearly slept with the 17-year-old daughter of a longtime friend, and took a young woman on a bender that led to her dying of a heroin overdose, and traumatized his co-star by choking her on set while high out of his mind…
Watching and loving this show about the misdeeds of a former sitcom star who happens to be a cartoon horse has never been an easy experience. The animal puns, the clever rhymes, the savage moments of Hollywood satire—they've always been this show's brightly-colored surface, a seductive cover for one of TV's most raw shows about isolation and loneliness, and how those things can feed the darkness within us all.
Like all stories which set out to examine the morality of mortality, the ending was always going to be essential to really judging the series as a whole (which is why the choice to split the final season into two parts; was so frustrating). BoJack dying would have been easy. BoJack finding real redemption would have been easy. But BoJack Horseman has never been a show about the easy path—and when a character tries to take the easy path, it's always a cautionary tale. So it's to creator Raphael Bob-Waksberg's credit that the series chooses an ending that feels incomplete, that brings with it some catharsis but plenty of untied threads. It's a bit of a mess, but a mess that feels awfully appropriate.
But there's perfection in those imperfections, a bravery in leaving behind some mess. And that's really the thing: when a show like this ends, the question often becomes what did it leave behind? In the case of BoJack, it won't be hard to remember the punnery and wit, the beautiful art design, or Character Actress Margo Martindale. But hopefully, its lasting legacy is the way it changed how we approach the genre of animation, and how it challenged us to really, really look at ourselves—to see the ugliness within, as well as the beauty, and acknowledge them as two sides of the same coin. —Liz Shannon Miller
8. Narcos: Mexico
Network: Netflix
Last Week's Ranking: Not Eligible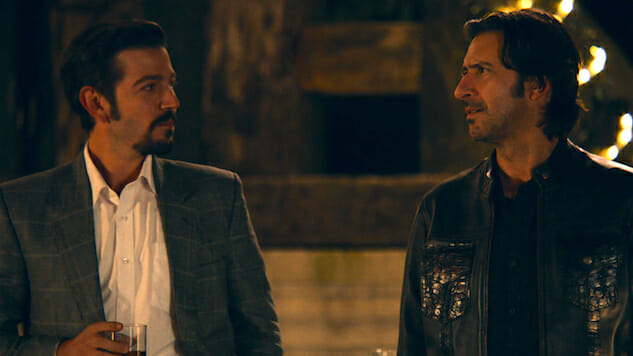 At the end of the first season of Narcos: Mexico—which tracked the rise of the Guadalajara cartel—we met our narrator, Walt Breslin (Scoot McNairy), who had just arrived in Mexico to carry out Operation Leyenda. It was a new breed of international meddling by the U.S. that ignored traditional methods to achieve its goals; in the first episode of the new season, we see Walt and his fellow drug enforcement agents kidnapping a doctor in Mexico and smuggling him back to the United States to be tried and convicted for being part of another agent's murder. It sets the stage for what is essentially a U.S.-sanctioned vigilante group, as Walt continues to narrate and educate us on the political machinations in both America and Mexico that allowed for, encouraged, and profited from these operations.
Narcos: Mexico is smart, dense, and has a flare for the dramatic that keeps each episode interesting (and will have you, once again, running to Wikipedia to compare characters and events to their real-life counterparts). Cartel boss Félix's (Diego Luna) machinations are truly brilliant, surprising his friends and enemies alike, and the show's chronicling of these moves is extremely elegant and engrossing. But he's always chasing a peace that cannot exist.
Narcos: Mexico's 80s setting is full of big gold jewelry and flowing blouses and oversized sunglasses, but it never feels cartoonish. It just augments the sense of a world that is both more colorful and more dangerous than most dare to tread. As such, the difference between spending time with the plaza bosses and being back in the U.S. is visually striking. When we're with Walt, colors become dull, interiors are dark, and Scott McNairy has never looked wearier. And yet, that cartel lifestyle is not glorified; it haunts and hurts its players. We remain on Walt's side; its his dogged pursuit of getting justice for Kiki, and what happened in that house when Félix made the fateful decision to torture and kill him, that makes him heroic. He knows that the game is rigged, but he tries his damnedest to make it all matter anyway. —Allison Keene
7. Zoey's Extraordinary Playlist
Network: NBC
Last Week's Ranking: Not Eligible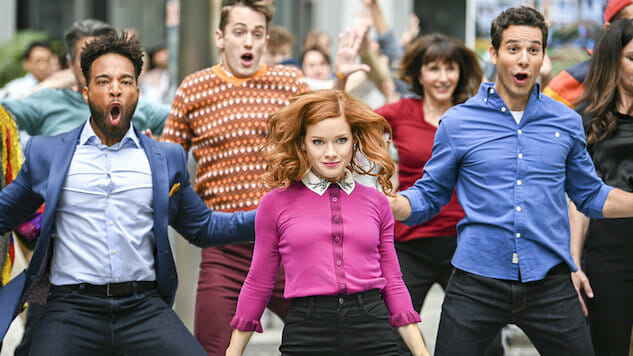 Look there's no denying that 2019 was a tough year. And when I look back on some of my favorite TV shows of 2019—Unbelievable, Fleabag, Russian Doll, Evil—they aren't exactly brimming with joy. Perhaps it was an extension of the pathetic fallacy where TV, not nature, is reflecting human emotions. That's why I'm so delighted to tell you that Zoey's Extraordinary Playlist on NBC is a pure delight. It is a show that is 1000% guaranteed to put a smile on your face, get your feet tapping and leave you humming a happy tune. I defy you to not be in a good mood after watching it.
The show skews towards people who love musicals and big Broadway-style production numbers (guilty as charged). Jane Levy stars as the titular character who, after an MRI gone awry, can suddenly hear the soundtrack of people's lives; their innermost thoughts set to a Beatles song, a Whitney Houston ballad or a Katy Perry number.
 It's NBC taking a risk. As far as musical TV series go, for every Glee or Crazy Ex-Girlfriend there's a Cop Rock. But for network television to be airing, promoting, financing a show like this is a sign that broadcast TV isn't throwing in the towel to Netflix, Hulu, Amazon or (heaven help us) Quibi. NBC has come to play, thank you very much. And that is something to sing about. —Amy Amatangelo
6. High Fidelity
Network: Hulu
Last Week's Ranking: Not Eligible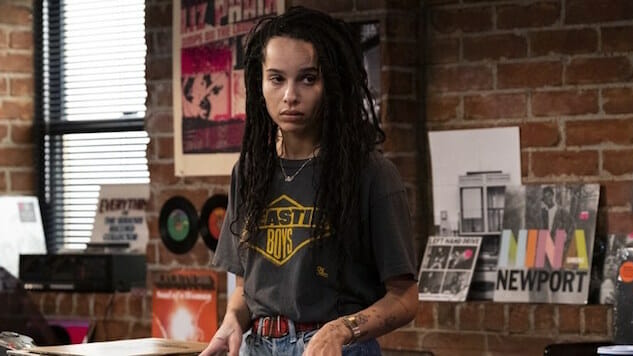 There's a moment in the pilot ("Top Five Heartbreaks") of Hulu's High Fidelity where Robin "Rob" Brooks (Zoe Kravitz, also an executive producer on the series), explains to the audience how most people think her Brooklyn-based record store Championship Vinyl is either a "relic" or simply a haven for hipsters. It's an excellent point to be made in a story about a record store owner in 2020, one that couldn't have really been made 20 years ago when the High Fidelity feature film came out, even when the film still acknowledged just how difficult it was to make a living off of a record store even then. At this point, it would be nigh impossible if not for the reboom of vinyl (and even audio cassettes now, to an extent), which is why it at least has to be addressed before the show goes on to spend a considerable amount of time inside its version of Championship Vinyl for the next nine episodes.
The other thing that seemingly needs to be addressed when discussing Hulu's High Fidelity—a television adaptation of both the 1995 Nick Hornby novel and the blueprint-creating 2000 film starring John Cusack—is the fact that the music-loving, list-obsessed, romantic failure known as Rob Gordon in this story is a woman. An African-American, millennial, sexually fluid woman instead of a white, Gen Xer straight man. It's that specific change that pretty much makes High Fidelity worth revisiting in a modern context, because not only does it open up the dating avenues and backstories a bit more—not only is one of Rob's Top Five Heartbreaks in this version a woman, there's no story about her breaking up with someone because they wouldn't let her pressure them into sex—it acknowledges in a way how much a character like Cusack's Rob couldn't work today in the same presentation. The movie captured a very specific space and time, where a character like Rob made sense as the "alternative" romantic comedy lead (despite being played by anything but, in the form of John Cusack); it is a time capsule that the series rightfully doesn't try to open or replicate, or worse, replace.
Most importantly, High Fidelity is enjoyable to watch, which makes the fact that Hulu's released it all on Valentine's Day an especially brilliant choice. The series is a love letter to its source material, to the music that plays throughout, to New York City (with a gentrification undercurrent within the season), and even to the rom-com genre. —LaToya Ferguson
5. Star Trek: Picard
Network: CBS All Access
Last Week's Ranking: 2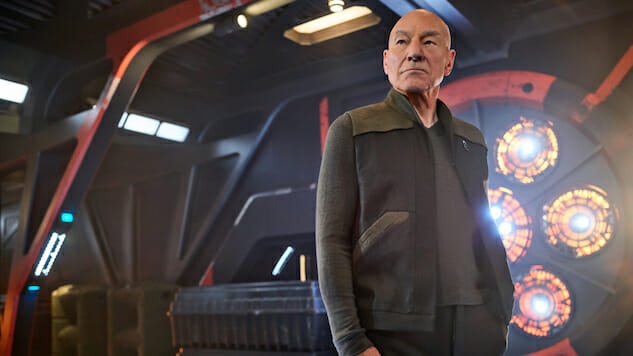 The most important thing to know about Star Trek: Picard is that while bringing back one of the franchise's most iconic characters might seem like a deliberate retreat to the past, the CBS All Access series is much more about the new: New characters, new mysteries, and a whole new era of the Trek universe to explore.
Set in the year 2399, almost 30 years after the end of Next Generation, Jean-Luc Picard (Patrick Stewart) has lost faith in the organization to which he had devoted his life.  The show begins with him in retirement/retreat at the Chateau Picard vineyard in France, spending his days puttering around the vines with his trusty pitbull Number One, and his nights dreaming of lost friends and better times.
However, the arrival of Dahj (Isa Briones), a terrified young woman who seems to know him without knowing why, pulls him out of his self-imposed exile. To go into further detail about what happens would be to spoil the show's biggest twists. This is not an adventure-of-the-week story, but instead a mystery that only gets more complex episode by episode. And while that mystery is deeply grounded in the show's history, it is fresh and new enough to make Trek newcomers feel somewhat welcome.
Picard isn't above moments of nostalgia but it also features a firm commitment to moving the franchise forward not just in time, but in what kind of stories Trek is capable of telling. This is a show that is more complicated and mature than what came before, but in the best ways, ways which do not discredit the past, but show it's always possible to change and grow—whether you're a 79-year-old man, or a 54-year-old franchise.—Liz Shannon Miller
4. Legends of Tomorrow
Network: The CW
Last Week's Ranking: 6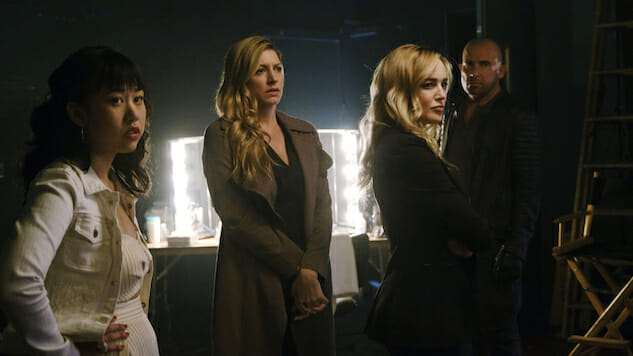 For those weary of the Arrowverse or of superhero shows in general, Legends of Tomorrow remains an intoxicating breath of fresh air. The series began by assembling a ragtag crew of characters from elsewhere in the CW's superhero universe, and while it was always a bonkers good time, it has grown into a series that continues—even into its fifth season—to surprise and delight as one of TV's smartest. Filled with meta humor and history-tinged hilarity as our crew of sundries travel through time to stop demons, hellspawn, magical creatures, and other power-hungry baddies from altering the past, the series will often gut-punch you with incredible emotional storylines and reveals that illustrate how wonderfully deep it all really is. The writers and actors are all clearly having a good time, and viewers can't help but mirror that positivity and excitement. As a show that is never afraid to mix things up, cut things that aren't working, change up entire narratives, or replace old characters as alt-timeline versions of themselves, Legends of Tomorrow continues to reinvent itself and only get better as it goes. One of TV's best kept secrets, it's also one you really cannot miss. (You can catch up on previous seasons on Netflix, and use this guide to figure out where to start). —Allison Keene
3. McMillion$
Network: HBO
Last Week's Ranking: 3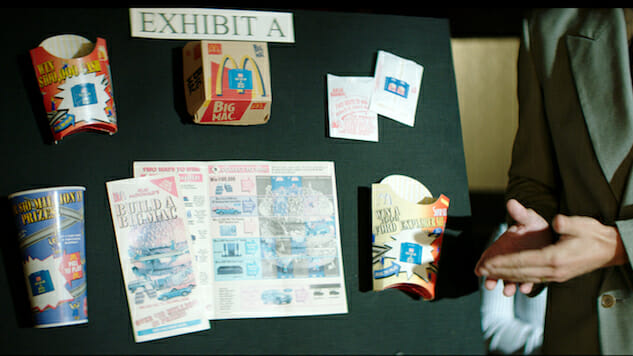 Very well known: The McDonald's Monopoly game.
Less well known: The fact that there were almost no legitimate major prize winners during the game's run in the 1990s.
In their fascinating six-part HBO documentary series McMillions (styled McMillion$), writers and directors James Lee Hernandez and Brian Lazarte present a $24 million dollar crime that tangentially affected every one of us who purchased a cup or fry box with a Monopoly playing piece on it from 1989-2001. What starts as an anonymous tip to the sleepy Jacksonville FBI office turns into a twisty tale of greed and fraud that ultimately includes an undercover operation in Vegas. The best part of that last bit, in fact, is a shot of a white board in the reenactment that reads: "Vegas!! RUSE."
It's that kind of humor that helps keep McMillions driving pluckily along in its first three episodes, bolstered by archival footage of the video filmed as part of of the RUSE by the FBI, as well as nostalgic commercials and period-appropriate flourishes. Though this was not a victimless crime, the stakes do allow for a welcome playfulness in the series' style, which also naturally extends to the interviewees involved in this sprawling plot. But while McMillions is a surprisingly fun examination of the con and the con men, it's also a worthy portrayal of the toll that predatory offers take on those most vulnerable to their poisoned charms. —Allison Keene
2. Grey's Anatomy
Network: ABC
Last Week's Ranking: Not Ranked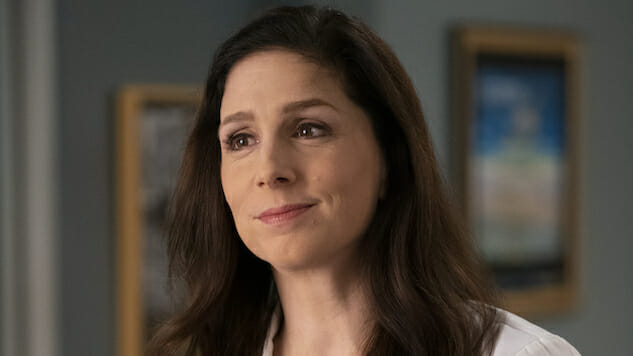 In its 16 seasons, ABC's Grey's Anatomy has proven that it's more than just a vehicle to showcase hospital staff hookups. Whether it's showing that May-December romances aren't just with older men and younger women, had frank conversations about sexual assault survival, or given our Assistant TV Editor some hope about the medical profession, it's endured and remained endearing because it is a great drama that also happens to be a medical drama.
Last Thursday, Grey's broke ground once again with the episode "Save The Last Dance For Me." That's when This Close co-creator and co-star Shoshannah Stern started a multi-episode arc as Dr. Lauren Riley, a deaf diagnostician—a rarity not just for the show, but for the genre of television in general. However, "She is a doctor who happens to be deaf," executive story editor Tameson Duffy told us. "The focus isn't on her being deaf … That's how we like to handle it on Grey's. It isn't that someone is different or diverse. That just is the reality of the world." —Whitney Friedlander
1. Outlander
Network: Starz
Last Week's Ranking: Not Eligible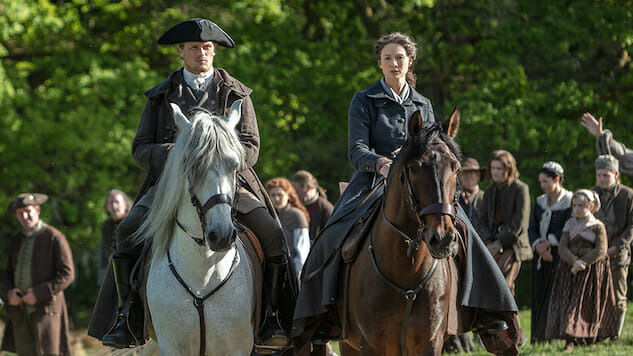 As our own Keri Lumm said of Outlander's new season, it feels like a warm hug of familiarity. But after kicking off with the joy of a wedding, Outlander soon movies into worthy and complicated considerations of living in the past while having modern knowledge—particularly of medicine that could help your family and community. As Claire (Caitriona Balfe) expands her medical practice, Jamie (Sam Heughan) must wrestle with promises he's made to the Crown in order to keep his American land where his family has made a homestead, as revolution inches closer (with the Frasers at the center of it all, of course). But Outlander is at its best when it's focusing on the personal stories (including one surprisingly horrific story detour that may also be one of the show's most interesting) within these larger historical contexts, most especially the partnership and enduring romance between Jamie and Claire, which remains TV's most loving and aspirational. —Allison Keene
---
For all the latest TV news, reviews, lists and features, follow @Paste_TV.