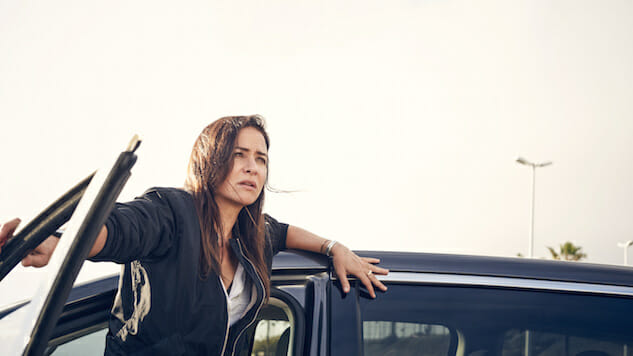 "WE'RE GOING TO THE MOON, BITCH!"
This all-caps encouragement, printed on colored paper and strung from the ceiling, is the first stop on my "tour" of the Better Things production office—a few rooms on the third floor of the Sunkist Building in Sherman Oaks, Calif., an inverted concrete trapezoid that would be nondescript were it not so ugly—and my guide, veteran actor, writer, producer and now director Pamela Adlon, has taken me by the wrist to make sure I don't miss it. Though it's after noon on a summer Friday, the mood is jubilant: The day before, Adlon earned a surprise Emmy nomination for Outstanding Lead Actress in a Comedy Series for the first season of her superb FX series, and remnants of the celebration—the sign, a paper crown, a Wonder Woman action figure with a photograph of Adlon taped to its face—are strewn about the editing bays where Adlon and her team are cutting together Better Things' second season.
Adlon, a tiny, recklessly funny bomb blast of imitations, gesticulations, and inventive curses, won an Emmy in 2002, for her vocal performance as Bobby Hill in FOX's animated series King of the Hill, and has since received nominations as a writer, producer, and guest star on longtime collaborator Louis C.K.'s acclaimed FX comedy, Louie. But it's clear that this one is different, and not only because she's competing against her "heroes forever," Lily Tomlin and Jane Fonda. With Better Things, after all, Adlon has struck out on her own: Though co-created and largely co-written with C.K., the semi-autobiographical series is Adlon's through and through. The art displayed in the house where her character, actress and single mom Sam Fox, raises her three daughters? Adlon's. The kids' costumes? Hand-me-downs from Adlon's own children, supplemented with items from Jewish Council thrift and the Salvation Army. She casts every extra, approves every prop, draws on decades of experience to find the vein of scruffy humor and honest emotion that feeds Better Things' beating heart. With "three spits" to her fingertips—a superstitious ritual she performs so often that there's an illustration of it on the whiteboard in her office—Adlon aims to sustain her fine fortune, though the Emmy nomination is also, to a far greater extent, an acknowledgement of a career's worth of tireless effort.
"You know, people use the word 'auteur,'" Adlon says. "To me, that means something that's handcrafted, maybe something more personal… We want to see ourselves, because everybody's just a little bit fucked up. We all have open sores, and we're trying to heal." Handcrafted, personal, healing: If there is a more apt description of Better Things, I have yet to encounter it, though constructing a TV series from the raw material of one's own life is not a matter of mere transcription. In fact, the challenge of Adlon's memoiristic approach might be more formidable than if it were plain fiction, because what's on screen cuts so close to the bone. Later, during a rare lull in our conversation, she becomes momentarily reflective, her bounding, energetic presence suddenly stilled. "It's fuckin' hard, Matt," she admits, her gravelly voice softening as she says it. "It's not easy."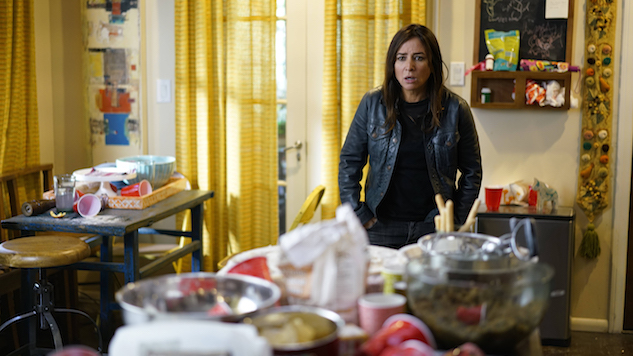 The daughter of writer-producer Don Segall, Adlon came to TV early: As a teenager, she appeared in Growing Pains, Night Court and The Jeffersons, and landed a recurring role on The Facts of Life. But it wasn't until she auditioned for C.K.'s short-lived sitcom Lucky Louie, which aired on HBO in 2006, that Adlon began to see herself following in her father's footsteps. She and C.K. hit it off immediately, launching one of the medium's most compelling creative partnerships. (Their mutual influence isn't limited to their collaborations, either. C.K., Adlon says, came up with the idea for his independently distributed TV series Horace and Pete while they co-wrote Season One of Better Things: "We're working and he's like, 'I was just thinking, if there was a bar in Brooklyn…' And I'm like, 'Aw, dude! Fuck! Really?'")
"Back when I first met Pamela, I knew that she had a point of view that was going to resonate with people," C.K. says. "She's naturally funny, and she's a cultivated pro—she really knows what she's doing. And she's just got a hilarious voice. And then, she's been through real life, having three kids and then raising them by herself. I always knew that Pamela belonged on television."
"It's an amazing thing, because it's not people going, 'Oh, yeah, it would be funny if he said "Fuck you!" and somebody comes in…'—where you have a room full of people throwing things in because they need their voices heard," Adlon says of their working relationship, comparing it to Kander and Ebb or Nichols and May. "It's just the two of us, so there can be dead space, or there can be a lively discourse. It's always fruitful. It's like the rule in improv: You never say no, and you never resist."
Perched on a chair in her office, the bright, endless blue of the Southern California sky stretching behind her through the window, Adlon—who appears to use her hulking wooden desk only sparingly, preferring to stalk the length of the room as she pantomimes anecdotes from her personal and professional lives—describes C.K. as her "mentor," though her tone is one of familial affection, not professional deference. ("He's so annoying," she sighs when I first bring him up.) It was C.K., after signing a deal to develop and produce new series for FX in 2013, who pitched Adlon to the network's CEO, John Landgraf.
"I was like, 'Are you fucking crazy?'" Adlon remembers. "I was so upset. I had Californication. I had Louie. I have my daughters. I was like, 'I can't do that!'"
It was, to use Adlon's phrase, fuckin' hard. Though she'd never struggled to generate ideas for Louie, confronted with creating a TV series from scratch, Adlon stalled; doubt crept in. "I didn't know how to find a voice for myself as a character because I wasn't interested enough in myself," she confesses, before affecting a Valley girl's inquisitive twang. "I wasn't like, 'I really want a show and I want it to be about me. I'm the star of the show.'" As Adlon weighed whether to lean on her own life for inspiration, C.K. stalled for time with FX—until the network, growing impatient, applied the pressure.
"One day, I got a call from FX saying, 'Look, we have two or three other projects that have come to us that are in the same territory, and if we turn them down, we're going to lose them to other networks,'" C.K. says. "They asked me point blank, 'Are you and Pamela making a show?' And I said, 'Absolutely,' knowing that the last time I had talked to Pamela she was nowhere… And then I called Pamela and said, 'You better fucking come up with something now.'"
From the resulting burst of invention, Better Things was born—and with it, arguably, the series' rough-hewn naturalism. Adlon assigned a writing exercise, a common feature of their process: She and C.K. each penned a single scene, his set at a soccer field and hers during a girls' night out, that would provide a template for the series, and then read them aloud to each other. After she finished reading hers, Adlon says, "He looked at me and he goes, 'That's the voice of your show. That's the direction we need to go in.' That became the fabric of my show. Everything has to be grounded and real. Anything that's inauthentic, I'm going to visibly shudder."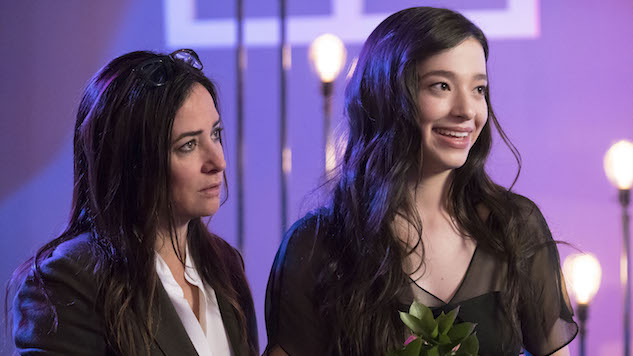 Set in Los Angeles, Better Things follows Sam as she confronts Hollywood's callous treatment of middle-aged women, wrangles her three children, Duke (Olivia Edward), Frankie (Hannah Alligood) and Max (Mikey Madison), and navigates her testy relationship with her mother, Phyllis (Celia Imrie). Its style, rooted in the realism to which Adlon aspires, might best be described as "addition by subtraction": On the day of our interview, Adlon and her editors, Deb Simone and Annette Davey, are still trimming, tightening, as if one extraneous beat might sink an entire sequence. Though she's drawn to "awkward moments that lay like a fart in the air," Adlon explains, the pacing of Better Things must thread the needle rather delicately. Too slack, and the narrative through line unravels; too taut, and the easygoing humor seems forced. After seeing the streamlined version of an uncomfortable exchange in the upcoming season, I ask what changed.
"There was a lot more air in the scene, and I come in and we have this awkward—" Adlon says, cutting herself off and turning to Simone. "You can show him. Go ahead. Fuck it! Lift up my skirt. Show the world my pussy. It's fine!"
She's right. The earlier cut is longer, heavier; though sanding it down means losing a few comic grace notes, the latest edit achieves the same outcome—call it the "fart in the air" effect—without a superfluous second. It's this careful balance between the meticulous and the freewheeling that distinguishes Adlon as a director, too, a method that stretches and rewards her actors.
"I have to do what she says, which is a nightmare," Imrie laughs, referring to Adlon's most frequent note: "If I ever got too theatrical, too dramatic, she'd say 'Too Goneril-ish.'" (Season Two began shooting soon after Imrie's turn in King Lear at London's Old Vic.) There's no dithering in Adlon's direction, and the result is absolute trust in her vision—from the cast and the crew, from veterans and newcomers.
"I know she'll get the performance she wants out of me," Madison says. "I know she won't stop until we get the scene perfect."
In this sense, Adlon's frenetic spirit, and Better Things' unmannered aesthetic, conspire to hide the sheer amount of preparation required for such naturalism to succeed on screen. Adlon orchestrated sleepovers for the girls to get to know each other, and barred the crew from the bedrooms on set so Edward, Alligood and Madison would have spaces all their own; while filming Season Two, Imrie became close with Adlon's mother, Marina, enjoying dinners out and a jaunt to the Getty Museum. (When I relate this to Adlon, she stands, races to the bar cart in her office, and pretends to slug straight from a still-corked bottle of wine.) Even the sequence that condenses the series to its perfect miniature, a chaotic interlude from the Season One finale that Adlon calls "Morning Rush," turns out to be a model of planning, of precision. From its dizzying whip pans and impossibly complex blocking to its use of Laurie Anderson's "O Superman," the scene seems to have been fully formed in Adlon's mind—she just needed to figure out how to bring it to life. And she did.
"I didn't get it," C.K. says. "When she wrote that scene, it wasn't working for me, and when I saw the dailies I didn't understand her concept… And the thing that made me so happy is that she succeeded in a way I didn't think she could. That means to me, 'Boy, now it's really your show.' When you lead as a director, when you do something that other people don't see and then it works, that's where you get your credibility."
Though she's loathe to describe herself, or her series, as "groundbreaking," the truth is that the rise of "auteur" TV has, in the main, been dominated by men, and among the exceptions—Shonda Rhimes (Grey's Anatomy, Scandal), Ava DuVernay (Queen Sugar), Jill Soloway (Transparent, I Love Dick), Phoebe Waller-Bridge (Fleabag, Crashing), Rachel Bloom and Aline Brosh McKenna (Crazy Ex-Girlfriend), Jane Campion (Top of the Lake), Lena Dunham and Jenni Konner (Girls), to name a few—Adlon exerts perhaps the most complete creative control. As in film, Louie and Better Things executive producer Blair Breard explains, TV networks still see women showrunners as a risk, a gamble, rather than a breath of fresh air.
"Male auteurs have been able to make shows and make movies and make mistakes," Breard says. "TV has given women more opportunities, but it's still hard to get shows green-lit unless there's a male executive producer or a male star behind or attached to the show."
The subtle power of Better Things resides in its "art reflecting life reflecting art again" aspect, to quote Imrie—its approximation, on screen, of the hurdles working women must leap in order to be heard off of it, its permeable barrier between the fictional and the real. Adlon's experience cautions her against seeing the emergence of women auteurs as a sea change: "Why weren't there more?" she asks of earlier eras in which women-oriented series seemed to reach a tipping point—she cites Diahann Carroll in Julia, Bonnie Franklin in One Day at a Time, The Mary Tyler Moore Show, That Girl—only for progress to pause, or retreat. But Adlon, whether she recognizes it or not, offers a model for future generations of women artists on television: As Madison says of what she's learned from Adlon, "It's my acting school. Or person school, I guess."
"I care about what happens to television," C.K. says, suggesting that the contributions of Adlon and others have the potential to create a positive feedback loop. "The great game is trying to make something that's very startling and strange and not broad and have a lot of people see it. That's the fun thing. That'll cultivate the viewer's eye and make other good shows like hers come into the pipeline."
For her part, Adlon no longer lacks interest in herself, or faith in her ability to bring her voice to the screen. She's come to understand that her father's legacy, her close relationship with her mother, the stresses of raising three daughters alone are in fact instrumental to her success, because life has taught her that there's no fear she can't face down, no hurdle she can't surmount.
"Every single kind of clusterfuck that you could imagine happened to me last season on my show," she says. "I was like, 'Shit, am I gonna survive this?' And then I would get through it, and the next thing, and the next thing. It was a fucking mess," she adds, with two knocks on wood and the usual three spits, "and I ended up with a beautiful season of television."
Season Two of Better Things premieres Thursday, Sept. 14 at 9 p.m. on FX. The 69th Emmy Awards air Sunday, Sept. 17 at 8 p.m. on CBS.
---
Matt Brennan is the TV editor of
Paste Magazine
. He tweets about what he's watching @thefilmgoer.