The Outlander Season 5 Trailer Teases Claire Changing History
Photo Courtesy of Starz
TV
News
Outlander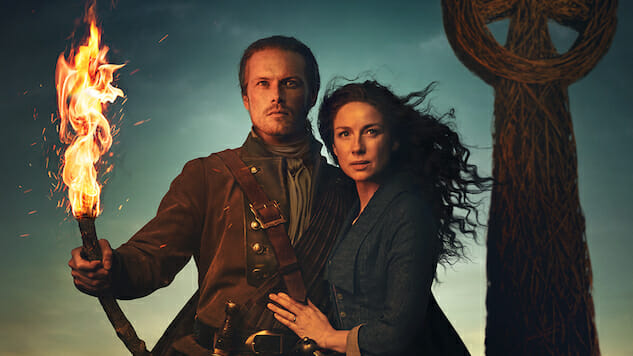 Droughtlander has nearly come to an end my friends! Today Starz released the full Season 5 trailer for one of TV's warmest series (on the heels of the series being renewed for Season 6). Outlander has moved the Fraser family to Colonial America from Scotland (although it's still filmed there), and will ratchet things up another notch in the coming 12-episode season with the advent of the American revolution. Or will it? As the trailer shows, Claire considers changing things up to protect her family. There is, in fact, a lot of talk about protecting one's family and what that will mean in regards to time and history, but it's hard to focus on all of that when it keeps cutting to shirtless Jamie (Sam Heughan), and Jamie and Claire (Caitriona Balfe) staring into each other's eyes …
According to the official release:
Season 5 of Outlander finds the Frasers fighting for their family and the home they have forged on Fraser's Ridge. Jamie must find a way to defend all that he has created in America, and to protect those who look to him for leadership and protection – while hiding his personal relationship with Murtagh Fitzgibbons, the man whom Governor William Tryon has ordered him to hunt down and kill. With her family together at last, Claire Fraser must use her modern medical knowledge and foresight to prevent them from being ripped apart once again. However, while focusing on protecting others, she risks losing sight of what it means to protect herself. Meanwhile, Brianna Fraser and Roger MacKenzie have been reunited, but the spectre of Stephen Bonnet still haunts them. Roger strives to find his place – as well as Jamie's respect – in this new and dangerous time. The Frasers must come together, navigating the many perils that they foresee – and those they can't.
Outlander Season 5 premieres on Sunday, February 16 at 8PM ET/PT on Starz. Check out the new trailer below, and stay tuned for more coverage throughout!
---
For all the latest TV news, reviews, lists and features, follow @Paste_TV.