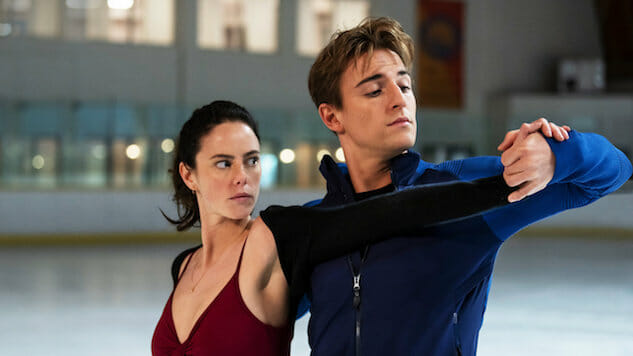 Well, we hope you got in your long winter's nap while TV slowed down (a teensy weensy bit) over the holidays. And let's really hope your New Year's resolution wasn't to watch less TV, because January is chockfull of highly-anticipated premieres that we here at Paste TV will be all over. There's the new version of Party of Five on Freeform on January 8, the fantastic new series Zoey's Extraordinary Playlist coming at you from NBC on January 7 (network TV is taking risks and we like it!), and HBO has the new series The Outsider on January 12 as well as The New Pope on January 13. Plus, Curb Your Enthusiasm is back on January 19. Fan favorite The Bold Type begins Season 4 on January 23, and our beloved The Good Place signs off on January 30.
But there are so many more shows that we don't want you to miss out on, so here are the five under-the-radar picks for this month:
---
1. Spinning Out
Executive Producers: Joby Harold, Tory Tunnell, Samantha Stratton, Lara Olsen
Stars: Kaya Scodelario, Evan Roderick, January Jones, Willow Shields, Amanda Zhou, Will Kemp, Svetlana Efremova
Premiere Date: January 1 on Netflix
One of the best movies ever (don't even try to argue with me) is the 1992 tour-de-force The Cutting Edge which I have seen roughly 100 times. For the uninformed, it follows the story of a figure skater and a hockey player who come together to form a pairs team and aim for Olympic Gold. This Netflix drama is a much darker take on the same idea. After a terrible fall, Kat Baker (Kaya Scodelario) is ready to give up on her skating career until she meets Justin (Evan Roderick), skating's resident bad boy (naturally), and a new possibility as a pairs skating team appears. January Jones, who is well-practiced at playing a nasty TV mother, co-stars as Kat's demanding, unforgiving mom.
---
2. Diary of a Future President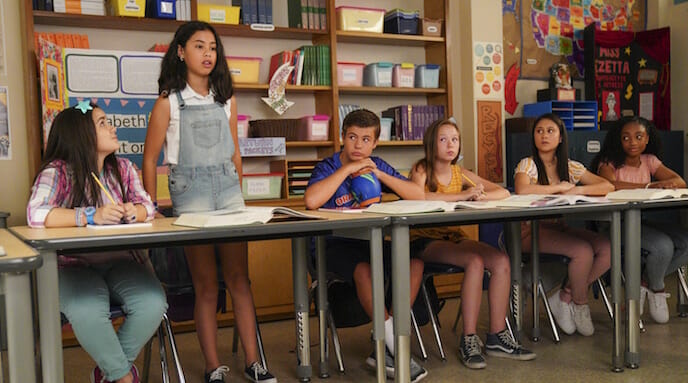 Executive Producers: Gina Rodriguez, Emily Gipson, Ilana Peña, Robin Shorr and Brad Silberling
Stars: Tess Romero, Charlie Bushnell, Selenis Leyva, Michael Weaver
Premiere Date: January 17 on Disney+
Let TV pave the way in electing a female president. A girl (all girls) can and should dream. Gina Rodriguez (Jane the Virgin) serves as executive producer of this new series that follows 12-year-old Elena (Tess Romero) as she begins her path towards being the President of the United States. Rodriguez guest stars as the adult Elena who is now the President. The series was inspired by the childhood of Ilana Peña, who is one of the executive producers on the show.
---
3. Seven Worlds, One Planet
Executive Producers: Johnny Keeling
Stars: Sir David Attenborough
Premiere Date: January 18 at 9 p.m. on BBC America
From the network that brought you Planet Earth and Blue Planet comes this seven-part miniseries narrated by Sir David Attenborough which explores the seven continents. The numbers behind the series are awe-inspiring. The crew traveled to 41 Countries and shot over 2,260 hours of footage. More than 1500 people worked on the project worldwide. The premiere episode focuses on North America, so look for polar bears catching beluga whales in Canada and the gorgeous fireflies of Mississippi.
---
4. Awkwafina is Nora From Queens
Executive Producers: Nora Lum, Karey Dornetto, Lucia Aniello, Teresa Hsiao, Peter Principato and Itay Reiss
Stars: Awkwafina, BD Wong, Lori Tan Chinn and Bowen Yang
Premiere Date: January 22 at 10:30 p.m. on Comedy Central
Awkwafina, who is on the shortlist to receive an Academy Award nomination when they are announced on January 13, headlines this eponymous 10-episode series. Inspired by the comedian's life growing up in Flushing, Queens, the series follows Nora (Awkwafina) as she tries to figure out how to move out of her parents' home and pursue her dreams. The comedy boasts quite a few female directors including Natasha Lyonne, who also guest stars, as well as Lucia Aniello and Anu Valia (The Other Two). In addition to Lyonne, keep an eye out for guest stars including Laverne Cox, Jennifer Esposito, Harry Shum Jr., Melissa Villaseñor, and Ming-Na Wen.
---
5.Outmatched
Executive Producers: Lon Zimmet
Stars: Jason Biggs, Maggie Lawson, Tisha Campbell, Jack Stanton, Connor Kalopsis, Ashley Boettcher and Oakley Bull
Premiere Date: January 23 at 8:30 p.m. on Fox
Jason Biggs and Maggie Lawson co-star as Mike and Cay, the parents of four children, three of whom are geniuses prone to using big words, speaking in foreign languages and making references their parents don't understand. One is a math wiz, one a genius composer, one a gifted linguist. Their youngest daughter is the only one Mike and Cay can relate to. They live in Atlantic City and want their children to enjoy the "normal" things like friends and trying to sneak out of the house when your parents aren't looking. Since it senselessly let Brooklyn Nine-Nine go, Fox could use a live action comedy hit. Could this be it?
---
Amy Amatangelo, the TV Gal®, is a Boston-based freelance writer, a member of the Television Critics Association and the Assistant TV Editor for Paste. She wasn't allowed to watch much TV as a child and now her parents have to live with this as her career. You can follow her on Twitter (@AmyTVGal).
For all the latest TV news, reviews, lists and features, follow @Paste_TV.