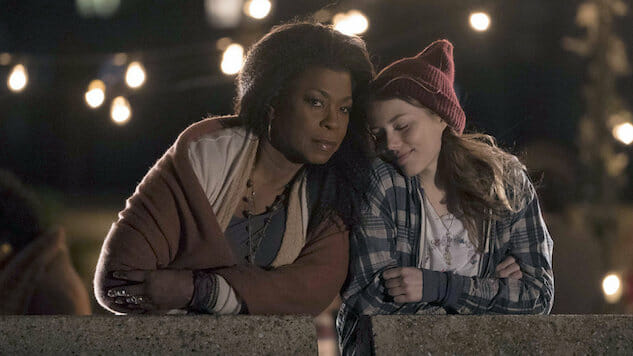 So many beloved shows are returning this March. We'll get to see the third season of The Good Fight beginning March 14 on CBS All Access. Project Runway moves back to Bravo on the same day. Catastrophe debuts its final season March 15 on Amazon Prime Video. And the long awaited Pretty Little Liars spin-off The Perfectionists comes to Freeform on March 20.
And that's just scratching the surface. March is a busy, busy month for TV, and we here at Paste don't want you to miss a single new program. Here are the five new shows you can't miss this month.
1. Turn Up Charlie
Executive Producers: Idris Elba, Gary Reich, Tristram Shapeero
Stars: Idris Elba, Piper Perabo, JJ Field
Premiere Date: March 15 on Netflix

People's Sexiest Man Alive leaves the drama behind in this series he co-created. Elba stars as Charlie, a still-struggling DJ who can't quite get his life together. Charlie gets a chance to turn things around when his famous actor friend, David (JJ Field), asks him to be a part-time caretaker for his daughter. We'll get to see a comic side to the Luther star for eight half-hour episodes.
2. Mental Samurai
Executive Producers: Rob Lowe
Stars: Rob Lowe
Premiere Date: March 19 at 9 p.m. on Fox

Rob Lowe is a study in having a long career. After becoming a teen heartthrob (Sodapop forever!) and enjoying a popular movie career (St. Elmo's Fire, Wayne's World), he's forged a successful TV career in shows including Brothers & Sisters and Parks & Recreation all while looking the same as he did more three decades ago. Now Lowe hosts a game show where people have to answer 12 fairly easy questions in five minutes. The catch? They're spinning around in a crazy contraption. Fox is definitely hoping for the same luck they had with the recent surprise hit The Masked Singer.
3. The Village
Executive Producers: Mike Daniels and Jessica Rhoades
Stars: Moran Atias, Dominic Chianese, Warren Christie, Frankie Faison, Jerod Haynes, Daren Kagasoff, Michaela McManus, Lorraine Toussaint and Grace Van Dien
Premiere Date: March 19 at 10 p.m. on NBC

It's easy to write off the broadcast networks' mid-season replacements. For too long, debuting a show in the spring was a sure sign a network wasn't 100% confident in it. That's changed over the years, of course, as broadcast networks have moved to year-round programming to compete with cable and streaming channels. But old habits die hard. There's still a bit of a stigma to a show debuting this late in the season. I still have hope for this series, though, about a group of people living in an apartment building whose stories are interwoven. Ron (Frankie Faison) and Patricia (Lorraine Toussaint) are the patriarch and matriarch of the building, welcoming in war veteran Nick (Warren Christie) and single mom Sarah (Michaela McManus). Network TV is in desperate need of a breakout hit that gets everyone talking. Could this be it?
4. Shrill
Executive Producers: Lorne Michaels and Elizabeth Banks
Stars: Aidy Bryant, Lolly Adefope, Luka Jones, Ian Owens, Jon Cameron Mitchell, Julia Sweeney and Daniel Stern
Premiere Date: March 20 on Hulu

Saturday Night Live's Aidy Bryant takes center stage as Annie, an overweight woman who wants to change her life. But wait, it's not what you think. So many shows, from This Is Us to Netflix's repugnant Insatiable, build entire storylines around a fat woman losing weight. Before we even get to the opening credits, a total stranger tells Annie, "There is a small person inside of you dying to get out… You could be so pretty." She's got a boyfriend who makes her leave through the backdoor so his roommates don't see her and a mom who drops not-so-subtle hints about dieting and exercising. But a surprise twist in the first episode forces Annie to reassess her life. She's ready to advocate for what she deserves. Bryant is so utterly charming, you can't help but root for her. And the series is a delight. Bonus points for having SNL alum Julia Sweeney as Annie's mother.
5. Hanna
Executive Producers: David Farr
Stars: Esme Creed-Miles, Mireille Enos, Joel Kinnaman
Premiere Date: March 29 on Amazon

Fifteen-year-old Hanna (Esme Creed-Miles) was raised in the woods. She's been trained by her father, Erik (Joel Kinnaman), to fight those who hunt her. Marissa Wiegler (Mireille Enos) is the CIA agent hunting them both in this eight-episode series based on the 2011 film of the same name. But what I am most excited about is that Hanna reunites Enos and Kinnaman who shared a long simmering chemistry in . Cannot wait.
---
Amy Amatangelo, the TV Gal®, is a Boston-based freelance writer, a member of the Television Critics Association and the Assistant TV Editor for
Paste
. She wasn't allowed to watch much TV as a child and now her parents have to live with this as her career. You can follow her on Twitter (@AmyTVGal) or her blog .