The 5 New TV Shows You Can't Miss This Month
April 2019
Photo: Courtesy of Robert Viglasky / Lookout Point
TV
Lists
New Shows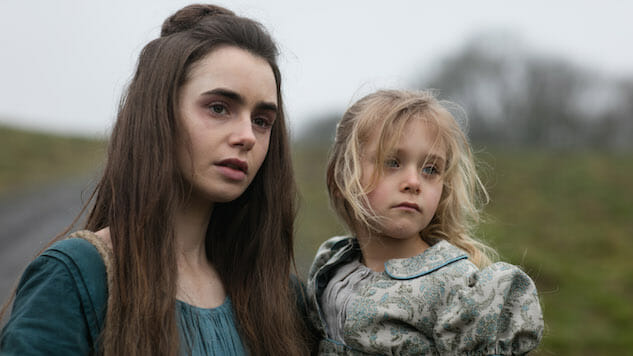 It is raining TV shows this April. Fan favorites including Killing Eve (April 7 on AMC) and The Bold Type (April 9 on Freeform) return. Jordan Peele brings a revival of The Twilight Zone to CBS All Access on April 1. The long-awaited Fosse/Verdon, starring Michele Williams and Sam Rockwell, hits FX on April 9. A little show called Game of Thrones, perhaps you've heard of it, returns for its final run April 14 on HBO. The delightful Cobra Kai has no mercy when it's back for a second season on YouTube Premium on April 24. And The Red Line, a series from Greg Berlanti and Ava DuVernay (!) comes to CBS on April 28.
But wait, there's more! Here are the five new shows we don't want you to miss this month.
1. Les Misérables
Executive Producer: Rebecca Eaton
Stars: Dominic West, David Oyelowo, Olivia Colman, Ellie Bamber and Lily Collins
Premiere Date: April 14 at 9 p.m. on PBS

Most likely, when you think of Les Misérables, you think of the Tony Award-winning blockbuster musical. This six-episode Masterpiece production returns to Victor Hugo's source material (read, no songs or big production numbers), with Dominic West as recently released convict Jean Valjean, David Oyelowo as Javert, the Inspector who has made it his life mission to capture Valjean, and Lily Collins as Fantine, a woman who will do anything to protect her daughter, Cosette. Although set in 19th century France, Hugo's themes of redemption and revenge are just as poignant today.
2. No Good Nick
Executive Producers: David H. Steinberg and Keetgi Kogan
Stars: Melissa Joan Hart, Sean Astin, Siena Agudong, Kalama Epstein and Lauren Lindsey Donzis
Premiere Date: April 15 on Netflix

Netflix, still trying to be all things to all people, now has a series that seems like it could be on the Bizarro Disney Channel. Liz (Melissa Joan Hart) and Ed (Sean Astin) take in a young girl, Nick (Siena Agudong), because they believe they are her only living relatives. But something much more sinister is going on: Nick is running a long con on the family. But why? That's a question that will begin to be answered in the 10 episodes that begin streaming this month (10 more premiere in the fall). Hart and Astin, both child stars themselves, are perfect as parents who begin to realize they may have made a big mistake.
3. There She Goes
Executive Producers: Shaun Pye
Stars: David Tennant, Jessica Hynes, Edan Hayhurst and Miley Locke
Premiere Date: April 16 on BritBox

TV writer Shaun Pye and his wife co-wrote this 10-episode series based on their experience raising a daughter who has a rare chromosomal disorder. David Tennant and Jessica Hynes star as Simon and Emily, whose lives are upended when their daughter Rosie is born in 2006. The series is an unflinching look at the daily life of parents raising a child with special needs and shies away from turning the parents into heroes. Instead, they are fully realized characters who love their daughter, but are also at times exhausted by and frustrated with her. Particularly harrowing are the scenes that flashback to Rosie's birth and early months, when Emily knows there is something wrong with her daughter and no one believes her. While the series avoids clichés and false uplifting narratives, it's still a story of family love and hope.
4. Bless This Mess
Executive Producers: Lake Bell and Elizabeth Meriwether
Stars: Lake Bell, Dax Shepard, Ed Begley Jr., Pam Grier and JT Neal
Premiere Date: April 16 at 9:30 p.m. on ABC

Rio (Lake Bell) and Mike (Dax Shepard) leave the city life behind them to move to a farm in Nebraska. They think they're trading the chaos of New York City for an idyllic life. But you know what they say, the grass is always greener on the other side. The show could easily be written off as a feeble fish-out-of-water comedy, but the supporting cast, which includes Pam Grier and Ed Begley, Jr., is strong. It's also from Elizabeth Meriwether, who gave us New Girl, so I'm willing to give it a chance.
5. Gentleman Jack
Executive Producers: Sally Wainwright, Faith Penhale, Laura Lankester and Ben Irving
Stars: Suranne Jones, Sophie Rundle, Gemma Whelan, Timothy West and Gemma Jones
Premiere Date: April 22 at 10 p.m. on HBO

Based on a true story, Gentleman Jack follows Anne Lister (Suranne Jones) in 1832 Halifax. Anne refuses to conform to any of society's rules, particularly ones about how women are supposed to behave. She needs to marry well in order to reopen the coal mines and make her family-owned land a thriving business once again. She just has no intention of marrying a man, and instead sets her sights on Ann Walker (Sophie Rundle). Sally Wainwright (Happy Valley) based the series on Anne's incredibly verbose diaries (the HBO press release claims the diaries contain four million words).
---
Amy Amatangelo, the TV Gal®, is a Boston-based freelance writer, a member of the Television Critics Association and the Assistant TV Editor for
Paste
. She wasn't allowed to watch much TV as a child and now her parents have to live with this as her career. You can follow her on Twitter (@AmyTVGal) or her blog .