Here's Why The Office Is Leaving Netflix—And It Won't Be the Only Show
Images via Mitchell Haaseth/NBC, NBC
TV
News
Netflix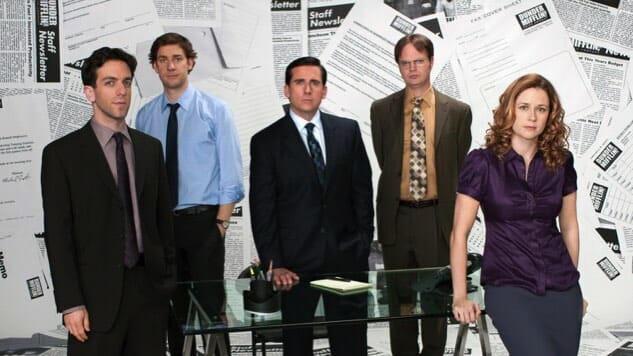 There's no better time to insert a clip of Michael Scott freaking out during The Office's "Fire Safety" episode than now, because at the start of 2021, the beloved mockumentary comedy will no longer be available to stream on Netflix.
The Dunder-Mifflin workers are packing up and jumping ship to NBCUniversal's own streaming service beginning in 2021. The show will be available on the NBCUniversal service, which will be available for customers who have NBC via their cable package, but there will also be a stand-alone subscription for the forthcoming streaming service.
"The Office has become a staple of pop-culture and is a rare gem whose relevance continues to grow at a time when fans have more entertainment choices than ever before," Bonnie Hammer, Chairman of NBCUniversal Direct-to-Consumer and Digital Enterprises, said in a statement. "We can't wait to welcome the gang from Dunder Mifflin to NBCUniversal's new streaming service."
The absorption of the Steve Carell-led show wasn't always a sure thing for NBCUniversal, in fact. With NBC, Netflix, Hulu, Amazon and even Apple all butting heads for the millions of dollars hosting the show would bring in, the streaming giants bid in an auction from producers Universal Television. With a whopping $100 million per year deal, NBCUniversal acquired the show for five years—much to Netflix's dismay.
Some individuals believe that NBC should continue working with Netflix, instead of moving ahead all on their own. "Why not remain an arms dealer to Netflix and a growing array of streaming services versus entering the fray themselves," Richard Greenfield, BTIG media analyst, told THR. "The risk is reducing the visibility of The Office while having to pay the talent as if it were on a service like Netflix."
Fans seemed to be worried that they won't be able to get their Scranton fill, but moreso the show's exit from Netflix is only one of the first dominos in a line of shows that will be decamping from the streaming giant. With streaming growing bigger and bigger, media giants want to get into the game in the form of their own singular, direct-to-consumer offerings.
Prior to NBCUniversal, Disney pulled multiple films and shows from Netflix in order to add them to their library on Disney+, their own streaming service. Viewers can still currently watch a number of Disney films, but it's only a matter of time before they make the possibly permanent jump to Disney+. The kid-friendly company now has a majority control of Hulu, so it's a safe bet that most of Disney's content will stay on the service.
Other than Disney and NBCUniversal, WarnerMedia is set to start funneling its shows and films into its own forthcoming streaming service. The media giant just resigned a hefty deal with Netflix to keep the sitcom Friends on Netflix throughout 2019, but with their own streaming service on the way, the likelihood of Friends sticking around even longer is looking slim.
With seemingly every media giant creating their own service, it's as if networks are cutting out the third-party middle-man that is Netflix (or Hulu and Amazon, for that matter). Netflix still has oodles of its own original content, so it's unclear if the loss of licensed content will hurt them in the long run. Streaming services are still on the way from NBCUniversal, WarnerMedia, Disney and even Apple, and where customers will take their money is up in the air. One thing that's certain, though, is the world of streaming media is an ever-changing place that's weirdly coming full-circle into something resembling cable TV.